HOME SURVEILLANCE HAS NEVER BEEN EASIER
Author

Publish Date

Wed, 6 Mar 2019, 11:34am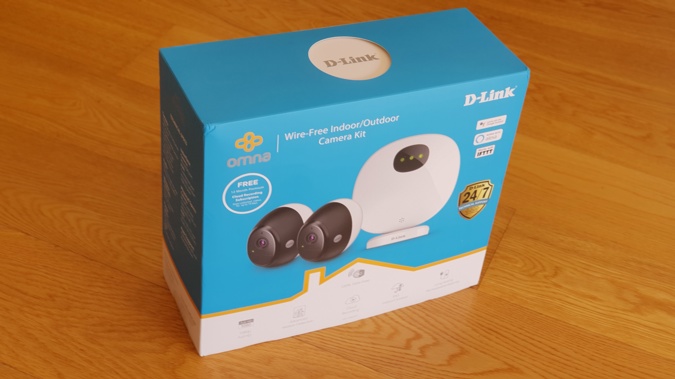 HOME SURVEILLANCE HAS NEVER BEEN EASIER
Author

Publish Date

Wed, 6 Mar 2019, 11:34am
If there's one thing I love even more than great tech, it's great design. So when the two combine, I couldn't be happier...
D-Link has been nailing its range of WiFi security cameras for a while now. From standalone units to multi-camera options - indoor, outdoor - all accessible from apps and web interfaces that have been getting more and more user-friendly month by month.
The OMNA system is a whole new generation. At last D-Link has created a genuinely wireless camera that virtually installs itself.
In terms of how you use the D-Link OMNA Wire-Free kit, it's really just a continuation of the previous D-Link security camera technology I've reviewed before. You get excellent, high definition video footage which you can access live via the mydlink app. The functionality of this app has really gone from strength to strength - I'll cover off the set-up process shortly, but it's more simple than ever to create automated recording and notification rules, not just for the whole system but for each camera connected to it. Your recordings can be saved locally to microSD, external USB storage or directly to the cloud. (There's a 12 month Premium mydlink subscription included with the kit)
That's all great. In fact, it's really great. If you've read my previous reviews you'll know I've become quite a fan of mydlink systems now they've got the app working so beautifully.
But it's the "Wire-Free" part of the OMNA equation that makes this system such a game changer.
The basic 2802KT kit includes a WiFi hub and two cameras. Unlike other WiFi cameras that are still limited by their need to be connected to a power supply, the OMNA cams have rechargeable lithium batteries built in. A microUSB charger is included, but it's no different to a phone or speaker charger. This means you can position the cameras pretty much anywhere at all, as long as they're within the 100 metre range of the WiFi hub. The cameras are rated IP65, so they'll be just fine out in the weather. They're extremely compact, so they're barely noticeable from any distance at all, yet they also feel very sturdy and well constructed.
My favourite thing about these truly wireless cameras is each has a strong magnet at the back. This is designed to fit onto the included ball-mountings which can be installed with just a single screw. The ball configuration means the cameras can be set at almost any angle and because it's all just magnets, it's the easiest thing in the world to grab the camera off the bracket when it comes time to charge it.
Of course, I have absolutely no idea when that time is as I have only been using the system for a couple of weeks and the battery indicator on both cameras is still showing full. That seems impressive to me, given I spend half my life putting things on to charge. According to the D-Link website, the cameras' 6700mHa batteries will last for "months" on a single charge. That's kind of vague, but I haven't seen anything to suggest otherwise yet.
Turns out, the magnets in the cameras aren't just restricted to the supplied mounting brackets, they'll latch onto anything metal, so you have the option of slapping a camera on your fence, on sheds and perhaps most usefully of all, directly onto spouting.
It really is one of the easiest things I've ever installed - they even pair themselves with the WiFi hub. You can literally have a whole home security system set up in under ten minutes.
Although the OMNA kit comes with two cameras, it will support as many as four - and you can monitor them all simultaneously on your phone, from anywhere. Each camera is equipped with two-way audio, so you can ask that courier to leave the package at the door or freak your kids out when they get home late!
There's even a 100dB siren built into the WiFi hub that you can automate to go off if any or all of the cameras detect anything dodgy, or you can set it off manually from the app itself - again, this is quite entertaining if the kids are home alone. What's wrong with me? Am I a bad dad?
My only real issue with the OMNA cameras is due to my white house. The camera I have directed at my front door is positioned against a wall. A white wall. Unfortunately this means an over exposed image at night due to the proximity of a lot of whiteness before you get to the darkness of the entranceway itself. This really just means I need to find a better place to put it. Or maybe I should use the extended mounting bracket that came in the box? What an idiot.
At $899.99, the OMNA system is not the cheapest around, but you're paying for one of the best pieces of home security design I've ever come across, with all the hardware you need to install it - or rather for it to install itself. If you're not technically-minded and you don't love breaking out a screwdriver and drill, this is the surveillance solution for you. It just works.
Click here for more information and pricing on the OMNA 2802KT Wire-Free Indoor/Outdoor Camera Kit.