Hisense 75U7KNZ - Welcome to the Country!
Author

Publish Date

Tue, 21 Nov 2023, 2:05PM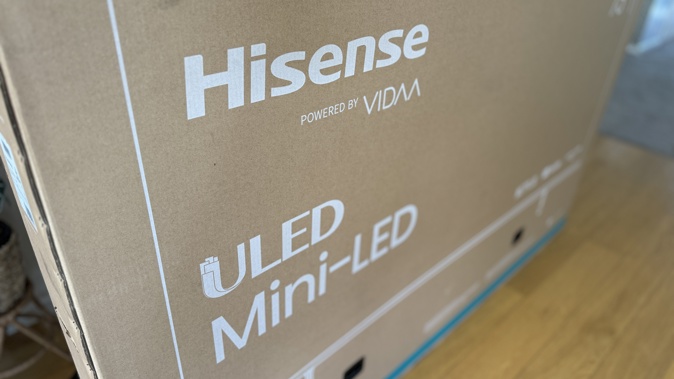 Hisense 75U7KNZ - Welcome to the Country!
Author

Publish Date

Tue, 21 Nov 2023, 2:05PM
It's always exciting when a brand I've been reading about for a while finally makes its way to New Zealand. Ironically, given you're reading this right now, it really isn't until you try something yourself that you can really judge how good it is, no matter how many trusted reviews you read.
In saying that, I wouldn't have been so keen to try my first Hisense TV if I hadn't been so impressed by everything I'd read about them.
Suddenly here was an electronics brand I'd barely heard of more than a year or so ago, seemingly producing very classy TVs, using some of the latest display technology available and selling them at a highly competitive price.
Too good to be true? I had to find out.

Before we even get into the details of how good the Hisense 75U7KNZ is, I really have to start with the price; as I write this article, heading into the Black Friday sales, I've seen this TV on sale for as little as NZ$2791.00 - which seems insanely low for a 75-inch 4K TV of any quality, let alone one I quickly discovered, punches well above its weight.
As I removed the 75U7KNZ from its box (always a fun challenge with a giant telly like this) I quickly discovered this was a solidly constructed TV - still slim but in no way flimsy. I felt no anxiety about tipping it over on its back to install the two feet included in the box, as per the instructions - there was no flex or worrying creaking as I laid it down and lifted it back up, onto my entertainment unit. Each foot has a cable-tidying bracket attached to keep things organised once you've plugged everything in.
Speaking of which... I found it a little strange to find two different I/O consoles at the left side of the rear panel - one facing more conveniently to the outer edge of the TV with the 4 x HDMI ports, USB-A socket, antennae connections and AV in/out sockets.
Meanwhile on a separate, less accessible console right around the back, you'll find the options to connect an ethernet LAN cable, an optical line-out and another USB-A port (perhaps for powering an external dongle).
This second set of ports was virtually impossible to reach once I had the TV set up and I really wished I'd plugged in the LAN cable before I started testing - but I wanted to try out the Wi-Fi capabilities first. (Turns out, I could have opted for a Wi-Fi connection with the ethernet cable plugged in anyway. Oh well.)
Setup was extremely easy - I opted to do so by downloading and using the VIDAA app on my phone, although you can do it all with the remote control instead. The app just makes things a bit more efficient when it comes to typing email addresses and passwords.
I was fascinated to try VIDAA U7 - the operating system Hisense uses in this region - as I'd never come across it before. It certainly has both strengths and weaknesses; as I just pointed out, getting the TV up and running was a surprisingly fast process and adding accessories like a soundbar and 3rd-party streaming devices was effortless.
However, I've never come across a TV with so much pre-installed bloatware before, none of which can be uninstalled. On one hand, it was pleasing to see apps like Plex, Disney+, YouTube, Netflix and Prime Video already waiting to go - complete with their own shortcut buttons on the remote control. On the other hand, I was confronted with app after app after app I would never have installed voluntarily - most of which I'd never even heard of - many featuring endless libraries of foreign language content I have no interest in consuming.
When it came to local content, it was also a good news / bad news story. Freeview, Neon and Sky Sport Now were pre-installed but on-demand apps TVNZ+ and ThreeNow were nowhere to be found - even on VIDAA's somewhat limited app store. Not to worry - I've been assured by Hisense's people those missing NZ apps are on the way and should be available early 2024.
In the meantime, it's easy enough to cast or AirPlay from your phone or tablet.
So at the end of the day, the VIDAA home screen is a bit of a mess - you can customise the order in which the apps appear but that's about it. You can't even remove the apps you don't want from the home screen and there are endless rows of viewing recommendations that are pretty much meaningless if you're not using the apps they're trying to direct you to.
So that was all a bit disappointing.
But, from that point on the story gets a lot better.
One thing I really love about VIDAA U7 is how easy it is to get to the settings menu you want. The remote is quite oversized but that's because there are heaps of shortcut buttons and a full number pad. Other than the app shortcuts I've already mentioned perhaps the most useful is the settings button, which will bring up an abbreviated menu on the left-hand side of the screen while you keep watching whatever you're watching.
This means making adjustments to sound and picture can happen both quickly and unobtrusively - much more so than with most other TVs I've used in the past.
You can set the 75U7KNZ to automatically detect what content is playing and adjust picture and sound accordingly, or you can make those tweaks yourself. The auto setting was pretty damn clever, even picking up Filmmaker mode which looks pretty great on a display of this size.
Who am I kidding? Everything looks pretty great on this screen. Personally, I like to use the Dynamic option which enhances brightness, colour and contrast - all of which the 75U7KNZ provides in spades. If you're looking for a ULED Mini-LED display for daytime viewing in a sunny room, this is easily one of the best I've come across.
Technically, this is achieved by grouping the thousands and thousands of Mini-LEDs into hundreds of dimming zones, but who cares about any of that? The result is a crisp, ultra-clear picture that really pops in almost any lighting conditions.
Plug in a PC or gaming console and the 144Hz Game Mode PRO will kick in to provide an even smoother, low-latency experience. This TV is a lot of fun.
The Dolby Atmos sound solution stacks nicely, with good left, right and height separation and decent bass response for built-in TV speakers. Don't get me wrong, I still ended up connecting my own soundbar, woofer and surround speakers but the default sound system still made for a perfectly watchable, home-theatre experience.
I was surprised to encounter a few ghosting effects when watching action sequences and sports - but swapping from Dynamic to Sports Mode took care of this straight away and as we've established, that's only a couple of button presses away.
The only thing to dampen my energetic enthusiasm for this new, Hisense viewing experience was a bit of buffering - especially when using Plex, which is how I view locally stored content on my home server.
At first, I thought this might be a Wi-Fi problem - the 75U7KNZ is not Wi-Fi 6 enabled so is more vulnerable to interference and overcrowding on a home network. Unfortunately, when I eventually managed to get that damn ethernet cable connected around the back, it made no difference. I then realised this issue was probably due to the larger size of the video files I was trying to play from my local server - sadly, the quad-core Hi-View Engine processor seems to struggle here - and with some higher-definition streaming content as well.
Luckily, I have one or two 3rd-party streaming devices I can plug in to play this stuff and the result still looks absolutely fantastic on that big, bright and beautiful 75U7KNZ screen.
The more I use this TV, the more I love it. I can't believe this level of colour, contrast and brightness - let alone the sheer size of the screen - can be purchased right now for well under NZ$3000. If this is a taste of what Hisense has to offer, I can't wait to see what's next.
Take your Radio, Podcasts and Music with you