Headset History Repeats... Without the Cord
Author

Publish Date

Thu, 8 Apr 2021, 12:50PM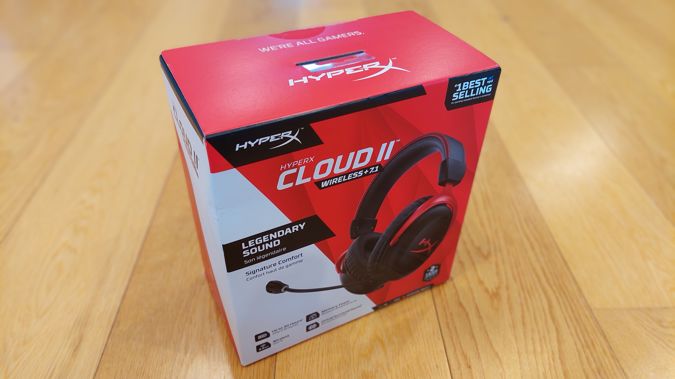 Headset History Repeats... Without the Cord
Author

Publish Date

Thu, 8 Apr 2021, 12:50PM
For around five years now, the HyperX Cloud II has been one of the go-to gaming headsets. Super comfy, pretty stylish, awesome sound, great build quality. Perhaps most importantly, not too pricey.
It's a hotly contested market right now, with more choices than ever offering more features than ever.
Although there was a time when serious gamers might have been a bit leery of wireless accessories, due to the lag time involved, the technology has improved and so has battery life.
That meant it was definitely time for HyperX to cut the cable.
Now don't get too excited. The new HyperX Cloud II is called the HyperX Cloud II Wireless. No surprises with the name and no real surprises with the result either. This is not a criticism. If the original was a fabulous headset everybody loved, let's not cock it up by tacking on a whole lot of stuff no-one asked for. It seems HyperX has resisted that temptation.
Like its predecessor was, the Cloud II Wireless is perhaps one of the smartest looking headsets available today. Red is my favourite colour, so I was always going to be drawn to the brushed aluminium yolks, the HyperX logo on each earcup and the contrasting stitching on the headband which lends the whole design a certain organic, hand-made feel that really appeals. The over-ear cups are only as big as they need to be and the whole device actually looks quite compact when you're wearing it.
In a world of plastic, the metal yolks and springy headband feel super-durable - not even a hint of a stress click when taking on and off or adjusting for size. I'd bet this headset will last longer than my head will. The leatherette and memory-foam ear-cushions are like luxury pillows; a pleasure to wear although I did find they're not quite as breathable as some other headsets I've worn and things do get a little hot and sweaty after prolonged use. Other than that, the balance is perfect - the Cloud II Wireless doesn't feel heavy at all and the headband holds things together snugly without being tight.
I also really appreciated the simplicity of the onboard controls - just three; a volume dial on the right can with the power and mic buttons on the left. All three are exactly where you expect them to be and the power button is concave while the mic button is rounded, making them instantly recognisable, even in the heat of battle.
Setup really is also as easy as it possibly could be; plug in the 2.4Ghz USB dongle (the surprisingly large USB dongle), power up the Cloud II Wireless and they'll pair right away, no waiting. You don't even need to download the companion HyperX NGENUITY desktop app, as all this really offers is an on-screen display of the controls you can access on the headset itself and the ability to save favourite combinations of settings if you want to run things differently for different games or programs. Obviously, the app isn't an option if you're using the headset with a Playstation or Nintendo Switch.
Given you can even toggle between stereo and 7.1 surround sound with a quick press of the power button, there's really not much of a reason to use the NGENUITY app anyway, although it will give you an accurate display of your remaining battery percentage - something you can only estimate by what the small LED is showing on the back of the left cup otherwise. Solid green means fully charged, flashing medium, red - time to plug in. You can still use the Cloud II Wireless while charging but the USB-C cable provided is far too short to reach to your head - perhaps the only design fluff to be found here.
Battery life is insane - the website suggests up to thirty hours on a single charge, although obviously this will vary depending on volume etc but still... if you're gaming thirty hours non-stop, get a life.
The sound quality is also very impressive - particularly in 7.1 surround mode. There's a great feeling of depth and space, with good dynamic range - plenty of volume too. Right now I've got a track by Big Data called, "Dangerous" thumping its catchy bass riff directly into my brain. I've only got the volume at 50% and that's plenty. And I'm old and deaf.
If I'm going to be super critical, I'd describe the overall tone as coming across a little flat and sterile - this is more noticeable when listening to music than when gaming or watching video - then the soundscape just seems spacious and realistic, which is exactly what you want. But then, this isn't a headset for music-lovers, right?
That's why there's a detachable mic of course, complete with subtle "on-air" red LED ring, to let you know when you are or aren't muted. I've found the mic quality to be well above average - not quite podcast quality but you'll definitely be miles ahead of your work colleagues at the next online staff meeting if they're only using earbuds or the built-in mics on their laptops.
What I'm getting at here is the Cloud II Wireless is exactly what fans of the previous wired version will be looking for; nothing too fancy or over-the-top, just a solid build, with excellent sound and standout battery life. Oh... and don't forget the cool red highlights too. Yep, the Wireless is a winner.
Click here for more information on the HyperX Cloud II Wireless gaming headset.