HEADPHONES FOR WORK, NOT PLAY
Author

Publish Date

Tue, 2 Feb 2021, 12:37PM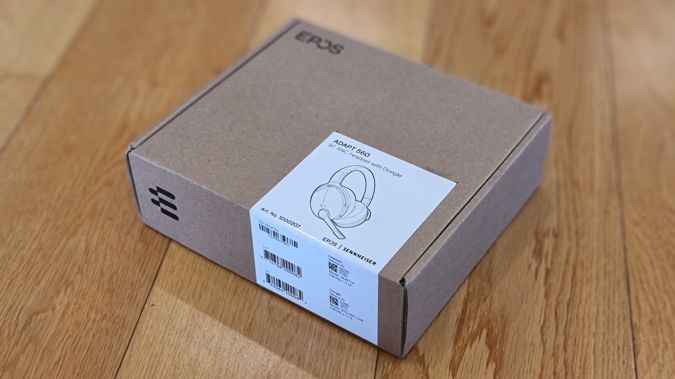 HEADPHONES FOR WORK, NOT PLAY
Author

Publish Date

Tue, 2 Feb 2021, 12:37PM
Things have changed. Regardless of whether you're still working from home or you've been back in the office for months - or a bit of both - remote meetings are obviously here to stay.
Over the last year most of us have become completely familiar and comfortable with video-calling online, in many cases superseding even conventional phone conversations.
Given this new reality, it could well be time to upgrade some of that hastily thrown-together, lock-down, home-office tech for one or two more purpose-built devices.
Let's start with your headset. After all, if you can't hear or be heard, there's not much point being in those meetings at all...
Sennheiser is a name you already know, with an established reputation for high-end consumer audio products. Demant is perhaps less well-known but it's been successfully developing communication solutions of all kinds all over the world for some time. So it stands to reason, when those two brands have a baby, good things are probably going to happen.
The EPOS Adapt 560 is one of those good things; an on-ear headset specifically designed for you to make the most of your newly developed online networking skills.
Aesthetically, the Adapt 560 is no fashion statement. My feeling is the design effort was much more focussed on practicality and functionality than making these cans look pretty. There's a bunch-of-different-components-joined-together kind of a look going on here, rather than the more streamlined, brightly coloured headphones you might choose to wear on the bus or to the gym.
Look a little closer though and you realise this is a very well-engineered, durable piece of kit constructed from high quality materials. Personally, I find the on-ear form-factor less comfortable than a larger, over-ear design. This is mostly due to my massive head and the fact I wear glasses. In saying that, the ear-cushions on the Adapt 560 are lovely, plump, squishy things that do a good job of relieving that on-ear pressure. Obviously, because they're small, they're light too. The headband is narrow but also well padded and although the headset looks kind of clunky when you're wearing it, it feels comfy and breathes well, even after periods of prolonged use.
Not only is the device already small anyway but it folds up even smaller - to fit into a plush carry case. This is a lot flatter than other headphone cases out there which makes it easier to stash in a handbag or briefcase although its velvety surface does tend to pick up fluff, hair and other little bits and pieces.
Speaking of bits and pieces, the Adapt 560 comes with a USB-C cable and a bluetooth dongle, adding up to three different ways you can connect to your computer.
Oddly, when I went to plug the Adapt 560 into my laptop, I discovered the supplied USB cable, although high quality and a good length, was a USB-A to microUSB lead - not much use given the headset connects and charges via USB-C. I'm assuming this is just some weird, one-off anomaly with the review headset I've been sent. No matter, I have a few adapters lying around.
Obviously I've tried connecting both via bluetooth and via the cable - it seems to make very little difference to the all-round audio experience so I'd just go with whatever's most convenient for your setup, bearing in mind the headset will keep charging if connected via the cable. Not quickly though - you're looking at over three and a half hours for a full charge. You'll get about week's worth use from that single charge though (approximately 40 hours-ish) so that's the big payoff.
In terms of the listening experience, I found this varied wildly depending on which paired device I was listening to. I was just enjoying John Mayer's theme from "The Search for Everything" on my phone, a masterfully played and produced acoustic guitar instrumental. Every note rang true, there was a good depth and warmth, it was full and pretty. Then I swapped to the same track playing from my work laptop. The good news is, the Adapt 560 can connect to both devices simultaneously - even if I'm connected to my laptop via the USB cable, I can still listen to playlists from my phone over bluetooth.
As soon as a new audio app becomes active, it takes priority, be it a streaming service, audio editor or a softphone like Teams or Zoom.
The bad news is, the sound quality from the laptop is flat and dry, with no sense of space to it at all. I assume this is more to do with the way my laptop processes things than the way the way the headset does but still something to bear in mind if you listen to a lot of Spotify while you work. Weirdly, Netflix sounds a lot better - good stereo effects and a much more dynamic contrast.
What isn't up for debate is the microphone quality. It's truly excellent. So clear, with little or no background noise. This is no cheap gaming headset with a tinny, add-on mic that makes you sound like you're coming through a phone speaker in another room. This is crisp audio quality that'll ensure no misunderstandings at your next video conference.
Best of all, the mic-boom rotates snugly away when not in use, almost flush and and barely noticeable on the right-hand earcup.
In fact, the everything happens on the right ear-cup -that's where all the control buttons are too - sorry, lefties. There's a power/mute/pairing button, a volume/skip toggle, a hook button which answers and ends calls as well as firing off Microsoft Teams and a settings button that turns voice prompts on and off, tells you how much charge is left and most importantly, turns ANC on and off. To be honest - that's way too many buttons... who can possibly remember what they all do? Better to have too many than not enough I guess. I just wish there was an AUX-in socket for a standard 3.5mm plug - after all, why have three ways of connecting when you can have four?
ANC is perhaps the most impressive feature of the Adapt 560; the active noise cancelling may not be the best I've ever tried but it's certainly up there, with four ANC mics working in concert to ensure all you hear is what you want to hear and the only thing people you're online with hear is you.
The $513 price-tag seems a little steep to me although the Adapt 560 definitely delivers on every promise it makes; audio clarity, comfort, battery life, versatility - what's more, if you're looking to kit out a whole office with them, you can request a trial from EPOS directly.

No, this headset might not win any beauty pageants but in terms of getting the job done, consider it done.


Click here for more information and pricing on the EPOS Adapt 560.