GET THEM CODING
Author

Publish Date

Thu, 20 Aug 2020, 8:21AM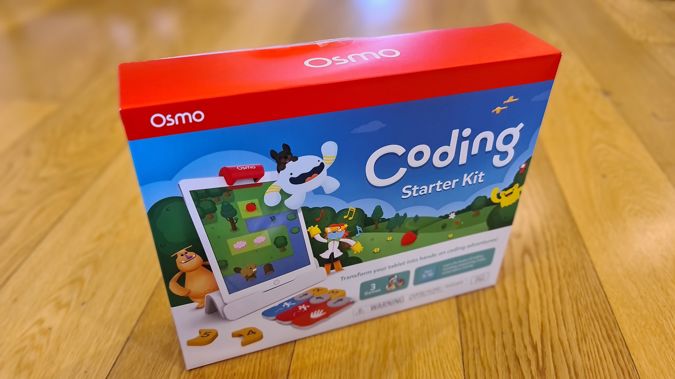 GET THEM CODING
Author

Publish Date

Thu, 20 Aug 2020, 8:21AM
It's a fact that can't be disputed. The job market has moved on. The landscape has tilted dramatically. Not just between last century and this one. Not just over the last decade.
Even since last year, everything has changed.
Many of the occupations that make the world work today weren't invented when I left school and that's a trend that looks set to continue. So the question is; what do we teach our kids? How do we teach our kids?
Technology is obviously now key in the majority of industries and if you can adapt to new systems and ideas, you're well placed to succeed when it comes to facing the challenges of the future.
This is why many education experts have placed such an emphasis on learning to code - if you are able to manipulate the very building blocks innovation is based on, your destiny is surely in your own hands.
So let's play...
The Osmo Coding Starter Kit breaks coding down to its most accessible elements and teaches those concepts to 5-10 year-olds through three different games, Coding Awbie, Coding Jam and Coding Duo.
If you haven't encountered one of Osmo's interactive educational games before, they use the Osmo Base to incorporate physical objects, drawings and actions into the action on your iPad screen. Osmo describes this as "healthy screen time," as it combines elements of the virtual world with those in the "real" one. The Osmo Base is one of those genius examples of design that's so perfect because it's so simple. There are two pieces that stack together when not in use; the base itself which will accommodate pretty much any iPad from the iPad 2 onwards and the reflector cap which is literally just a mirror that fits over your iPad camera to turn your table-top into a gaming workspace.
There's a wide selection of games available, some of which require no further specialised equipment than a pen and paper. You can literally create virtual features on screen by drawing them on the desk or table in front of you. This is fun, creative and addictive but the Coding Starter Kit takes things to a whole new level.
The kit includes the Osmo Base and 31 coding blocks that fit snugly into a stackable storage container. There isn't really any setup involved other than sitting your iPad in the stand and sliding the reflector on top. The stand is just high enough to leave your iPad plugged in to charge - just. Although there's a space for the charging able it does need to bend sharply for everything to sit flush with the table-top and I worry this could lead to cable damage with prolonged use over time. 
Once you download and open the Osmo World app, you can create a profile easily enough by following the step by step instructions. You can also create a parent/teacher account instead, enabling you to track the progress of your kids or students.
Then it's time to let the coding begin.
Coding Awbie is designed to be the entry-level training ground of the three games you can download to use with this kit. By laying down a combination of action and number tiles in front of the iPad, you can move your monster avatar or "Awbie" through a maze of hazards and obstacles. Initially you'll be prompted with plenty of visual tips and prompts but things get more complicated and challenging quite quickly.
You soon learn the more tiles you can put down at once, the faster your progress towards the various goals and rewards in the game. Many of the action tiles have a rotating direction arrow attached. I found this stiff to turn with my fat fingers at first but it soon loosened up with a bit of use and I was away.
Of course, without even realising it, by creating these sequences in a logical, concise order, you're actually writing programs - programming your monster to follow your instructions. Once your Awbie has munched his fill of stawberries, you can then move on to Coding Jam.
This intermediate-level game is all about combining different audio elements to make music, so rather than steering a monster around a maze, you're telling a band of monsters what to play and when. The game makes you practice before you go into "The Studio" so you can familarise yourself with the different instruments, sounds and rhythms available. Once in the studio, you can create your own little song and even produce a music video to go with it. Again, this is all controlled with the supplied action tiles, perhaps the most important one being the "Rest" tile - not just a crucial musical skill but an important programming one too; it's just as critical for a computer to be told when not to do something as it is to be given an action.
As usual, there are points and prizes to be earned, levels to be upped and once you've become the world's next great record producer, you're probably more than ready to take on Coding Duo, the ultimate test of your new-found coding prowess.
There's a bit more of a narrative to this final instalment, the idea being you need to team up with a partner (Awbie and Mo) to go and rescue a collection of Hoppets. This means coordinating two programs at once to achieve a single objective - or two simultaneous objectives. You can play this by yourself or work together with a friend, further developing that most important programming skill of all; collaboration.
While the connection between placing a few plastic tiles on the table with typing pages and pages of code probably won't be particularly obvious to the 5-10 year-olds this suite of games was designed for, I have no doubt the logical processes involved are invaluable skills well worth being ingrained at an early age. These games are fun, tactile and yes, sometimes quite challenging. I'm not convinced you couldn't achieve a similar result with a screen-only app but as part of Osmo's overall philosophy of combining the physical and virtual worlds, I kind of get it.
Most importantly, it doesn't feel like a lesson, it feels like a game and for people like me, that's the best kind of learning.
Click here for more information on the Osmo Coding Starter Kit.