GET THE BIG PICTURE FROM A LITTLE DASHCAM
Author

Publish Date

Mon, 2 Nov 2020, 10:46AM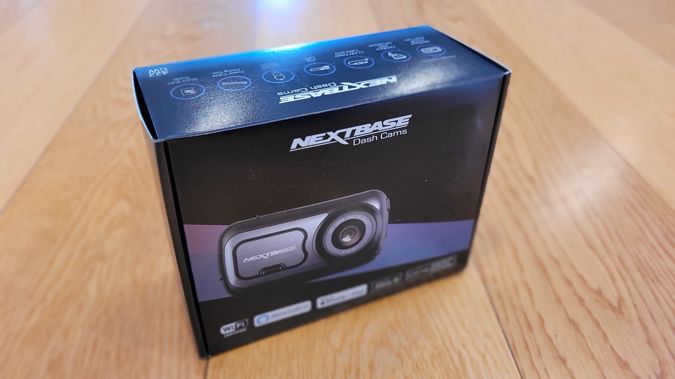 GET THE BIG PICTURE FROM A LITTLE DASHCAM
Author

Publish Date

Mon, 2 Nov 2020, 10:46AM
It amazes me more people don't use a dashcam. In fact, I'm surprised they don't come as standard in all new cars.
For a few hundred dollars you can effectively eliminate any dispute over any incident you should ever be involved in while driving.
Of course, some cameras are more user-friendly than others. And some have features you might never even have realised you were missing out on...
Depending on what device you're reading this on, the Nextbase 422GW is probably smaller than you think. In fact, it might even be smaller than this photo. There are many useful features I haven't come across before, starting with the magnetic mounting system. That front panel with the Nextbase logo on it just flips out letting you fit the camera to the mount via a surprisingly strong magnet. This means it's very easy to remove the camera if you're worried about opportunist thieves spying it through your windscreen.
The Click&Go PRO GPS mount included in the box attaches via a 3M adhesive pad (a spare also in the box) or you can go with the suction mount accessory. Whichever method you choose, everything is pleasingly compact meaning I've been able to tuck the whole setup pretty much out of sight behind my rear-vision mirror, leaving my windscreen virtually unobstructed. I only wish the ball-and-socket joint on the mount swivelled in every direction, not just up and down - this would have provided even more flexibility in where you can position the camera.
The 422GW comes with a generous four-metre power cable allowing you to mount it pretty much anywhere although it is reasonably thick, making it a little tricky to tuck away along the edge of your windscreen or into door-seals. Luckily there's also a plastic cable fitting tool in the box to help you wedge the wire out of sight. It plugs into the mount or directly into the camera.
I would have preferred a USB/charger setup to the moulded lighter plug - that would provide more flexibility to use other accessories, although Nextbase does sell an optional hardwire kit instead.
Unlike other dashcams I've used, the 422GW runs on a rechargeable battery which opens up a lot more accessibility when it comes to setup and transferring video. This is because you can easily snatch the camera off its mount and it will keep running while you're using it so you can set it up sitting on a comfy chair rather than leaning awkwardly over your steering wheel.
A lot of the setup you can do using the touch screen on the camera itself, although the Nextbase app makes it a bit less fiddly. I find connecting your phone to devices like these is usually pretty tiresome but things happen relatively quickly and smoothly with the 422GW. The obligatory initial firmware update takes forever (when doesn't it?) but thanks to Nextbase's AutoSync and QuickLink WiFi systems, your phone is constantly connected to the camera whenever it's on so configuring settings and transferring files is fairly seamless.
The 422GW is one of the new range of Alexa-enabled Nextbase devices. You may be thinking you haven't got much to say to your dashcam other than, "Stop recording," or "Start recording," but once you've connected your Amazon account there's a world of voice-activated actions on offer - place calls, answer messages, fire off your favourite playlist - all hands-free.
Another unique feature is Emergency SOS. Once enabled, the 422GW can call the emergency services on your behalf if it detects you've been in an accident, providing location and contact information - even your personal medical details. I couldn't get this working because for some reason, no matter how many times I tried, I never received the SMS confirmation code. Maybe Nextbase has decided I'm not worth saving. If it works for you, you get the first year free then you'll have to pay a subscription.
Enabling Intelligent Parking Mode puts the 422GW to work even when you're not driving. If you're vehicle is moved or otherwise interfered with, the camera will start recording which might be prove useful should you want to figure out who car-doored you in the mall parking lot while you were inside.
There's actually a pretty good chance the camera will pick most things up, thanks to its wide 140-degree viewing angle and 1440p high-res recordings - although both high and low resolution files are saved simultaneously to make transfer even faster if you want to share videos in a hurry. Nextbase has its own desktop editing app too and it shows everything; GPS location, speed, time, all the stats you need.
Perhaps my favourite feature is one I haven't tried yet - the 422GW is modular - you can connect other Nextbase cameras to it so you can integrate rear-view, rear-window and cabin-view footage into your recordings. That'll have to wait for another review.
Overall, I couldn't be more satisfied with the 422GW. It has a lot of cool, added-extra features (even if I couldn't get Emergency SOS to work) the battery and mounting system make it easy and convenient to remove and above all else, it's tiny, so it doesn't get in the way.
What are you waiting for? A dashcam like this one is just the insurance you need when it's time to claim on your insurance.
Click here for more information on the Nextbase 422GW dashcam.