GALAXY BACK IN FRONT
Author

Section

Publish Date

Wednesday, 13 March 2019, 5:33AM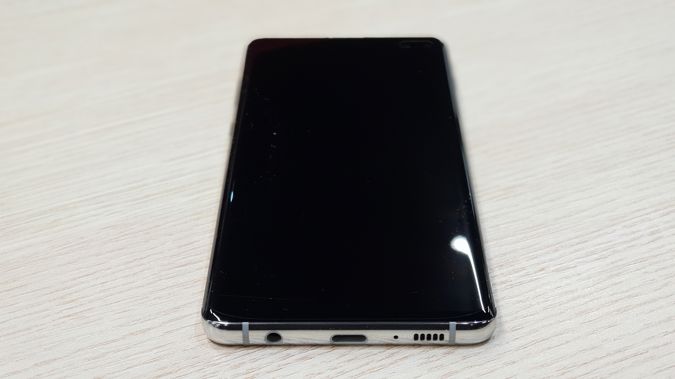 The race to the top of the smart phone market is fierce indeed.

The moment one company announces a new feature or design innovation, suddenly all its competitors are doing it too - sometimes even better.

By the end of 2018, Samsung had a little bit of catching up to do. I'd argue after several years leading the pack, some other players have been beating them to market with a few new tricks.

So what does the latest Galaxy have to offer?...

This year marks the 10th anniversary of Samsung's Galaxy range and to celebrate, not only do we have an S10 and a larger S10+, but for the first time Samsung is also offering a slightly pared down (in size, specs and price) S10e.

I'll be reviewing the S10+ here because it's the one with all the bells and whistles... and it's the one they sent me. Not that I'm complaining. The S10+ is one of the highest specced phones available. Even the base model comes with a whopping 8GB of RAM and 128GB of on board storage - choose the ceramic white model and you can go right up to 12GB / 1TB - the first smart phone to ever offer that much space for your pics, vids and games.

I'm not quite sure what 12GB of RAM can do that the 8GB on my device can't, because I can assure you, combined with its extremely quick CPU, the S10+ is lightning fast - a notable step-up from last year's devices. This is probably due in part to the latest Android O.S. and the all new Samsung interface, simply named, "One."

Simplicity is indeed the key here; Samsung has dramatically stripped back the user experience and come up with perhaps the most easy-to-use and intuitive U.I. I've ever come across on an Android phone. Yes, there are the usual number of new and exciting features added on, but you don't have to jump through any complicated hoops to use them - in fact, some of the S10+'s new tricks work without you having to lift a finger.

Most impressively for me, after using the device for a week now, I haven't yet changed the default launcher over to my preferred Nova setup. That's never happened before. Firstly, the home screen rotates from portrait to landscape as all home screens should, but hardly ever do. This is critical for the S10+ as this year Samsung has stretched the display aspect out even further, to 19:9 - which makes for a very wide screen indeed when you're holding it sideways. That's more than enough space for all your icons and widgets, especially with the rest of your apps tucked neatly away in their drawer and the new option of removing any on-screen navigation buttons completely in favour of customisable gestures. I found these worked brilliantly and I never want to see another button cluttering up my screen ever again.

The next thing I usually fiddle with is the theme. I like things dark. If there's an option for white text on a black background, that's usually my go-to. Once again, the S10+ makes this easy, with Night Mode accessible straight from the pull-down menu of quick settings. This activates a much easier-on-the-eye black background everywhere you go, from Settings to Email to Messages. I love it.

My next standard tweak is the keyboard. I'm a Swiftkey user and all my predictions and preferences are stored in the cloud. Once again, the default keyboard that pops up on the S10+ is so quick to learn, I simply haven't needed to change... although, I might when I have a spare few minutes as I do prefer the option of arrow keys and turning off emoji suggestions.

I don't know if those things are things you're looking for in a phone, but they're things I've always wanted and now I have them I'm a very happy boy indeed.

But those are little things. There are some majors to mention too.

Not only is the screen bigger than ever, at 6.44", the "Infinity-O" display has been winning awards left, right and centre for it's unmatched clarity and performance. And that's before you get to the "punch-hole" camera, a dual-lens selfie-cam in the top right-hand corner. Of the screen. Yep, no notch or tear drop for the S10+ - Samsung has literally poked a hole in the corner of the display to provide the maximum screen-to-body ratio possible. This seems like a pretty good idea when you're using the phone in portrait, but when you're watching video content or gaming, having a hole in the corner is a little distracting at first, although I was surprised how quickly I got used to ignoring it - a bit like the scoreboard graphic when watching a sports match on TV.

As I said, it's a dual-lens selfie camera, which means a lot more options - especially when it comes to wider angle group selfies. The S10+ also sports a three lens camera on the back, adding an ultra-wide angle option. Again, this really makes the most of the long, skinny display, as you can now take shots as wide as your natural point of view. (In fact, it's 123 degrees - that's actually wider than you can see!) Practically what this means is those shots of sunsets, landscapes and rainbows now look like what you thought they looked like - not just a bit of scenery in the distance.

You can quickly swap between wide, ultra-wide and telephoto lenses and there's yet another new option called "Shot Suggestion" which literally helps you compose your picture and level the camera before you click your pic. This phone takes way better photos than I do, believe me. Just as well, because if you're in "Instagram" mode, you can now post straight to your timeline.

Sometimes phone makers give us features we didn't ask for. I feel like last year's iris detection was one of those. Sure, maybe it kept your phone super secure, but you had to look at it just the right way to make it work. Samsung has ditched it now the facial recognition on the S10+ is so good. This is terrific news because iris detection only worked in portrait, this year's face unlock works both ways and it's very fast.

Just as well, because the in-screen fingerprint sensor isn't great. I've tried these on a few phones now and to be honest, none of them have blown me away. Unlike the optical sensor most other manufacturers use, Samsung has gone with an Ultrasonic scanner, which of course they claim is more reliable and should work even if the screen is wet. Unfortunately, I found I just couldn't unlock the phone this way a bit too often for my liking, even after re-registering my print. Although fingerprints have been proven to be vastly more secure than faces (especially given the S10+ face unlock isn't 3D), I'll take convenience over security every time.

When it comes to battery performance, it's a complicated good news/bad news/great news/average news story. Samsung was one of the wireless charging pioneers and I've been enjoying this feature on their devices for years. The S10+ has a 4100mHa battery which is the biggest Samsung has ever packed into a phone. The latest Samsung wireless chargers will top it up nice and fast. That's all good. And yet... depending on how I used the phone I was either super impressed by the battery life, or a little disappointed. It sounds a bit obvious, but lots of screen time certainly led to big drains - bigger than I was expecting. Downloading and transferring large files also seemed to cause the percentage to drop. On the other hand, if I just used the phone "normally" there'd still be well over half a battery's worth of juice left by bedtime. In Samsung's defense, I admit I've been using a pre-release review unit and this inconsistent performance may not be a factor in the genuine retail models.

What does work well is the device-to-device wireless charging - allowing you to use the S10+ as a charger itself. The most practical use for this is topping up the Galaxy Buds many customers received free with their pre-ordered device. You simply activate device-to-device charging from your pull-down menu, flip the phone over, plonk the Galaxy Buds case on the back and they're charging. Unsurprisingly, it's nowhere near as quick as plugging the buds directly into a fast charger, but way more convenient.

I'll finish the way I usually start... how does this thing actually look? Well, it's all glass and curved edges of course - that's what we've come to expect from Samsung Galaxies. In fact, I'm sure this is their slipperiest phone yet. The 128GB S10+ comes in Prism Black, Prism White and Prism Green - the "Prism" effect is sort of holographic - hard to describe and quite unique. The 512GB and 1TB models come in any colour you like as long as it's Ceramic White. Yup, white is the new black, baby. Get used to it.

Whichever variant you go for, you won't be disappointed. Samsung has been doing this for a decade now and they know what they're doing. The S10+ is powerful, easy to use, has a fantastic 5-lens camera array and even charges its own accessories like the Galaxy Buds and Galaxy Watch. Quite simply, it's the best phone money can buy... for now. After all, it's only March.