FOR ATHLETES ONLY
Author

Publish Date

Tue, 24 Mar 2020, 3:18PM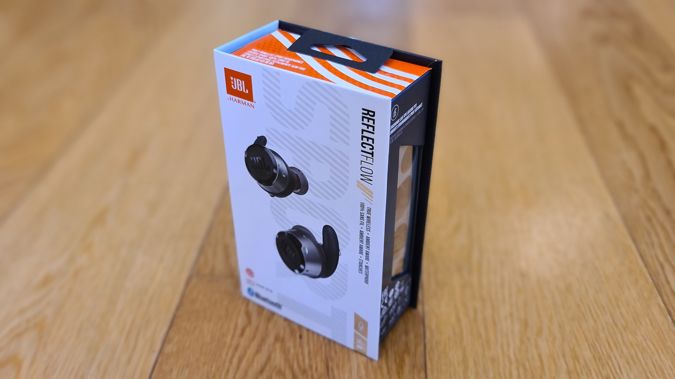 FOR ATHLETES ONLY
Author

Publish Date

Tue, 24 Mar 2020, 3:18PM
When it comes to earbuds, there's one thing that matters more to me than anything else.
It's not how they look. It's not the case they come in. It's not what they're made of. It's not the battery life.
It's not even the way they sound.
Don't get me wrong; I have some definite thoughts, opinions and preferences about all those things but there's something I need even more than any of that...
They have to fit....
Cards on the table; when I was sent the JBL Reflect Flow true wireless sport headphones, I was suffering from a severe case of bud fatigue. I mean, how many pairs of earbuds can you really try? How different can they really be?
I even considered just copying and pasting bits from my other earbud articles and shuffling them around in a different order.
Joke. That was a joke.
I'm glad I didn't because the Reflect Flows had a massive surprise in store for me.
These are not the most styley looking earbuds I've ever seen. Oh, there's nothing wrong with them, it's just there's no particular curveyness or streamlining going on. Yes, there's a choice of four different colour options but at the end of the day, they're quite large, round and boring.
Likewise, the case is fairly industrial. It's a rectangular box that, while the corners have been rounded off, is still pretty boxy. Yes, it fits in your pocket but it will definitely leave a bulge. In saying that, everything certainly feels super sturdy. The lid snaps shut securely. The buds themselves are held in place magnetically, although they are slightly fiddly to get into place as the compartments are shaped to fit exactly.
So first impressions? Everything seemed a bit clunky and nothing looked particularly sexy.
Downer.
Then I started using them.
First things first. There's a good selection of tips and Freebits. (Most manufacturers call these fins, but if JBL wants them to be Freebit enhancers, I guess that's what they are) Three sizes of tips and three sizes of Freebits pretty much guarantees there'll be a combination that works for you. I usually start with the default configuration (which is generally medium) and adjust things as necessary from there.
So I worked the Reflect Flows into place and the world went away.
What I mean by that is I experienced an almost perfect seal, instantly. There's no Active Noise Canceling function built into these earbuds but there doesn't have to be; the seal is so good almost all ambient noise is blocked out. In fact this works so well, JBL has included TalkThru and Ambient Aware modes if you do need to let some of the outside world in. TalkThru mutes what you're listening to and feeds you everything else so you can have a conversation with someone, while Ambient Aware adds outside sounds into your mix which is a good safety feature if you need to listen out for traffic or hear commuter announcements. Both these modes are easily toggled through by single-tapping the left bud.
A good, tight seal usually means powerful bass response and JBL certainly doesn't disappoint in this department. In fact, there's an impressive "roominess" to the way the Reflect Flows sound, a feeling of space that belies the fact you're listening to a couple of pretty small speakers. If I had to make a criticism, I'd describe most tracks as sounding a little flat rather than rich and full, so it's a shame there's no companion app with which to adjust the EQ.
The battery life is certainly impressive, comparing extremely well with some of the best earbuds I've tried - up to ten hours worth on a single charge, with another twenty hours waiting in the case. Charge them up before you go away and you'll probably have enough battery to last your whole trip. Unlike many other wireless earbuds, the Reflect Flow case has a very clear battery indicator leaving you in no doubt how much charge you have left every time you put the buds back in the box.
The on-board controls are relatively limited, with no way to alter the volume other than from the source device itself. You can access your preferred voice assistant with a long press of the right bud though, so that's something.
But none of that matters at all because then I went for a run. 7kms. Up and down hills. Concrete, gravel, grass. I never had to touch the Reflect Flows. Not once. No adjustment necessary. These are the most secure, comfortable earbuds I've ever worn, straight out of the box. I've been on many runs since and the experience is the same every time. So secure. So comfy.
I think this is partly due to the well designed fins (sorry, Freebits) and mostly due to how waterproof they are. The Reflect Flows carry an IPX67 rating so they're not just sweat and splash-proof, but absolutely weatherproof. This means absolute peace of mind you're not ruining your $250 earbuds by getting a bit sweaty. It also means they don't start slipping and sliding around once you get hot.
I can't stress strongly enough how impressed I've been by how secure these earbuds feel, no matter what level of activity I attempt. If you exercise regularly, these are the ones.
Click here for more information on the JBL Reflect Flow true wireless sport headphones.