EVEN LESS NOISE THAN BEFORE
Author

Publish Date

Tue, 10 Nov 2020, 11:47AM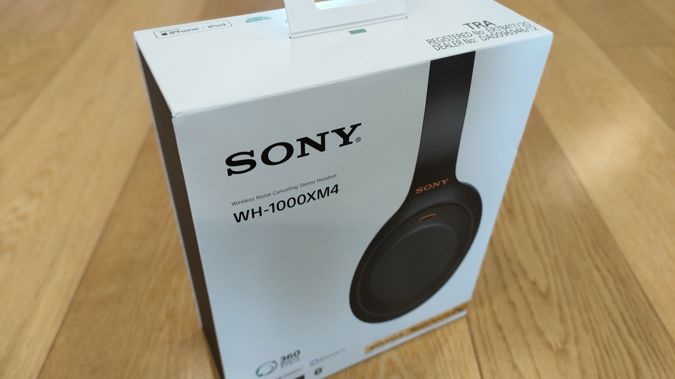 EVEN LESS NOISE THAN BEFORE
Author

Publish Date

Tue, 10 Nov 2020, 11:47AM
People have a wide range of requirements when it comes to choosing over-ear headphones.
For some reason. many care more about what their headset looks like than what it sounds like. Big brand names carry a lot of weight... sometimes justified, sometimes not.
For others, sound is everything. Looks don't matter and even comfort takes second place to making sure every frequency is properly reproduced.
If you're like me and your job means wearing headphones for hours at a time every day, then comfort is just about the most important consideration of all.
But if noise cancellation is your big thing, the choice is pretty clear...
Somewhere along the way we all gave up comparing Sony to everyone else and just accepted its noise-cancelling technology is about the best you can get.
That was true two generations ago and it's no different with the WH-1000XM4 headset.
What is different is it's a bit slimmed down, a bit lighter and a bit more comfortable.
Somewhat boringly, there are still only two colour choices - black and silver. Silver still isn't silver, either. It's that pleasantly neutral sandstone/cream colour. The Sony logo above each earcup is subtly embossed in bronze and there's a matching highlight around the upper mic slots too.
I'd prefer other colour options but personally I'm happy with a more muted, downplayed design philosophy and here Sony has been pretty consistent. Both ear cushions and headband are squishily padded and the whole headset feels very light and well balanced. However, because the earcups fit so snugly, I found a tendency for my ears to get a bit hot and sweaty after prolonged use - not unbearably so - but something to consider.
Oh, and don't worry - the battery life is still completely insane. The website claims up to thirty hours use on a full charge which seems to match up with my testing so far. The only downside is it takes more than two hours to fully charge from flat - something for Sony to work on for the next generation perhaps.
One thing that hasn't seen much improvement since the last model is the cable accessories included in the case. The soft-touch hard case is excellent - as compact as it could possibly be - but the AUX cable is still flimsy, tangles easily and is only 1.2 metres long. This is completely mystifying to me as many other models in Sony's own range have alternative, tangle-free leads. Remember, you're paying $429 for these cans, the least they could do is throw in a decent cable. I can only surmise it's a space-saving measure, to keep the travel case small. While there's an airline-seat adapter plug, there's no 3.5mm-1/4inch adapter and the charging cable is frankly, pathetic - only about 15cm long. For some reason the headphones won't work while they're charging anyway but even so - how often can you connect to a charger right next to the headphones? Weird.
Not to worry - what the WH-1000XM4 lacks in quality accessories it more than makes up for in customisation options, courtesy of Sony's Headphones app.
I'm talking a lot more than just whether you use the Custom button for ambient noise control or to access your virtual assistant instead. There's a wide range of preset EQ's or you can fully customise a couple of your own. If you subscribe to a 360 Reality Audio service like Deezer or Tidal, you can actually take guided pictures of your ears to ensure the best setup. No, I'm not joking.
There's a Speak-to-Chat function that automatically winds your audio down if you start a conversation with someone which I guess would be useful in an office situation. Personally, I found it annoying when I was trying to ignore my kids so I turned it off.
But then we get to the Noise Cancelling and well, what can I say? This is a whole other world. An extremely quiet world. When you first set up the WH-1000XM4, you run the Noise Cancelling Optimiser which automatically senses how the headphones fit around your ears, using test tones and the two mics on each earcup to tailor-make a bespoke ANC profile just for you. It doesn't end there, of course - that's just the beginning.
There's seemingly no limit to what Sony's famous QN1 noise cancelling chip is capable of - making constant adjustments seven-hundred times a second to ensure your listening experience remains uninterrupted, no matter what your environment.
In fact, the WH-1000XM4's Adaptive Sound Control is capable of detecting a number of different situations and will adjust your ANC accordingly - whether you're commuting, walking, or just sitting around. It can even learn which locations you frequent and adjusts your sound profile to suit.
Does all this actually work?
Let's put it this way... the other day I was boiling a couple of eggs for lunch. I set a timer to remind me to take them off the stove and carried on with some writing I was in the middle of, all the while enjoying some music on the WH-1000XM4. Despite being in the same room as the bubbling pot, I never heard it boil. I never heard it boil over. I never heard my timer going off. In fact, I have no idea how long it was before I realised what was going on. Needless to say, those eggs ended up super hard-boiled.
Yup; Active Noise Cancelling so effective, it could burn your house down. Seriously, I've never heard anything like it. Literally. Virtually none of that slight, white-noise hiss you sometimes experience with noise cancelling tech - just your music, podcast or soundtrack, utterly uninterrupted.
In terms of actual sound reproduction, the WH-1000XM4 is hard to fault. Between the high transfer rate of its LDAC bluetooth and Sony's DSEE Extreme - which digitally restores compressed sound files in real time - you couldn't ask for more tech to be incorporated into one headset to ensure the best listening experience possible.
Best of all, you can turn it up real loud.
I've never been a massive fan of Sony's touch sensor panel on the right earcup but they've persisted with it. You adjust volume by swiping your finger up and down, you skip tracks by swiping forwards or backwards. Very annoying if you confuse the two or even get the angle a bit wrong. I much prefer the two physical buttons, nicely spaced out on the left, one for power and the aforementioned Custom button.
There are a few other new little features you'll probably never use but the main thing is, these headphones sound great and with the ANC on, you won't even hear the world ending around you.
Ladies and gentleman, the winner, and still champion of noise cancelling; the Sony WH-1000XM4.
Click here for more information and pricing on the Sony WH-1000XM4 headset.