Entry Level Goes Next Level
Author

Publish Date

Mon, 11 Oct 2021, 2:24PM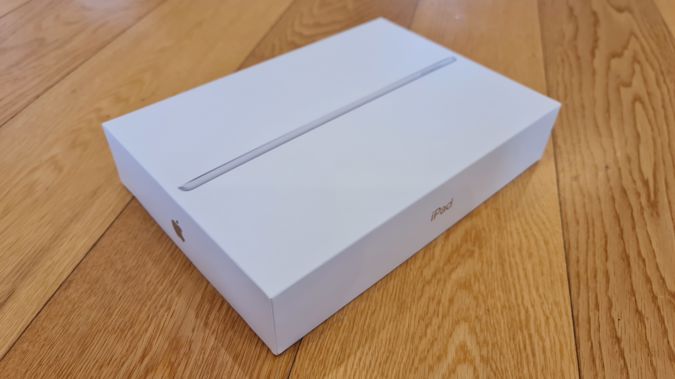 Entry Level Goes Next Level
Author

Publish Date

Mon, 11 Oct 2021, 2:24PM
Every now and then, a product is so revolutionary and so successful, it quickly becomes its own category, known only by its brand name, rather than the type of device it is.
The Apple iPad is an electronic tablet, or perhaps even a portable computer… but nobody ever calls an iPad a tablet or a computer. It's simply an iPad.
For more than a decade, Apple has maintained the iPad's remarkable dominance in a market it basically created for itself out of nothing. Yes, there are other makes of tablet available but nobody has come close to the market saturation the iPad has achieved and it's because, as always for Apple, it works as advertised. It's easy to use and there's a lot of software created specifically for it.
Of course, the temptation for the producer of any hyper-successful product is line-extension; should we make a bigger one? A smaller one? More storage? Faster? What kind of accessories might enhance its performance?
While that can make you more appealing to a wider market, once you've offered all those extra bells and whistles, why would anyone still want the base model?...
Can you believe we're now into the 9th generation of the iPad? And while a lot of things have certainly changed, there's quite a bit still unerringly familiar about this iconic device eleven years on. In fact, to look at, without powering it up, you'd be hard pressed to figure out which generation it is - similar shape for sure and unlike some of its Apple stablemates, still only available in Silver or Space Grey, although that casing now constructed entirely from environmentally friendly, recycled aluminium. (Strangely, if you go for the Wi-Fi + cellular version, there's a contrasting panel at the top of the rear cover for connectivity reasons)
The 10.2-inch Retina Display has been that size for three generations now and to my eye, is starting to look a little old-fashioned with those extremely large bezels top and bottom. When turned on, you tend to ignore that somewhat as this is the new True Tone display that adapts to suit your lighting conditions. It's bright, it's sharp and pictures and movies look great on it - unfortunately they don't sound quite as good because although the iPad (9th gen) has reasonable quality stereo speakers, they're situated right next to each other on the bottom edge of the device. So, too close for decent stereo separation and that's only the bottom edge while using the device in portrait mode. Who's watching TV or a movie that way? So turn it sideways and all the sound's blasting out the right. You sort of get used to it after a while but it's kind of odd.
The other thing that drives me nuts about the iPad (9th gen) is the Home Button/fingerprint reader situation. I'm completely mystified as to why there's still a Home Button at all - the latest OS, iPadOS 15 makes working in landscape easier than ever, rotating Home Screen, widgets, apps and icons smoothly and quickly. iPadOS 15 also enables more on-screen gestures than ever - including swiping up from the bottom to return home, just like on pretty much every other iPhone or iPad these days. I get the fingerprint reader is underneath the Home Button and putting Face ID on this device would probably add quite a bit to the price - but there are plenty of handsets and tablets out there with fingerprint readers under their power buttons, located on either the top or side edges. Surely it's time Apple did away with the Home Button here too, just like it has for the iPad mini, Air and Pros.
There might be a halfhearted argument that some accessories are designed around the traditional Home Button placement - this certainly seems to be the primary rationale for still charging the iPad via lightning cable as opposed to USB-C - again, unlike all the other iPads.
I fear, because Apple has copped flak in the past over updating form-factors and thereby rendering accessories like chargers, cables and covers obsolete, it's become somewhat gun-shy about making those sorts of changes without good reason. I'd suggest significantly faster charging times and getting rid of a button nobody uses are a couple of pretty good reasons.
Nevertheless, once you get past those two small anomalies, you quickly begin to learn there's not a lot separating the iPad (9th gen) from it's siblings in terms of performance.
As I just mentioned, we're dealing with the latest software - just like the other models use. iPadOS 15 means better multitasking, more useful widgets, the convenience of a self-organising App Library and many other features designed to make life more streamlined and productive. Sure, the A13 Bionic chip is now a generation or two behind those running Apple's other devices but that doesn't mean it's not still a great chip.
Switching from app to app, or even using two simultaneously in split-screen happens instantly and efficiently
Perhaps the most significant upgrade of all is the forward-facing camera - now an impressive 12MP ultra-wide sensor. Due to its 122-degree field of view and Apple's new Centre Stage feature, this is a device perfectly suited for video calls of all kinds - Zoom, WebEx, FaceTime, TikTok - whether at home or work, you'll be connected clearly and thanks to Centre Stage, kept in the middle of the shot.
We also have a storage upgrade of sorts - with the base model now starting at 64GB. As far as I'm concerned, considering how useful a creative tool this iPad is, 64GB is still not going to be enough once you save a few photos, videos and presentations locally. It's a big jump in price ($250 more) to get the 256GB one though, so maybe that cloud storage subscription might be a good idea after all.
This latest iPad is compatible with the first generation Apple Pencil - again, like the lightning cable and the home button, it seems strange to produce something brand new that will only work with older tech - not that the first Apple Pencil isn't a good stylus - it's just been refined quite a bit in its second outing. After using the Pencil 2 with other devices recently, the elegance of charging magnetically certainly makes the Pencil 1 look a bit ridiculous when it's plugged into the bottom of the iPad instead.
Luckily, there's an adapter for the lightning cable included when you buy the Pencil 1, so you can charge it independently.
And the accessories don't stop there. 
I'm using the Smart Keyboard to write this with - a robust, if slightly cramped keyboard case that connects magnetically. It's kind of fiddly to fold into position and it certainly isn't trying to replicate the experience of a "proper" keyboard but it does the trick. And it protects the screen when you're not using it. And you can fold it a different way to use the iPad as a standalone, tabletop display.
In keeping with the spending power of the iPad's target market, the original Apple Pencil and the Smart Keyboard are significantly more cost effective than some of the more premium add-ons available for some of Apple's more premium devices - in fact, previously I've complained about how pricey some of those optional extras are. No real complaints here.
The iPad in its most basic form, is actually not that basic anymore. It has a pretty great chip, ample storage and solid battery life. The display is a pleasure to use and the camera setup - especially the selfie cam - is first rate. What's more, you're getting the same iPadOS experience as on any other iPad. Yet the starting price is just NZ$569 - which I think is outstanding buying and it's no wonder this is the go-to option for so many BYOD schools.
I mean, all that and a Home Button you don't even need! What more could you ask for?
Click here for more information and pricing on the Apple iPad (9th generation).