DYSON DOES IT AGAIN
Author

Section

Publish Date

Wednesday, 20 March 2019, 11:40AM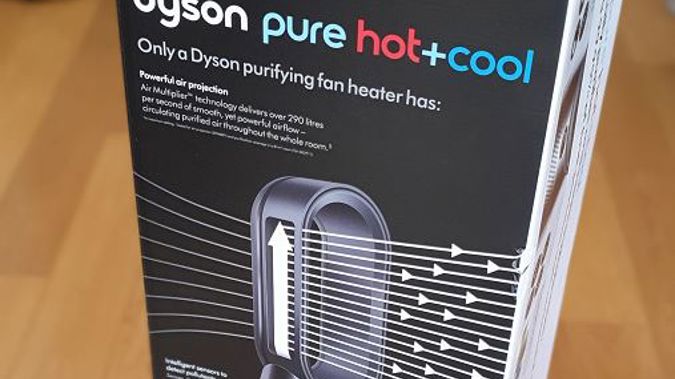 As a record-breaking kiwi Summer finally comes to an end, I know it seems crazy, but it's time to consider your home-heating options again.
The good news is, if you thought Dyson was all about fans and vacuum cleaners, they've added another string to their bow...
If you're thinking, "Wait, I've seen this before," that's because the Dyson Pure Hot+Cool looks a lot like the Dyson Pure Cool.
Even when you just write it down...
Not sure who's in charge of naming things at Dyson, but as I always say, when it comes to design, nobody else comes close.
When I reviewed the Pure Cool, I loved it - even though I really only had Dyson's own app to prove if the air was more pure after using it.
On closer inspection, the Pure Hot+Cool actually has a lot more to offer.
For starters, the colour scheme is so much cooler (cooler figuratively, not literally). Black and nickel seems a lot more modern and ties in with more furnishings than the stark white of the Pure Cool - not to mention the bright, bright, BRIGHT purple associated with other Dyson products like fans and vacuums.
The Pure Hot+Cool is significantly shorter than the Pure Cool - so initially I wondered if it would be as effective in a large space like my living/dining/kitchen area. I soon learned this was no cause for concern, as I accidentally discovered the new tilt feature. This lets you angle the device upwards so the signature bladeless fan can blow up as well as out. There's no special lever, button or catch to make this happen - you just tilt it to your preference. As I say, it's so easy I did it by mistake when I was installing the filters - another operation that is so well designed, you don't think you've done it properly because it's just so easy to do.
Often, it's a collection of small improvements that add up to a major step forward. One of these little tweaks is the power plug, which is now a more standard size and shape, compared to Dyson's previous oversized, rectangular boxes that hogged far too much space on a typical double wall outlet.
Obviously, the big difference between the Pure Cool and the Pure Hot+Cool is the "Hot" part. This device brings the very best of Dyson's purifying, fan and heating technology together in one compact unit. I'm surprised they haven't come up with a way for it to clean your floors as well - maybe that's next year's model.
Funnily enough, I always thought the "Cool" side of the Pure Cool was slightly overstated, as of course at the end of the day, it's just a fan - not an air conditioner - albeit an extremely groovy fan. What I mean by this is fans don't really reduce the air temperature, they just make it more comfortable by creating a nice breeze.
In this case, there's no question the "Hot" part of the equation does the business. The Pure Hot+Cool is capable of raising the temperature, even in a large room, by several degrees in mere minutes - all thermostatically controlled, either with the accompanying remote, which you can leave conveniently magnetised to the top of the device itself, or you can run everything from the Dyson Link app.
The advantage of doing it with the app is you can activate the Pure Hot+Cool from anywhere - switch it on when you leave work and have everything toasty-warm by the time you get home.
The fan has 10 speed settings which you can select yourself or simply set to auto. While the low settings are extremely quiet, (even a night-time mode that turns down the display and the sound) you'll certainly be aware of the noise by the time you get up to 9 or 10. In saying that, at least it's a steady whoosh - not the rattle and clatter more commonly associated with conventional fans and fan heaters.
The unit also has variable oscillation settings - right up to 350 degrees, even when fully tilted. This means unlike conventional fan heaters which only point in one direction, you can effectively place the Pure Hot+Cool in the middle of the room and it'll blast cosyness into every corner.
Best of all, what other heater removes 99.5 percent of any nasties out of the air as well?
The Pure Hot+Cool is easy to operate and offers plenty of customisations, especially via the app - which even let's you program when you want the unit to turn on and off automatically.
It's a high-tech fan you don't have to store away in Winter and an efficient, intelligent heater you don't have to store away in Summer. When you add the ability to monitor and improve the air quality in your home, the $999 price tag starts to sound pretty reasonable. Many heaters outprice the Pure Hot+Cool significantly - and all they do is heat.
Certainly if anyone in your household suffers from asthma, allergies or other similar complaints, this is a very well-designed no-brainer this Winter.
Click here for more information and pricing for the Dyson Pure Hot+Cool purifier fan heater.