Don't Waste a Single Ground
Author

Publish Date

Mon, 9 May 2022, 12:15pm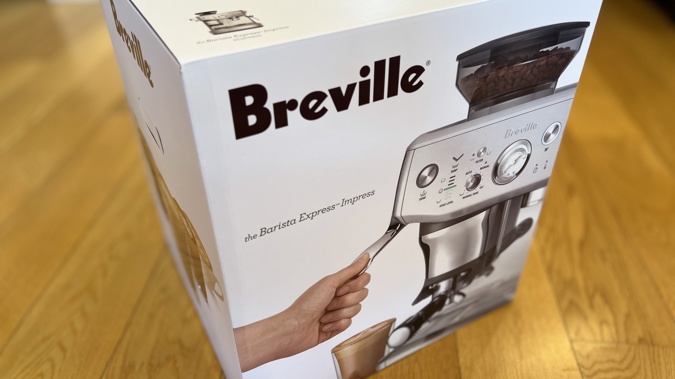 Don't Waste a Single Ground
Author

Publish Date

Mon, 9 May 2022, 12:15pm
If you're anything like me, nothing happens till that first coffee of the day.
I don't mean that figuratively. I mean, I'm physically incapable of achieving anything useful until I'm fully caffeinated. Even talking in complete sentences. Just forming the words. Not an option.
Is that bad?
Probably. 
Am I an addict? Perhaps.
Regardless, I need that fix and I need it as quickly and as efficiently as possible. Yes, I much prefer fresh-ground, barista-poured but I also prefer no fussing about.
And the last thing I need first thing in the morning is a mess.

Breville has decided it's time I cleaned up my act, with the Barista Express Impress.
Before they added the "Impress" part of the title, the Barista Express has been one of New Zealand's most popular home espresso machines - if you don't own one I'd say you probably know somebody who does. It's compact, reliable, easy to use and maintain and it's a great one-stop-shop for grinding, extracting and steaming your own barista-style coffees.
I used a similar machine for many years with great satisfaction albeit with one minor drawback; to get enough ground coffee into the portafilter for "optimum extraction" meant filling it to overflowing, so you could then tamp the grounds down, achieving the ideal level of compaction for the right amount of pressure.
That not only meant the mess of spilt coffee grounds all over the machine and benchtop but wastage too. Sure, only a few pinches of coffee every cup but it all adds up over time.
Now Breville has definitely "Impressed" by adding an Assisted Tamping mechanism to their already wonderfully designed espresso machine. This means from the moment you insert the portafilter under the hopper, right through to tamping down the grounds, everything is completely self contained and there can be no spillage.
The whole process is very streamlined indeed - starting with Breville's Intelligent Dosing system which supposedly learns from every grind and tamp, even weighing the beans - to provide you with a consistent dose of ground coffee every time. This means you don't have to guess how much to grind yourself - the Express Impress does it for you. If that means one less thing I have to think about while still half-asleep, I'm for it.
Then the Assisted Tamping comes into play - while Breville's other espresso machines often feature a tamper tucked neatly away in a clever magnetic cavity for when you need it, the Express Impress has a lever on the side instead. Pull it down and the concealed tamping mechanism applies 10kg of pressure to your grind, every time. There's even an LED display to show you if you've ground the correct amount of coffee - if you haven't got quite enough in there, you can push the Dose button one more time for a little bit more. The green LED next to the smiley face symbol then lights up with a little beep and the Express Impress will remember that amount for next time.
Then it's a simple matter of transferring the portafilter over to the extractor and if you've got the dosage and tamping right, you'll see the pressure gauge swing into the "Espresso Range" while your coffee's pouring.
Of course, a major part of the equation is grind size too - the dial below the bean hopper offers a slightly-over-the-top twenty-five grind settings so you can fine-tune your shot depending on which bean you happen to be using.
I really have no idea what a Thermocoil Precision Heating System is but I can report the resulting espresso from the Express Impress always comes out nice and hot - never overheated or burnt-tasting.
My one drawback with this machine is when it comes to steaming the milk. I'm a latte guy usually (my god, that sounds so Aucklandy) so I'm definitely after some hot, smooth froth. While I've found the manual steam wand certainly does a great job of heating the milk, there seems to be a fine line between velvety foam and less desirable, soapsud-style bubbles. I'm sure this is more a testament to my personal inadequacies as a barista than an indictment on the Express Impress itself, although I've definitely used faster, more powerful steam wands with better results. (I must confess, I'm so lazy my preference is a machine with an automatic milk dispenser but that's a whole other category.)
The Barista Express Impress is not the first espresso machine I've used with a self-contained tamping setup like this but it might be the most refined. There's a bit of fiddling around with dosage and grind size when you first set it up but after that it's my ideal scenario; perfect coffee every time without having to think about it. You don't even have to pull very hard on the tamping lever, it's precisely engineered to apply all the pressure for you.
Lazy? Perhaps. Convenient? Definitely. Less mess? Absolutely. Thank goodness.
After all, if you can't be a little lazy first thing in the morning, when can you?