Don't Be Misled By the Price
Author

Publish Date

Tue, 30 Nov 2021, 1:08PM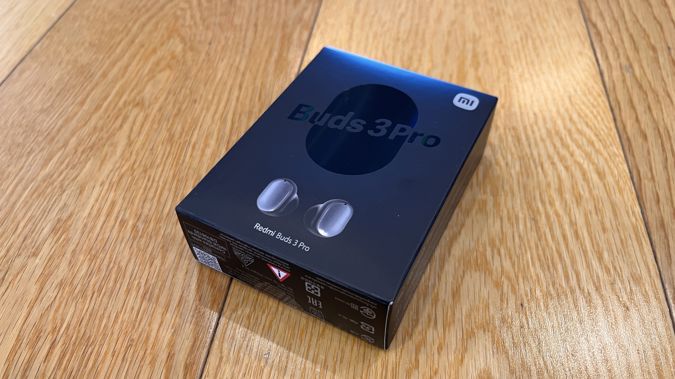 Don't Be Misled By the Price
Author

Publish Date

Tue, 30 Nov 2021, 1:08PM
I don't know why I keep making the same mistake - assuming just because the Xiaomi/Redmi option is a bit cheaper, it won't be as good as the so-called flagships.
I've made that assumption before - especially with phones - only to discover not only does the device stack up performance-wise, there's even some design flair that really pops.
Yet for some reason, I did it again with Xiaomi's Redmi Buds 3 Pro. Simply because they retail at NZ$129.00 (even reduced to just $89 for the Black Friday sales), I pretty much wrote them off without even trying them. Well, almost. I am a professional, after all.

Somewhat begrudgingly, I took them out of the box and got my first pleasant surprise. 
What a lovely case. I've been sent the Graphite Black Buds 3 Pro to review (also available in Glacier Grey). The case is a complimentary dark grey colour, in a matte finish that feels rather luxurious to touch. I don't usually get too carried away with charging cases because why would you? But there's something satisfyingly tactile about how smooth and curved this oval case is. Great attention to detail too - when the lid snaps shut magnetically it fits together so perfectly, there's hardly a crack showing between it and the rest of the case. Even the pairing button sits absolutely flush at the base, above the USB-C charging slot. Unlike many other buds, the Redmi Buds 3 Pro do fast charging and the case will even charge wirelessly - pretty premium stuff.
Battery life is also very respectable, with up to six hours playback from the buds themselves and 28 hours in the case.
My heart sank a bit once I took the Buds 3 Pro out of that great case. They looked really weird; kind of square and chunky - with the actual bud part sticking out at a bizarre angle. "These are going to feel terrible," I thought to myself.
In fact, the Buds 3 Pro fit wonderfully. There's a selection of four sizes of silicone ear tips and the whole bud twists into my ears comfortably and very securely - making these some of the best fitting earbuds I've tried all year. They don't stick out of my ears very far at all, making them both sweetly balanced and quite good looking once inserted. They're also IPX4 water resistant, so sweaty, vigorous exercise is definitely allowed.
I can't even really criticise the sound of the Buds 3 Pro.
Due to the time of year, I've been sampling quite a bit of new release Christmas music, including Kelly Clarkson's album, "When Christmas Comes Around." The album is generally pretty ghastly; sort of a Kelly-sings-Christmas-karaoke, schmaltzy train-wreck. However, there are a couple of fun tracks where Clarkson's true sass shines through, one of them being "Christmas Isn't Cancelled (Just You)." This ultra-poppy, holiday-revenge tune bops along nicely on the Buds 3 Pro - every instrument punching through nice and clear. Although, I'm pretty sure every instrument was just a keyboard playing fake brass, fake bass, fake strings... you get the idea.
The 9mm vibrating diaphragm coil does indeed seem to deliver what Xiaomi promises; a clear reproduction of mids and highs as well as a fairly powerful bass kick.
Let's try something a bit more organic - how about "A Love Supreme" by John Coltrane? Oh yeah, now we're talking. Double bass setting the tempo. Drums and cymbals all around. Airy, wafty, almost unhinged piano floating in the background. All the while, Coltrane's legendary sax wailing in my left ear. Talk about going to your happy place. I just can't believe what a good job these Redmi's are doing as I type this, not that I can hear myself typing with the ANC on.
And that's the real kicker here; for under $130 you get Active Noise Cancelling that actually works, which you can toggle on or off with a long press of either bud. When the ANC is off, you're in transparency mode, with the outside world piped in so you don't get run over by a bus or something.
Unless you're paired with a Redmi phone, there's no companion app for the Buds 3 Pro - that means no personalised EQ or customisable controls. This doesn't actually concern me too much other than I'm missing my favourite function; on-board volume control. Thankfully I can handle that with my watch these days instead. Interestingly, (and cleverly) there's no single-tap control - this avoids accidental touches completely, often a problem when taking other buds out, putting them in or just adjusting them. Instead, it takes a more deliberate double-tap to play/pause or answer calls. 
Speaking of which, the triple microphone array also seems to do a good job. I've been on several calls with my elderly mother and she's never asked me to repeat myself.
The flash features keep coming - including in-ear detection to automatically pause playback when you remove either bud, starting it again when replaced. You can also connect to two devices simultaneously - instantly swapping audio between phone and computer for example.
I've been nothing but impressed with how the Redmi Buds 3 Pro punch well above their price-range weight - to the point I consider these to be the best value-for-money earbuds of 2021. 
Click here for more information and pricing on the Xiaomi Redmi Buds 3 Pro.