D-LINK'S WHITE KNIGHTS OF CONNECTIVITY
Author

Publish Date

Sun, 4 Aug 2019, 2:09pm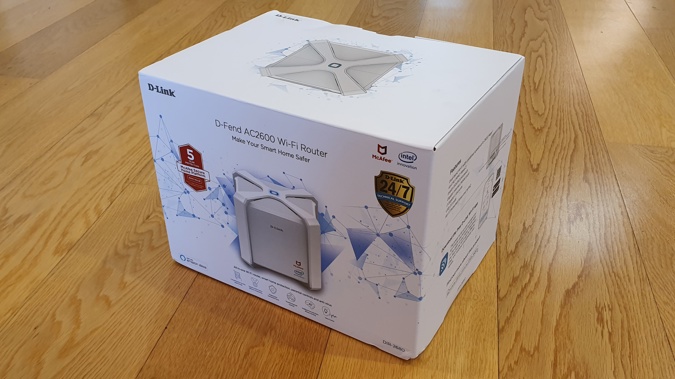 D-LINK'S WHITE KNIGHTS OF CONNECTIVITY
Author

Publish Date

Sun, 4 Aug 2019, 2:09pm
Chances are things have changed sincce you first set up your WiFi... either at home or at work.
IoT devices are everywhere, placing more demands on your internet connection than ever before.
This means WiFi access points can become more like choke points, with dozens of gadgets fighting to stay online.
What's more, each one of those devices, from phones, to TV's, to tablets, to speakers are a potential security risk, exposing everything to the dangers of the outside World Wide Web.
Don't worry, D-Link's onto it...
Whether you're responsible for your home or business network, it's important to keep re-evaluating the gear you have installed. And obviously, if you're starting from scratch, using devices like the DIR-2680 D-Fend AC2600 WiFi router, or the DWL-7620AP AC2200 access point keeps you about as future-proofed as you can get.
Let's start at home with the D-Fend router. This one of the new generation of routers that aim to keep your home network safe from attack, right from the first point of contact.
The D-Fend looks totally different to any other D-Link router - an imposing white cube that seems to scream security, just by its shape. Its actually a practical form factor too - easily placed beside other things on a shelf without cumbersome external antennae getting in the way.
Set-up is remarkably straightforward - provided you're connecting directly with your source modem. It's important to remember you're setting up a brand new network with this device, not extending your existing one. After all there's no point protecting some devices in the house while others are left exposed. Everything must go through the D-Fend router for it to be effective. This means if your source modem is a modem/router, you'll need to make sure it's in bridge-mode so the D-Fend unit can take over all the routing.
That's as complicated as it gets, because setting up the D-Fend is all done via the D-Link WiFi app. It automatically detects the router and asks you a few straightforward configuration questions, including your ISP details, so have those handy.
A little patience is required here, because there are a few reboots involved and for some reason these take forever. It's worth the wait though, because once you're all set up, the fun really begins.
The D-Link WiFi app is perhaps the most user-friendly network management software D-Link has come up with yet. From here you can manage each connected device - what hours it can access the internet and even what kind of content. This is a godsend for any parents who've ever discovered the kids still online three hours after you sent them to bed.
For ultimate peace-of-mind, purchase of the D-Fend router includes subscriptions to MacAfee's Secure Home and LiveSafe platforms. Because these are applied to the router itself, it saves you purchasing separate protection plans for every device in the house - something you can't do for a TV, fridge or speaker anyway. When you take this into acount, the D-Fend's $599.99 pricetag starts to look pretty reasonable.
And that's before you get to the fact it's actually a damn good router. It's easy to assume a device like this might slow your connected experience down a bit, given it's effectively filtering out any nasties before they get to you. But I've found if anything, the opposite is true. Thanks to D-Link's latest SmartConnect and MU-MIMO technology, each connected device is automaically assigned to the right band and given the priority it needs. This isn't just a WiFi router either, there are three Gigabit LAN ports to send hard-wired ethernet off to wherever it's required. I found internet speed and reliability to be generally pretty great.
So now let's take some that tech and maximise it for business use in the DWL-7620AP access point.
This is perhaps D-Link's most boring looking device; it looks kind of like a giant smoke detector and is easily ceiling or wall mounted with the included bracket. Again, no gangly external antennae so pretty subtle once installed, especially given the status LED's can be completely disabled. This is good. I hate flashing lights.
Aside from which, you won't need those lights once you've set up the DWL-7620AP, because it just keeps on working and working.
And man it works - while it may look boring and has a super boring name, when it comes to business WiFi, it's what's under the hood that counts. With its powerful combination of tri-band WiFi and 2X2 MU-MIMO, connected devices are far less likely to get in each other's way in their fight for internet bandwith.
The DWL-7620AP is not designed to work in isolation though. In fact, it's the dictionary-definition of "plays well with others." A cluster of these can be centrally controlled via the DWC-1000 or DWC-2000 switch/controllers, one configuration profile sent to several access points at once. Most cleverly of all, when a cluster of DWL-7620AP's are deployed on the same network, they can actually self-configure, intelligently adopting each other's profile while automatically choosing different channels to reduce RF interference. This means you can set up your access points close enough together to provide seamless, powerful WiFi throughout your entire office.
Powered by either it's own AC supply, or PoE ethernet connection, you have good flexibility when it comes to where you can install each access point.
That's right, no more weak spots. Plenty of bandwith for everyone.
So whether at work or at home, if the WiFi situation is starting to feel a little stale, it might be time to spruce things up with something white and wonderful from D-Link.
Click here for more information and pricing on the D-Link DIR-2680 D-Fend AC2600 WiFi router.
Click here for more information and pricing on the D-Link DWL-7620AP AC2200 unified wireless access point.