D-LINK GETS ITS APP TOGETHER
Author

Publish Date

Mon, 24 Sep 2018, 6:00pm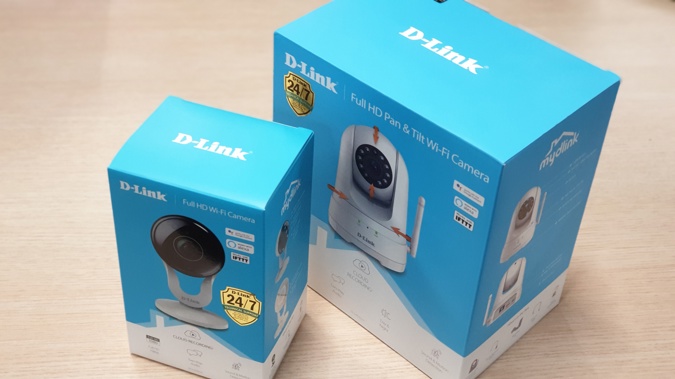 D-LINK GETS ITS APP TOGETHER
Author

Publish Date

Mon, 24 Sep 2018, 6:00pm
There's been an explosion of WiFi-capable camera technology onto the market lately.

D.I.Y. home security on a budget - but it's one thing putting up a few cameras. If you can't easily access what they're filming, or even worse, if it's not good quality video, the exercise becomes a bit pointless.

D-Link has had some pretty clever cams on offer for a while now, but setting them up so you can actually watch them hasn't always been a painless experience.

Now that pain is over...

There's no doubt the DCS-8300LH and DCS-8525LH from D-Link are top notch surveillance cameras in their own right, both extremely versatile and full-featured.

Both cameras record day or night, even in complete darkness. Both capture extremely clear, 1080p full HD video and both are capable of two way audio communication.

While the 8300 is ultra compact, it still offers an incredible 137 degree viewing angle - more than enough to cover most open spaces. Meanwhile, at 117 degrees the 8525 has a slightly more narrow field of vision but instead offers complete pan and tilt ability, meaning it can follow the action anywhere around it.

Both cameras can be positioned on a shelf, wall or flipped upside-down and mounted on the ceiling. All the brackets and attachments required for any of these configurations are included in the boxes.

The only real limitation in terms of positioning either of these cameras is the cable on the power adapters - it's long, but not super long so you'll need to be fairly near a power point or know someone who's good at splicing extra length onto power cables.

Both cameras have strong WiFi connectivity, but if you're more inclined to trust a hard-wired connection, the 8525 still offers the option of an ethernet port - obviously that'll limit your location flexibility though.

What really makes these cameras so easy to use is the latest version of the mydlink app. Until recently, I've usually been frustrated by the D-Link setup and monitoring apps. I found them quite clunky, confusing and unreliable - often resorting to a browser-based interface on my laptop instead. 

Well the latest version of mydlink is excellent. Setup couldn't have been easier and I had both cameras up and running in under 10 minutes. The app allows you to access any D-Link cameras, motion sensors or smart switches, wherever you've set them up.

Swapping between each device is a breeze - you can monitor them live or take advantage of any number of fully customisable pre-set profiles. This means you can schedule recordings to happen at certain times, or simply when the cameras are triggered by either motions or sounds. 

You can also decide when to receive notifications of movements or sounds.

The great thing about the app is you can go straight to the "One-Touch" menu which lets you trigger off your desired profile with, you guessed it, a single touch.

I really found both these cameras to be extremely versatile - the LED infrared images taken in total darkness have to be seen to be believed. However, I did discover one limitation - be careful if you're intending to point these cameras out the window at night. If so, best to do it at an angle, because if the camera's staring straight at the glass, as soon as those LED's fire up, you'll get nothing but a reflection of the camera looking back at you!

D-Link now offers cloud storage, or you can record to microSD card in the cameras themselves. You'll even get a notification if the cameras are disconnected for any reason - not that there's much you can do about that from off-site, but at least you can check the recordings on the cloud up to that point to see if anything suspicious was going on.

At $279.99 for the ultra-slim 8300, or just $20 more for the pan and tilt versatility of the 8525, combined with an extremely easy-to-use app, these cameras really are the ideal, user-friendly home or small business surveillance solution.


Click here for more information and pricing on the D-Link DCS-8300LH WiFi camera

Click here for more information and pricing on the D-Link DCS-8525LH Pan & Tilt WiFi camera