Christmas Is the Time to Accessorise
Author

Publish Date

Thu, 25 Nov 2021, 6:22AM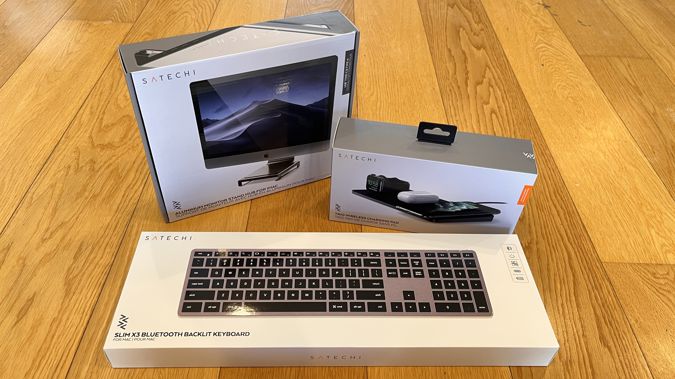 Christmas Is the Time to Accessorise
Author

Publish Date

Thu, 25 Nov 2021, 6:22AM
The Apple ecosystem; once you're in it, you may as well be all the way in it.
If you have the iPhone, why wouldn't you want the Apple Watch? Oh... and while you're at it, who doesn't love a Mac?
Whoops, almost forgot the AirPods - which of course swap their connection between all your Apple devices seamlessly, as if by magic.
See what I mean? Once you're in...
So then, now the festive season is fast approaching, what do you get the person who has everything? And by everything, I mean all the Apple toys...

If you're using and loving Apple, you'll be well aware the ecosystem doesn't necessarily stop with the devices themselves. There are plenty of things you can plug those gadgets into or even connect wirelessly to make the most of them - not to mention just charge them up.
Historically, Apple's minimalist design ethic has often resulted in a somewhat miserly approach to port selection and sometimes the range of Apple-branded peripherals and accessories is also limited. That's why for over 15 years, San Diego-based Satechi has been crafting quality tech products and accessories take those options to another level.
Satechi prides itself on attention to detail and using only premium materials to ensure lasting style and durability - and that was the first thing that struck me when I took my Satechi samples out of their boxes. These are the kind of high-quality gadgets that make you mutter, "Oh, yeah. That's nice. Very nice."
My first foray into the world of Satechi was a three-pronged affair; the Slim X2 Bluetooth Backlit Keyboard, the Trio Wireless Charging Pad and the Type-C Aluminium Monitor Stand Hub for iMac. Each item is a very solid, hefty affair, reeking in class and super slim to ensure as small a desktop footprint as possible.
All three are two-toned - in subtle grey and black and any accompanying cables are of the highest quality.
At first blush, these accessories seem simple. What's so exciting about a charger? Or a monitor stand?
But a closer look reveals the extraordinary attention to detail - everything you need and nothing you don't.
Take the Trio Wireless Charging Pad, for example. Apparently just a slightly angled slab with dedicated spaces for Apple Watch, AirPods and iPhone. Yet a closer look reveals rubberised, non-slip feet and rubber rests for both phone and watch to prevent any accidental slips or scratches. 
The watch stand can be used flat and also pops up to enable your watch to be viewed as a bedside clock. The only thing I don't understand is why the middle of the watch stand has to be white. This seems kind of garish in comparison to the rest of the Trio Pad's muted tones. Maybe there's some proprietary Apple tech involved that forbids it to be any other colour. Interestingly, non-Apple phones and earbud cases will charge just as effectively and in a nice touch, the compact 24W power brick included in the box includes adapters for all international power points.
As impressive as the latest generation iMac is, it has received a few minor criticisms, such as not providing enough ports and inputs. The iMac isn't unique here - not enough ports or slots seems to be a modern malady common to many PC's and laptops, a real cause for frustration if you use a lot of external accessories and storage devices. Another issue often pointed out is while the iMac's stand lets you adjust the angle of the display, there's no way to alter the height.
Satechi's Type-C Alumnium Monitor Stand Hub is the remedy for all this.
Again, from a distance it appears to be a reasonably innocuous metal stand. Yes, solid and stable enough to raise the iMac (or other monitor) to a more practical height - but it has a few other tricks up its sleeve. A more elevated screen is particularly useful for the iMac, as its webcam is built into the top bezel of the display and we all know, the higher the camera angle, the more flattering it is for those video calls.
But the Stand Hub's biggest advantage is you now have easily accessible, front facing ports; a USB-C, three full-sized USB 3.0's, an audio jack and both SD and microSD card slots. This makes swapping out memory cards, thumb drives, external SSD's and even your favourite headphones a doddle. No more fiddling around to try and access the extremely inconveniently placed, USB-C only ports on the rear panel of the iMac. 
Any cords can be tidily fed underneath the stand and tucked out of sight leaving the stand's brushed aluminium finish looking uber classy. Unfortunately, there's no pass-through charging option here, which is about the only limitation. Transfer speeds are still great as it connects to the iMac via its own concealed USB-C cable.
Which leaves us with the Slim X2 Bluetooth Backlit Keyboard. This shares the exact same profile as the Magic Keyboard that comes in the box with the iMac - slightly angled but not much as it's just so damn thin. Despite that, the keys have much better travel and response than the native Apple device. Obviously, the X2 is much wider, not only offering the addition of a dedicated number pad but other useful keys like Home, End, Page Up and Page Down. There are even three extra function keys.
As its name suggests, the X2 is backlit, with several levels of brightness. Bluetooth pairing a simple process, holding down one of the four pairing keys to put the keyboard into pairing mode. That's right; you can use this keyboard with up to four different devices - doesn't have to be an iMac, maybe you use your MacBook with an external monitor when you're at your desk, making the X2 the perfect keyboard to go with it. There's even a set of rubber feet you can stick to the base to raise it to a more ergonomic angle if that's your preference. 
One caveat; initially the Home and End keys didn't do anything and I had to Google up a solution that involved a little bit of MacOS programming using Terminal. No biggie. What might be more of a hassle for you is there's no Touch ID on the X2, so you'll have to enter your password to do things like log in, alter security settings and install apps. Frustratingly, this also means you can't use FileVault encryption because your Mac won't connect to the X2 keyboard until you've logged in and you can't log in until the keyboard's connected. Again, for me, no big issue as I'm not particularly concerned about keeping my tech reviews encrypted on my home computer, so I just turned FileVault off.
The point is, each of these accessories is extremely useful, making the Apple products they're connected to more useful in turn. And they absolutely look the bomb, making them super-classy Christmas gift ideas for the avid Apple user in your life.
Click here for more information on the Satechi Trio Wireless Charging Pad.
Click here for more information on the Satechi Type-C Aluminium Monitor Stand Hub for iMac.  
Click here for more information on the Satechi Slim X2 Bluetooth Backlit Keyboard.