Buds Served Three Ways
Author

Publish Date

Thu, 20 Jan 2022, 12:46pm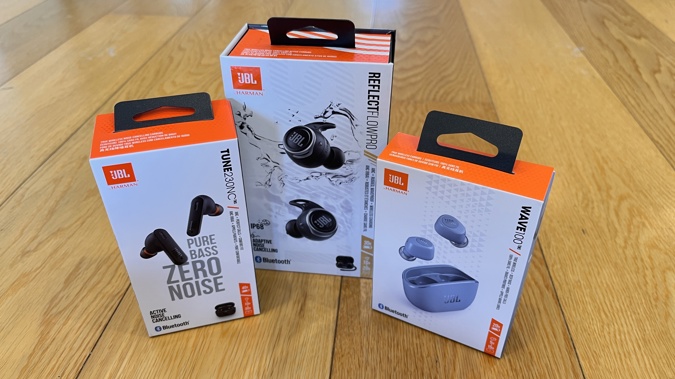 Buds Served Three Ways
Author

Publish Date

Thu, 20 Jan 2022, 12:46pm
Last year I reviewed so many earbuds my ears fell off and my brain exploded.
The only way I could think of to avoid that happening again in 2022 is to attempt something technically challenging, logistically difficult and potentially, aurally dangerous.
The simultaneous triple earbud review.
"Are you crazy?" I hear you cry. "Surely this has never even been attempted! Apart from the risks of driving yourself insane, how can someone with only two ears listen to six buds at once?"
To prove there's nothing I won't do to prove my devotion to tech and my readers, let's give it a go anyway...
When it comes to true wireless earbuds, I'm fairly certain no other manufacturer has every option covered more thoroughly than JBL. With at least twenty models currently available, there simply has to be an option to suit everyone, whatever shape, size or price range they prefer.
Today I'm doing a little cross-section of that huge selection, with the budget-friendly Wave 100TWS, the mid-range Tune 230NC TWS and the rather premium Reflect Flow Pro.

I can't deny the vastly superior sound quality of the Reflect Flow Pro's. The bass response isn't just powerful, it's big and roomy. You can clearly make out the driving tom-toms on Tom Petty's "Refugee" - something I'd never really noticed about that track before. Even on semi-acoustic tracks like "Slow New York" by Richard Julian, there's plenty of space for each instrument and when the bass joins in with the acoustic and slide guitars, suddenly the song evolves dramatically.
There's also a comprehensive selection of settings tweaks for the Reflect Flow Pro's via the JBL Headphones app - not just the ability to customise what the capacitive gesture controls do on each bud - playback, ambient sound, volume or voice assistant - but also detailed preset or customised EQ's, auto-off and standby settings and your choice of voice assistant. You can also run a "Check My Best Fit" test and if you drop a bud and can't find it, you can use the app to play a very loud, very high-pitched tone to locate it. The app warns you not to do this while wearing the buds. I ignored the warning because I was just trying it out. Let me assure you, the tone is indeed very loud and very high.

In spite of this extraordinarily long list of features (I haven't even mentioned the 30 hours of battery life from a fully charged case - which can charge wirelessly) these are not my favourite of the three models here.
There are a couple of reasons; the first is a little odd and I can't rule out some kind of operator error. When trying to adjust the settings using the Headphones app, the Reflect Flow Pro's keep disappearing off it, which makes it a bit tricky. I paired them with both an iPhone 13 and a Samsung Galaxy S21 FE and experienced the issue on both devices although it was far worse on the S21 FE. Weirdly, the buds stayed connected to the phone with no issues, it was just the app that played up, so perhaps a future update will sort all that out.

My other reservation is the fit. These are three-hundred dollar earbuds, so you definitely don't want one popping out and rolling under a bus. (Have I mentioned how that actually happened to me once? Oh, I did? You have to admit, good story. Anyway...) What's more, the Reflect Flow Pro's are IP68-rated against water and dust and JBL suggests you might even want to wear them surfing. Bold. So to try and prevent your buds... floating away... you'll find four sizes of Powerfins in the pack. I can't deny once they're in, they definitely stay in (not that I've taken them surfing or rock-climbing) but I've found getting them in and out is quite a fiddly process for my clumsy fingers and I invariably activate the touch controls in the process.
The form-factor feels a little off-balance to me too - there's a lot of bud for one little earhole and I'm aware of them sticking out a bit as I walk around.
So how about the other end of the market; the Wave 100TWS?

To be honest, I was rather put off when I first saw these because of the case. There's no lid. That's odd, right? Nevertheless, I jumped on in and gave them a go. The main thing I was worried about was the amount of detritus I'd gather up in the case with no lid to keep it out. I usually walk around with my case in my pocket so there's any amount of dust and god knows what else floating around in there too. Surprisingly I haven't yet ended up with a case full of flotsam, even when spending the day out in the garden so it's possible you don't actually need a lid after all.
Unsurprisingly, given the Wave 100TWS's low NZ$79.95 price-tag, that lid-less case does not charge wirelessly and surfing is not recommended.
However, twenty hours of combined listening time from fully charged case and buds is nothing to sneeze at. What's more, you won't get any variable app connectivity issues here as they don't connect to the Headphones app at all. There's no real need as there's no active noise cancelling or other special features to adjust. There are physical playback controls however and I'm starting to think I prefer actual buttons like these over capacitive controls that are much easier to set off accidentally. I do miss being able to adjust volume on my earbuds though - if that's something you like to do too, the Wave 100TWS's aren't for you.
Sound-wise, they're a noticeable step down from the Reflect Flow Pro's - if not several steps - but actually still not bad at all. There's no way to adjust the EQ other than via your source device itself, but on a track like "Cortina Motors" by Fat Freddy's Drop, the funky, moogy bass line still thumps along quite satisfyingly and despite no ANC, the relatively tight seal from the three sizes of gel tips offers more than adequate passive noise cancellation.

The Wave 100TWS's are light too, so they're both comfortable and secure in the ear. The squarish shape may not be the ultimate fashion statement but they're available in blue, ivory and black and I think they look okay, even if once again, they do stick out a little.
If you're after reasonable sound quality, comfortable fit and no setup whatsoever, all for under eighty bucks, not a bad option at all. But still not my favourite.
That prize goes to the Tune 230NC TWS - receiving my Goldilocks award for being just right.

Obviously quite a different form factor in this case, the increasingly popular combination of sealed ear-tip with a stem. This style always feels more comfortable to me because the weight is more evenly distributed around different bits of your ears. 
Calling is generally more effective with this shape of bud too, with four mics working together here to ensure whoever you're talking to gets more of you and less of everything else around you.
The Tune 230NC TWS does connect to the Headphones app for setup and customisations and I've had none of the dropout issues I experienced with the Reflect Flow Pro's. There's no fit test on offer but you'll find pretty much all of the other features, including ANC and Find My Buds. There's also Voice Aware, which is similar to an ambient noise or pass-through option, that enables you to feed three different levels of outside noise - including your own voice - back into your mix so you can actually hear what you're saying.
You also have the full range of EQ adjustments available and while the Tune 230NC TWS sounds slightly thinner and flatter than the Reflect Flow Pro on its default settings, it doesn't take too much tweaking before the full force of Thirsty Merc's "I Wish Somebody Would Build Me a Bridge" pumps through loud, strong and clear.
IPX4 water and sweat resistance makes these a great exercise choice and the uber-comfy, secure fit means you can wear them for hours without even really feeling them.

In fact, you can wear them for hours and hours and hours thanks to the rather standout battery life; a whopping ten hours from the buds and another thirty from the case. A pity you can't charge the case wirelessly but that's about the only feature missing.
Priced just under NZ$200.00, the Tune 230NC TWS really hits the sweet spot for me in pretty much every area but as you can tell, JBL genuinely offers something for everyone. For now though, I'm going to put my six buds back in their three cases and give myself a breather. Cramming three reviews into one is exhausting.
Click here for more information and pricing on the JBL Wave 100TWS true wireless earbuds.
Click here for more information on the JBL Tune 230NC TWS true wireless earbuds.
Click here for more information and pricing on the JBL Reflect Flow Pro true wireless earbuds.