Blindingly Bright. Breathtaking Price
Author

Publish Date

Mon, 24 Jan 2022, 2:11pm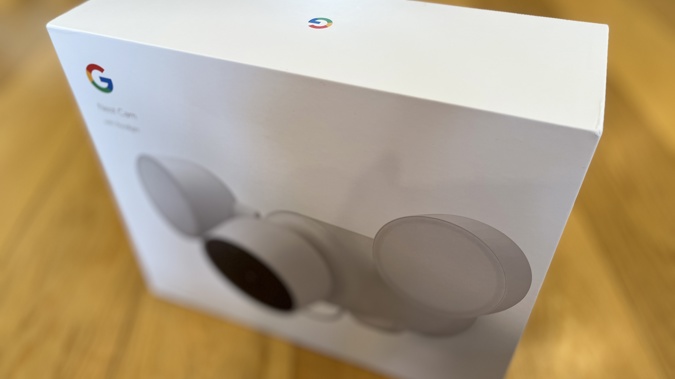 Blindingly Bright. Breathtaking Price
Author

Publish Date

Mon, 24 Jan 2022, 2:11pm
These days it's all too easy to beat up on big tech.
Like big anything, you don't get big without squashing some smaller stuff along the way. But credit where credit's due; Google sells some very cool gear.
The general philosophy seems to be make it foolproof, simple to set up and super reliable.
Nowhere is that more evident than with the Chromecast - a device so easy to use that works so well, many customers are still using the first generation model almost nine years after it was launched.
Now Google has fully integrated its brand with its home security subsidiary, Nest, that same philosophy is paying off again.

The Google Nest Cam with floodlight (wired) wins absolutely no awards for name creativity. It is exactly what it is - although I suppose if you wanted to be particularly pedantic you could point out there are actually two floodlights, not just one.
And if you thought LED's weren't powerful enough to serve as outdoor floodlights, it's time to reassess. I can assure you, 2400 lumens is plenty bright - I have my Nest Cam with floodlight mounted over my back deck but when we saw how bright the lights actually were, I adjusted the angle to shed some of that plentiful illumination over my backyard as well. There was more than enough to go around.
But I'm getting ahead of myself. First, the installation.
Now technically, you're probably supposed to hire a certified sparky to remove your existing outdoor light in order to replace it with this little beauty - but as long as you know where your fusebox is and how to turn the power off, there's not a lot that can go wrong... other than burning your house down, obviously.
My install was slightly more challenging due to the fact I wasn't replacing an existing light; I wanted the Nest Cam with floodlight overlooking my back deck, which up until now had been woefully under-illuminated. Turns out, there's nothing you can't achieve with a tall enough ladder and a big enough drill-bit.
Luckily, Google supplies all the hardware you could possibly need to make installing this cam/light combo a breeze. The mounting plate, screws, wall anchors and wire connectors are all of the highest quality and I have no doubts over their durability. The mounting plate has a rubberised backing to keep any moisture out and protect the device's IP54 weather resistance rating. There's also an S-hook included to help hold the camera in place so you have both hands free to wire it in.
In a slightly odd quirk of design, the camera itself isn't connected to the rest of the unit until everything else is in place. It looks exactly like the standalone Google Nest Cam, which can operate on both battery and mains supply and magnetises onto its mounting plate. Here, the camera also is held in place by a strong magnet, with a small connecting cable plugging in underneath.
I've found the battery life on the standalone Nest Cam to be pretty bad, so it's a relief not to have worry about that at all with this wired version.
Like the Nest Cam, you'll have access to an extremely full-featured security feed after a very straight-forward setup process via the Google Home app, which 99% of us have probably used already to set up and control our Chromecasts or other Google devices, like smart speakers and routers.
To recap, Google Nest Cameras can differentiate between cars, people and animals and can notify you if they spot any of these within their excellent, wide field of view. They store a great quality recording of any of these things on the camera itself for three hours - or for up to 60 days in the cloud if you shell out for an additional Nest Aware subscription. That subscription also enables features like continuous recording and familiar face detection, so you know exactly who's coming and going.
Of course, with the floodlight attached, there's a whole new world of options and versatility.
Obviously the lights can work as sensor lights, set off by any motion detected but what I find even more useful is the ability to turn them on, off or adjust their brightness via the Google home app on my phone or even just by using Google Assistant on my nearby speaker. This takes outdoor security lighting to a whole new level.
Some parties require lots of bright light everywhere. Meanwhile, the other night when we were entertaining friends out on the deck via candlelight, I asked Google to take the brightness down to 30 percent, so as not to ruin the mood.
Perhaps if my guests knew they were also being recorded in crystal-clear, 1080p with HDR, that may have also ruined the mood but fortunately, the subtle design and "snow" coloured casing means the whole unit isn't really all that obvious - other than the glaringly powerful floodlights, of course.
The Google Nest Cam with floodlight fulfils all my needs; powerful yet adjustable outdoor lighting combined with top-notch security footage and motion sensing. Only one problem; the price. If you order it direct from the Google website it'll set you back NZ$599.00. That seems pretty steep to me when there are competitor products out there at around half the price.
I guess it all comes down to build quality and ease of use. Remember; those Chromecasts are still streaming away happily nine years down the track. From what I've seen, this device is probably no different.
Click here for more information and pricing on the Google Nest Cam with floodlight (wired).