Belkin Makes a Stand... Or Two
Author

Publish Date

Thu, 2 Dec 2021, 4:46PM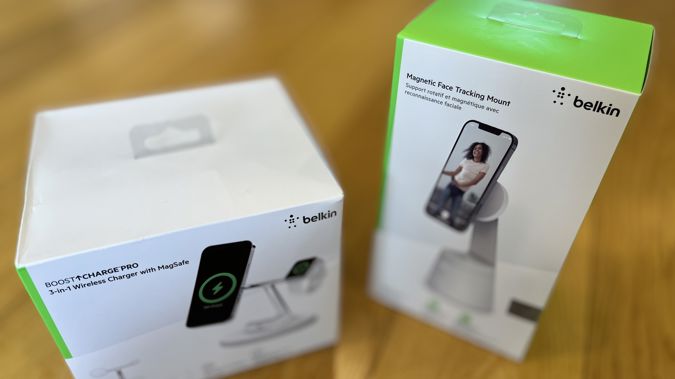 Belkin Makes a Stand... Or Two
Author

Publish Date

Thu, 2 Dec 2021, 4:46PM
Do you have a charger? 
Of course you do. You have a phone right? You must have a charger.
Oh, you forgot it? Yeah, I left mine at home too. Wait! What's that one? Oh... different phone? Different cable? Wrong voltage? Right. Oh well.
We've probably got enough charge left to shoot this anyway, it's only short.
I'll just balance my phone on this book. On top of this box. Which is on top of the stool. Which is on the bench.
Actually, hand me that tin of baked beans, I'll lean it against that.
Hang on, it's not facing quite the right way.
We'll have to start again.
Belkin makes a lot of cool stuff but when it comes to chargers and mounts, it's no wonder so many people choose Belkin first. There's a reputation there; versatility, reliability, durability. And sometimes these things, these very essential things, even look quite cool too.
Case in point; the Belkin 3-in-1 Wireless MagSafe Charger.

Squint and use a bit of imagination and it kind of looks like an upside down U.S.S. Enterprise. And I'm talking from the original TV show. It doesn't get much more kitsch and retro than that. Okay, it comes in black too, which doesn't look anything like as Star Trekky but whatevs - the point is if you're sick and tired of finding three different power points for three different chargers for three different Apple devices, this might just be the answer.
If you have an iPhone 12 or 13 (any model of those two generations) you're probably aware of its MagSafe capabilities. If not, there are range of accessories, from cases to car mounts that just stick onto your phone using the mystery of magnets. The Belkin 3-in-1 Wireless Charger is one of those accessories, suspending your iPhone in mid-air as if by magic. There's also a magnetic charger for Apple Watch and even a space on the base for your AirPods - although this last option will actually charge most Qi-enabled phones and earbuds cases.
The Belkin designers have put a lot of thought into this stand - with the iPhone mount and Apple Watch mount set at slightly different angles for optimum bedside table viewing. I also appreciate how the MagSafe iPhone mount is just magnetic enough to securely hold your handset in place, while not holding on so strongly you accidentally take the whole stand with you when you pick it up. (Yep, that often happens with another charger I've used) 
This is aided by the fact the base of the stand is quite heavily weighted - in fact, the whole device feels very solid. Very premium quality.
As an official MagSafe charger, the Belkin stand can top up your phone pretty quickly at up to 15W - a big upgrade over more conventional, generic Qi chargers.
I do have a complaint though. There's a small LED indicator to show you when your AirPods are in the correct position to charge. This is no good for light-sensitive sleepers and ideally there'd be a way to deactivate it without resorting to a piece of insulation tape.
This 3-in-1 charging stand is also kind of bulky and due to its weighty base, not particularly portable. So not the best option for travel or charging on the go. But as a desktop or bedside accessory, pretty funky and damn useful.
A bit like Belkin's Magnetic Phone Mount with Face Tracking.

We've all lost years off our lives - and sometimes our entire phone - when trying desperately to balance our handset in just the right place for a selfie or video - or even a live-stream. Yes there are clamps and tripods and other solutions out there but these aren't always elegant or close to hand. What's more, just because you have a steady mount, that doesn't mean you're in the shot.
If that sounds familiar, this Belkin Magnetic Phone Mount might just be your perfect accessory. As usual, the key here is design, design, design. They've thought of everything.
For starters, attaching your phone is a doddle - once again, thanks to MagSafe. Just stick it on, grab it off. No clamps required. Pairing the device is also pretty foolproof - there's an app but it couldn't be more stripped down. In just a couple of steps you'll be all paired up and then you can choose to use Facebook, Instagram, TikTok, YouTube, Twitter or just your own camera app to create your first piece of auto-tracking video mastery.
But here's the really clever bit; you can choose to use either your selfie cam or the superior shooting qualities of the rear-facing camera array. And on the Pro or Pro Max versions of the iPhone 12 and 13, those are very good cameras indeed. Unlike other mounts and stands, you can use that rear camera safe in the knowledge the face-tracking will keep you in shot - even when you move around.
You can mount your phone in either portrait or landscape and you can adjust the vertical angle accordingly. There's even a screw-hole in the base so you can attach it to a tripod if you need to. It's light, it's compact and there's just a single button for powering on and pairing. It actually couldn't be simpler.
On the downside, it doesn't charge your phone while attached. In fact, it doesn't plug in at all. The mount runs on three AA batteries, which seems kind of old-school - but at least it keeps things nice and portable.
The great thing both these stands have in common is they do exactly what they promise, with no fuss but a certain amount of style. What's more, considering how clever it is, I reckon the Face-Tracking Mount is incredible buying at just NZ$89.95 (or even less if you shop around).