Belkin Connect Pro Thunderbolt 4 Dock - Supercharge that Single Port
Author

Publish Date

Wed, 1 Nov 2023, 1:35PM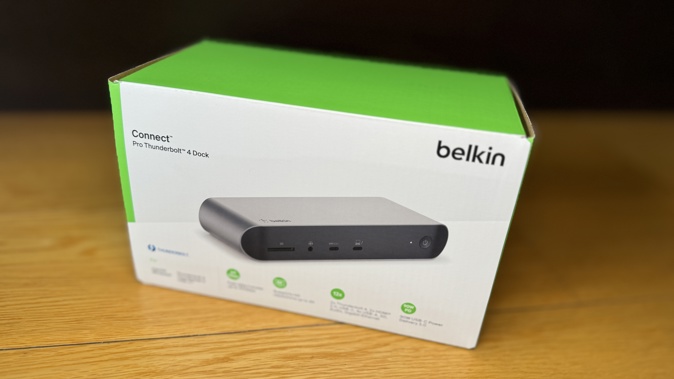 Belkin Connect Pro Thunderbolt 4 Dock - Supercharge that Single Port
Author

Publish Date

Wed, 1 Nov 2023, 1:35PM
USB-C is now officially everywhere. Thanks to EU regulations and just the fact it's what everybody wanted, it's now pretty hard to find a tech device that doesn't run on USB-C.
And yet, despite this increasing universality, many laptops and most tablets only have one or two ports to plug things into.
This means if you want to be anything like productive, you're going to need some kind of dock. But be warned; not all docks are created equal. Hell, not all USB-C cables are even created equal.
Sheesh...
The Belkin Connect Pro Thunderbolt 4 Dock is pretty much exactly what I've been looking for.

Here's my problem - and it doesn't get any more first-world than this; I have too many gadgets. I'm sure this comes as no surprise, after all, I do review them every day. However, it turns out it can be a bit of a challenge if you want to use several of them at once.
Specifically, I've found if I want to connect an external camera, a mic, headphones, a mouse, a keyboard and a streaming mixer to my MacBook all at once, not everything gets its own port. My MacBook only has three USB ports and they're all Type-C. Limiting, to say the least.
I've tried a few external hubs over the years but unless they have their own power supply, any connected accessories end up relying on the Macbook itself to power them - a problem that's only exacerbated if you want to connect an ethernet LAN line for better internet connectivity.
Generally, the camera is the first device to stop working - usually right when I want to film something.
The Belkin Connect Pro Thunderbolt 4 solved all that instantly and all I had to do was plug it in.
Physically, it's a reasonably solid device - a little larger and heavier than some of the portable docks I've used but attractive enough with its brushed metal casing, curved ends and glossy front and rear panels. That glossy finish is a slightly flawed concept though, because with 12 different ports to plug things into, you're not going to get the right plug in the right slot first time, every time. Metal plug VS glossy plastic means scratches - and plenty of them. I've trialled a few other Belkin products with a similar finish and they're also pretty scratched up now. Hey Belkin design team? Please take note.
That minor cosmetic criticism aside, in every other way, the Connect Pro Thunderbolt 4 is essentially perfect. Let's cover off exactly what you're getting here; an SD card reader, audio jack, 2x HDMI ports, 2x USB-A 2.0, 2x USB-A 3.1, 2x Thunderbolt 4(USB-C), gigabit ethernet and perhaps most importantly, a 3.1 USB-C Gen 2 port with QuickCharge. That last slot will deliver up to 90W of power to your laptop or tablet.
This is a crucial distinction between this dock and other portable hubs that don't come with their own power supply; the Connect Pro Thunderbolt 4 will literally charge your laptop while connecting it to up to 11 other gadgets. Talk about a productivity boost.
I'm sure I don't need to sell you on the advantages of having an ethernet connection or dual HDMI displays sitting there, ready to go. All those extra USB-A ports will certainly come in handy too - especially for Mac users who probably don't have any on their devices at all.
But it's the latest Thunderbolt 4 technology where the Connect Pro really comes into its own.
Now that this year's iPhone 15 range - and even the latest AirPods Pro - have all converted to USB-C, pretty much everything can be charged or connected with the same cable. But please heed this warning; just because two USB-C cables look the same, they may be worlds apart in terms of what they can actually do. In fact, some USB-C cables are only for charging - they won't transfer data at all.
The best of the best right now is Thunderbolt 4. Unless you're being scammed, you'll be able to tell it's a Thunderbolt 4 cable by the lightning symbol and the number 4 on each plug. What's the difference? Only Thunderbolt 4 is capable of transfer rates of up to 40Gbps - and that's while fast charging devices up to 100W.
This makes it the perfect link when it comes to connecting your device to eleven other things at once.
Perhaps you like to use your tablet with an external storage device? A physical keyboard? Maybe even a monitor? While you might be able to plug one of those things into your tablet's single USB-C port, you then lose the ability to charge it while you're using it. This issue is compounded by the fact it usually uses extra battery to run external devices so your productive time will be severely curtailed.
Alternatively, you could go with the Connect Pro Thunderbolt 4.
Not only are USB ports in short supply on laptops and tablets but most tablets now rely on their single USB-C connection if you want to plug in headphones too. How handy having that audio jack on the dock instead?
This is yet another example of why I love this device. You plug it in and everything just works. I know that sounds basic but in my experience, it doesn't always turn out that way. The Connect Pro Thunderbolt 4 Dock has streamlined my desk setup with a single cable - I now need fewer chargers and when I get my laptop out I only need to plug in one thing to access eleven. First-world problem solved.
Click here for more information on the Belkin Connect Pro Thunderbolt 4 Dock.
Take your Radio, Podcasts and Music with you