Back In Frame
Author

Publish Date

Mon, 13 Jun 2022, 1:13pm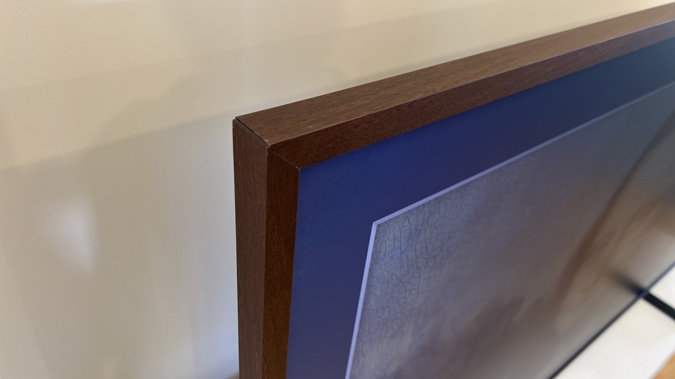 Back In Frame
Author

Publish Date

Mon, 13 Jun 2022, 1:13pm
The team at Samsung are full of good ideas.
Perhaps one of the best ideas Samsung ever had was The Frame, back in 2017. Its introduction heralded Samsung's new range of "Lifestyle" televisions - which seemed a bit odd at the time because most of us thought our TV's were already lifestyle televisions.
The distinction here was a TV like The Frame is specifically designed to fit in with your lifestyle... while most other telly's become the focal point of the home - meaning you have to tailor your lifestyle around the TV instead.
The genius was twofold; a TV (and mount) slim enough to hang on the wall like a painting, with a cunningly designed magnetic frame to complete the illusion, teamed with the ability to display actual art when not being used, including access to an ever-increasing collection of more and more images to choose from.
The result; a disappearing television. Transforming itself into a beautiful work of art as soon as you're not using it for all the things normal TV's do.
Unbelievably, in the five years since, nobody else has released a similar product.

Except Samsung itself of course. This year's edition of The Frame builds on the original concept and evolves it quite dramatically.
It's important to remember, despite their chameleon-like abilities, The Frame TV's are also some of the best big screen tellies on the market. Now available in seven different sizes, from 35 right up to 85-inches, this is a premium QLED display powered by a Quantum Processor 4K picture engine at a 100Hz refresh rate. The brightness of the screen is fantastic - in all lighting conditions and the viewing angle is also excellent, which is good for me as I'm often relegated to the side couch if the more desirable, centre-facing sofa is full of dogs and cats.
Let me assure you, many other TV's don't even come close to picture quality this good - and that's before you get to one of the true genius features of the 2022 model, Samsung's new anti-glare, reflection and fingerprint-resistant technology. When I was first shown this new version of The Frame, I missed it completely - I literally thought it was a genuine Rita Angus, hanging on the wall. I didn't even realise there was any glass there. I could see the weave of the canvas and the brush strokes. It wasn't until it was pointed out to me I discovered this was one of the new, non-reflective Frames.
Don't ask me how they've done it but they've done it. This screen simply does not reflect - which not only makes for a convincing art display, ideal for showing off your NFT collection - but also considerably enhances your usual TV viewing experience... Especially for someone like me who's home during the day and needs to watch a lot of B-Grade sci-fi in the name of tech review research.
That's only partially a joke; most B-Grade sci-fi happens in the dark, so watching it at lunchtime when the sun's out can be a bit of a visual challenge - unless you have a reflection-proof TV. I love it. There's even a built-in brightness sensor that automatically adjusts the brightness of your artwork to match the surrounding lighting conditions. I'm telling you, there are smart TV's and then there are genius TV's.
Another concept I can't believe other manufacturers still haven't copied is Samsung's legendary One Connect Box - all the electronics, ports and power in a separate black box, connected to the screen by a single, almost transparent cable. On this year's The Frame, that black box is smaller than ever, meaning even more places it can be tucked away while still offering full HDMI, eARC, USB, Optical Audio, Ethernet and Wi-Fi connectivity.
I was surprised to see quite a new look to the Tizen operating system this year. Previous versions primarily revolved around a scrollable line of apps, inputs and settings along the bottom of the display but now when you push the home button, you're presented with a whole screenful of viewing recommendations, both from your subscribed streaming services and other weird sources like Sumsung's own new selection of free channels called Samsung TV Plus. (Of course it is) Then along the left-hand side is another menu, where you choose between Art, Media or access to even more settings. It seems a bit more cluttered than what I'm used to - but maybe I just need to get used to this instead.
What I definitely do love is The Frame's new legs. Although ideally you'd use the included No Gap Wall-mount, that's not really an option for me when I'm only reviewing the TV for a few weeks, then have to return it. Not to worry, there are a couple of slide-in feet in the box and the clever bit is they're extendable, so you can raise The Frame up if you're using a soundbar placed on the same cabinet.

Although... it might be worth having a listen to The Frame's built-in speaker array first; it's actually not the worst I've heard. In saying that, this year Samsung has a couple of intriguing soundbar options that would compliment The Frame perfectly; compatible Q-Series soundbars can combine with the speakers in The Frame itself to provide a dazzlingly rich aural experience Samsung calls Q-Symphony. There's also a teeny-weeny soundbar specifically designed to be wall mounted below The Frame and yes, it comes in white.
While we're talking accessories, The Frame can now rotate into portrait mode. Samsung already had a TV just for this purpose, the Sero. The idea is there's a lot of content out there shot on or made for phones. Now with the addition of the optional Auto Rotating Wall Mount, or Auto Rotating Stand, the whole screen can be flipped by 90-degrees - which might make your chosen piece of art look a lot better too. Displaying multiple photos also results in a nifty trick when The Frame is rotated, the pictures on screen will automatically rearrange themselves like some kind of magical wall-hanging at Hogwarts.
The magic carries over to the remote control - like last year's Neo QLED flagships, The Frame's remote is now solar powered - no batteries being much better for the environment. I just wish the solar panel was on the top instead of underneath - I keep forgetting to leave it face-down so it can charge up.
And that's really my biggest complaint; I can't remember to put the remote down the right way round. Boo-hoo. This is such a great telly, built on one brilliant idea after another. Just as it was five years ago, The Frame remains the ultimate answer for people who hate having a big black piece of glass in the middle of their living room. Now, you can't even really tell it's glass.
Click here for more information on Samsung's The Frame (2022).