AT LAST, SOME DECENT COMPUTER SPEAKERS
Author

Publish Date

Sun, 19 Jul 2020, 1:29PM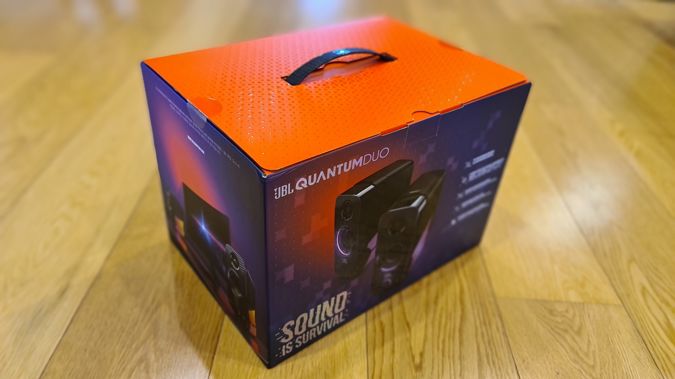 AT LAST, SOME DECENT COMPUTER SPEAKERS
Author

Publish Date

Sun, 19 Jul 2020, 1:29PM
When I first bought a desktop computer, it was a very exciting experience.
Somehow, I don't remember how, but somehow I ordered it. I feel like I ordered it online but that can't be right because I didn't have a computer yet.
Maybe I went to a shop.
Yes, that must be what happened. I actually went to a shop and chose the kind of computer I wanted sent to me and waited for it to be delivered.
I vaguely remember a big box - maybe several big boxes - full of smaller boxes. Remember, this was my first PC so I needed everything; monitor, keyboard, mouse, the desktop tower itself and two speakers.
I recall being quite impressed by the speakers, that creamy beige colour all computer stuff seemed to be in those days. They were small but heavy and they sounded really good.
Not that I can remember what I was actually playing through them... this was way before Spotify or YouTube. Even before iTunes. My computer had a CD-ROM drive, so I suppose it was possible I was playing actual CD's. I know that sounds crazy but it seems right.
Or I might be wrong about all of that. I don't have a very good memory.
The point is, I'm still using those speakers today. They're the only part of that original setup to survive the craziest two decades of technological developments the world has ever known.
But now, at last, it might be time for an upgrade...
The Quantum Duo is part of JBL's new range of gaming audio devices. While headsets make up most of the range, I certainly appreciate the option of a speaker setup. I wear headphones all day at work so I'm keen to give my ears a break when I get home.
Appearance-wise, while the general aesthetic is undoubtedly gamer-centric, I don't think it's too over-the-top. There's a combination of matte and glossy panels and stripes which are actually relatively subtle, given they're all in black. There are, of course, the obligatory RGB lighting options and I'll have more on that later but what I really like is how narrow the Quantum Duo speakers are - just 89mm across - so they won't take up too much extra desk space.
The cable that connects the two speakers together is a very generous two metres long, surely enough to stretch behind even the widest of gaming monitors (or dual monitor setups). This is hardwired into the right-hand speaker and connects to the left-hand one via USB-C. That's confusing to me because the USB cable that connects to your PC is a USB-A to microUSB. Not a biggie but it's just so much easier to plug in a cable that doesn't matter which way up it goes in.
In fact, there are three ways to connect the Quantum Duo to your source device; USB, AUX cable or bluetooth. The method you choose will obviously depend a little bit on what you're playing from. In terms of sound quality I didn't notice a massive difference between each connection - even bluetooth provided a clear, powerful result although it was no use for audio editing. This is because there's a slight delay when going from no sound to playing. There'll be a technical reason for this and it's not the same as the audio lag you can experience on some devices which can make gaming and watching video frustrating - I didn't really notice much of that sort of lag at all. Instead this is more like water coming out of a hose; every time I pushed play in Adobe Audition it would take half a second for the sound to come through. No such issues while gaming though, I guess because there's always music and effects.
Another difference between connection methods is what the volume control knob on the right-hand speaker does. When connected via USB or bluetooth, this syncs with your PC volume so adjusting it on either device does the same thing. Because no digital information is exchanged via the AUX cable, you'll probably want to turn the volume on your PC all the way up and then make any adjustments after that on the speaker. I found the AUX connection simply didn't play as loud either.
And believe me, the Quantum Duo can definitely play loud. Although this is designed to be part of a gaming rig, there's nothing stopping you connecting it to your PC via USB and then pairing your phone via bluetooth to pump out your favourite music playlists. I've just been having a listen to the latest Black Eyed Peas album and in JBL's usual style, the bass response is pretty epic - even though the speakers really aren't that big.
Each speaker sports a 2.5" woofer with a 0.75" tweeter and the system is rated at 20W - which is definitely plenty if you're using it in a bedroom or study. It's not just all about that bass, either. In the past I've been critical of other JBL speakers for sacrificing clarity in higher frequencies, especially in the mid-range, in favour of a big, crowd-pleasing bass thump. This time though the balance is good, with vocals and acoustic instruments cutting through quite well.
Of course, the question is; can speakers provide the kind of accurate surround sound required to sense your enemies creeping up on you in your next online battle? After all, as JBL's marketing slogan for the Quantum range suggests, "Sound is Survival."
Given this is a simple, two piece speaker array, designed to be positioned on either side of your monitor, the obvious answer is, no. If you don't have rear speakers, it doesn't really matter how much auditory engineering genius has gone into the design, there's only so much that can be achieved in terms of a full, surround soundscape. And yet... there's a discernable space and roominess here, especially when you activate the surround sound mode - just one of many controls to be found on the right-hand speaker.
By roominess I don't mean boominess either. The result is much more a case of there being space for each sound effect to be heard clearly above the soundtrack, so while there's not necessarily sound coming from behind you, it's most certainly room-filling.
The only area I feel the Quantum Duo comes up short is in terms of customisation. Many of JBL's new Quantum headsets can be fine-tuned via the QuantumENGINE app. This allows you to adjust EQ's, surround sound settings and RGB lighting effects. Unfortunately, the Quantum Duo is not controlled by QuantumENGINE, even when connected with the USB cable. This means you're pretty much stuck with the default EQ JBL's audio engineers have decided on. It also means cycling through three different controls on the right-hand speaker to set the RGB lighting to your preference, adjusting pattern, colour and brightness. This still provides a lot of options although I struggled to find a bright red colour, having to settle for pink or orange instead.
Perhaps there's an even fuller-featured Quantum speaker system to come that will offer more digital controls. In the meantime, the Duo certainly delivers in terms of sound quality, clarity, accurate effects and sheer power. If you're still using the same PC speakers you bought twenty years ago, this is certainly a tasty upgrade.
Click here for more information on the JBL Quantum Duo PC gaming speakers.