As Light as a Mouse... Without a Tail
Author

Publish Date

Wed, 22 Jun 2022, 5:44pm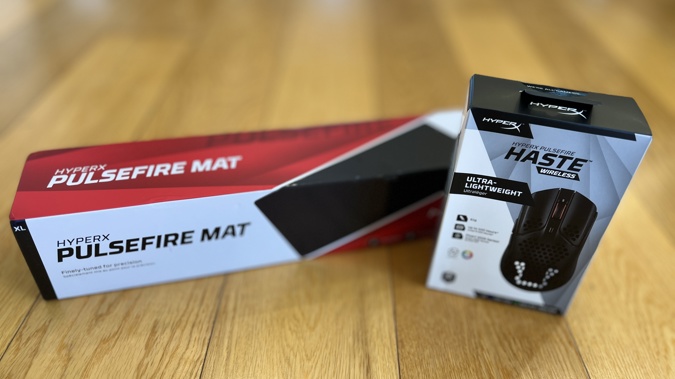 As Light as a Mouse... Without a Tail
Author

Publish Date

Wed, 22 Jun 2022, 5:44pm
I've said it before and I'll admit it again; I'm not much of a gamer.
I like playing them, I just don't have time to play them properly. To be honest, I don't understand how anyone does but maybe they're just better at time-management than me.
If I'm totally honest, the thing I appreciate most about gaming is the way computing technology has been forced to advance to keep up; mostly it's about speed - faster processors, more powerful graphics... even better sound capabilities - how long would we have had to wait for this stuff if we were just using computers to check our emails and watch cat videos?
The same applies to hardware. How good does your keyboard and mouse really have to be to write a review for a radio station website?
On the other hand, if you're desperately trying to avoid being eaten by hungry dinosaurs or gunned down in a multi-player battle royale, a bit of extra mouse button speed might make the crucial difference.
One that doesn't slip and slide in your grip once things start getting heated would be helpful too.
That's why I loved the HyperX Plusefire Haste so much; a fully programmable gaming mouse with a unique honeycomb design to keep it absolutely as light as can be.
Now... if we can just get rid of that pesky cord...

Most of what you need to know about the HyperX Pulsefire Haste Wireless can be found in my previous Pulsefire Haste review. For all intents and purposes the new cable-free version is basically indistinguishable; the size and shape is the same, button layout identical, even the pattern of hexagonal holes both top and bottom matches up meaning despite this device now incorporates 2.4Ghz wireless technology, it's still essentially weightless.
That, combined with its long, slim shape, concave buttons and IP-rated sweat-resistant, matte finish all adds up to an extremely comfortable user experience, even if you do have the time to game for hours on end.
Again, like the original corded Pulsefire Haste, this one includes a spare set of PTFE skates to keep things as frictionless as possible on your desktop or mousepad and grip tape pads you can stick onto the buttons and side panels to keep it firmly clasped in your hand at all times.
Finally, as with the original, all the buttons are fully programmable - which you'd expect - as is the RGB scroll wheel and other settings like Polling Rate and Lift-Off Distance. This happens via the HyperX NGENUITY app which, unfortunately, is still only available for PC - no MacOS version although the mouse works perfectly with Apple devices.
The big, obvious difference is the wireless USB dongle. It's USB-A so you'll need an adapter or hub if you're planning on using the Pulsefire Haste Wireless with a USB-C only laptop. There's no pairing required - simply plug the dongle in, turn on the mouse and you're in business. Assuming it's charged, obviously.
That probably won't be an issue; HyperX claims up to a hundred hours battery life on a single charge - pretty decent. Although this mouse is wireless, there is still a cable in the box - a USB-A to USB-C for charging. I also found I needed to plug the mouse in to update the firmware too. That's because when on battery it automatically shuts off if not in use - after a minute or so. 
You get one other cool thing in the box; a little round USB-C to USB-A adapter you can pop on the charging cable once you're finished topping up. This gives you a convenient slot for the USB dongle (which can slot conveniently into the base of the mouse when not in use).
And that's all there is to report. In all other ways this wireless Pulsefire Haste works just as well as the corded one. If there's any lag at all, this very amateur gamer has yet to detect it. I loved the non-slip feel and lightness of the original and the new one is just as much a pleasure to use...
...Especially on the Pulsefire Gaming Mat, another exceptionally well engineered accessory from HyperX.
I was lucky enough to be sent the XL sized gaming mat - that means it doesn't just provide all the workspace I need for the mouse to do its thing, it actually serves as topper for my whole desk. It's a superbly manufactured piece of kit - from the durable anti-fray stitching around the edges to the luxurious padding to the funky, red/black rubber, non-slip surface underneath.
In fact, it's well worth checking out HyperX's entire range of pads and mats - there are RGB models and there's even an XXL mat that would literally be too big for my desk.
Ultimately, after trying headsets, mice and yes, even gaming mats, I've come to the conclusion this outfit really knows what they're about. This is the kind of high-quality gaming gear that sets the standard for other ordinary PC gadgets to follow.
Click here for more information on the HyperX Pulsefire Wireless gaming mouse.
Click here for more information on the HyperX Pulsefire XL gaming mat.