And the Beat Goes On
Author

Publish Date

Tue, 18 May 2021, 4:52PM
And the Beat Goes On
Author

Publish Date

Tue, 18 May 2021, 4:52PM
If there's one thing I've come to rely on from JBL over the years it's big, bangin' bass.
Whether it's earbuds, over-ear headsets or speakers - pumping out some low-end rumble seems to have become a bit of a specialty.
This isn't everyone's cup of tea, of course. If you're trying to pick out each section of the orchestra in a movement of Haydn or you just want to chill out to an acoustic blues/roots duo like the Wood Brothers, too much bombastic bass boom can easily swamp everything else and the result can be a muddy mess without much mid or top-end accuracy.
Generally speaking, a bigger speaker, with more drivers and more separation between them has traditionally been a good way to improve things but that's not much help if you're off to the beach, park or pool party.
Again, this is an area JBL has put up its hand to cater for and its latest edition certainly has a lot going for it... with one glaring omission...
The Xtreme 3 is a fairly predictable addition to JBL's range of portable party speakers, following directly in the footsteps of the two Xtremes before it.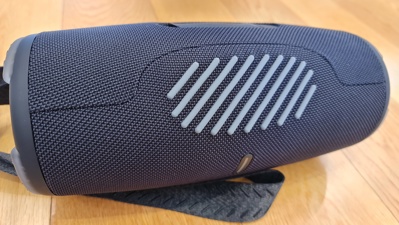 It's unquestionably more stylish to look at - each end now angled slightly, the bumpers chunkier and more textured. Even the JBL logo on the front is cooler - each letter individually highlighted.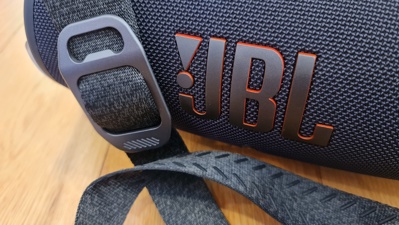 There's an array of rubber strips along the bottom to keep things still and upright on slippery surfaces and the carry strap has also been upgraded - now with an integrated rubber grip and bottle-opener buckle which is just a damn good idea.
Perhaps most significantly, although the Xtreme 3 is no smaller than its predecessor it's almost half a kilo lighter making it more portable than ever.
It offers most of the features you would expect from a device like this; easily accessible onboard controls, an IP67 water/dustproof rating and a 3.5mm aux input if you prefer to give the Bluetooth 5.1 connection a miss. You can also charge devices from the Xtreme 3 - via USB-A or the USB-C port you use to charge the speaker itself. These ports are tucked away behind a watertight rubber flap - so presumably the IP67 rating doesn't apply unless that's pressed snugly back in place.
Battery life is a real standout - JBL's website promises up to fifteen hours but I think it might be even better than that. I feel like I've been listening to this thing for days and I've only charged it once. Definitely a great option if you're overnighting in the wilderness with no power.
And if you are, you're bound to disturb some wildlife - the Xtreme 3 can certainly get good and loud.
Four drivers and two bass radiators combine to provide a decent soundscape with little to no distortion, even at maximum volume. I do wish the volume controls had a slightly bigger range - there aren't that many steps between soft, medium and "party-on-dude..." which means getting just the right level for background ambience can be a bit of a challenge.
Andy Grammer's "I Found You" is a track with good dynamic contrast - swapping acoustic verses with more electronic choruses. When the bass drops in those choruses, it's fun to watch the radiators at each end of the speaker start to pulse and vibrate with the beat. Fun to hear it too.
What surprised me is the nice job the Xtreme 3 does with clean vocals. "Glad you Exist" by Dan + Shay is a typical boy-band-style slow jam that relies on strong vocal production and not much else. This actually comes across very well on this speaker - a song that's essentially a plastic pop ballad sounds warm, rich and full.
Then my ultimate test; the Wood Brothers. Look, I'm not obsessed, they're just one of my favourite bands, okay? The thing is, their music is mostly just acoustic guitar, double bass and vocals - sometimes with a few other things thrown in. It's always a challenge for a single, portable speaker to do a good job of reproducing this kind of organic, in-the-room-with-you sound. I was stoked to find the Xtreme 3 was up to the task, giving all the clarity, warmth and space required to each component.
So it looks good, is big without being too heavy, the strap is well designed and there's plenty of battery life for a genuinely portable party experience. We've got serious oomph and decent sound quality too. You also have the Party Boost function, which means you can connect wirelessly to other compatible JBL speakers or create a stereo pair. But... no voice assistant option. The Xtreme 2 could work as a speakerphone and let you access your assistant too. For some reason, JBL has left this function off the Xtreme 3.
Admittedly, I've never used the speakerphone button on any bluetooth speaker that's had one and that suggests not many other people were using it either. On the other hand, Alexa, Siri and Google Assistant have all become genuinely useful to the point in many households, some things don't actually work unless you ask your virtual assistant to make them work. I do believe speakers that don't have smart capabilities - or at least a connection to your phone's smart assistant - are on their last legs. We're quickly becoming conditioned to controlling not just our music but our whole lives with simple voice commands and there should be no reason why a $400+ speaker can't work that way too.
On the other hand, if you haven't yet reached that level of IoT interconnectivity, no virtual assistant won't be an issue and the Xtreme 3 certainly stands on its own as a go-anywhere party machine that provides a lot more than just big, booming bass.
Click here for more information on the JBL Xtreme 3 portable waterproof speaker.