AND NOW FOR SOMETHING COMPLETELY DIFFERENT
Author

Publish Date

Wed, 23 Sep 2020, 12:35PM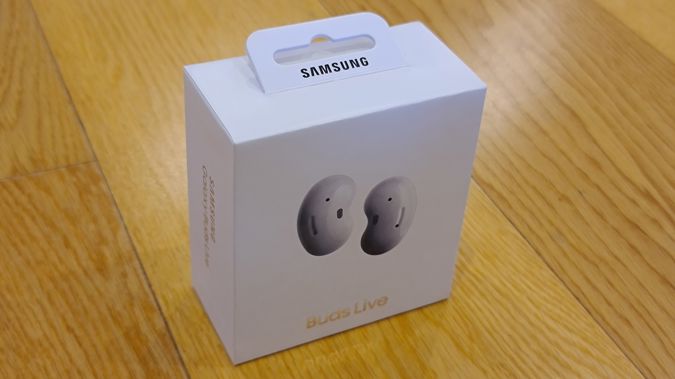 AND NOW FOR SOMETHING COMPLETELY DIFFERENT
Author

Publish Date

Wed, 23 Sep 2020, 12:35PM
Sometimes I feel like I've spent most of the year reviewing earbuds.
I suppose that's partly due to the fact I am actually wearing them most of the time - or at least one. There's this masochistic side of me that's determined to try and keep me up to date with all the podcasts I subscribe to. Right now I'm running about a month behind. The stress is killing me.
My point is, even when I'm not reviewing new buds, I'm using them for hours a day anyway. I've commented before about the sheer proliferation of wireless earbuds on the market and how overwhelming the choice can be. Especially given they're all basically the same, do the same thing and in many cases, look the same too.
So when something genuinely different comes along, it's a real breath of fresh ear...
(Please tell me you realised that was a deliberate spelling mistake)
The Samsung Galaxy Buds Live have certainly made a splash in an overcrowded market. Nothing else looks like them. Why Samsung didn't just call them Galaxy Beans is a mystery because now it's only a matter of time before someone else replicates the shape and steals the name for themselves.
As you can see from the image above, there's a lot going on for something so small; three built-in mics, Voice Pickup Unit, air vents, bass duct and of course, the 12mm speakers themselves. They really are about as tiny as they can be, any smaller and I'd honestly be worried about inserting them in my ear holes and never seeing them again
Confusingly, Samsung has opted for a glossy finish on the Buds Live - black, white and even the new Mystic Bronze. The reason I'm confused by this is it draws attention to something I would have thought was designed to be basically invisible. Maybe Samsung is betting that someone who is prepared to spend $349 for earbuds wants other people to notice them.
I have found these to be about the most comfortable earbuds I've ever used - primarily because they weigh nothing and there's nothing hanging out anywhere. There are two sizes of wing tip supplied to ensure a secure fit. I say secure and yes, I can run in them but it's not an air-tight seal so I do have the feeling they may pop out if someone slapped me on the back. That hasn't happened, mind you. It just feels a bit like it might. They are IPX2 water resistant, so a bit of sweat shouldn't be an issue anyway.
Amazingly, the Buds Live could probably have been even smaller if they didn't need to charge or fit snugly in your ear - that's really all the top half of each bud is for; there are two copper terminals there that connect magnetically to the charging case. This feels similar to Samsung's previous cases but it's square, rather than pill-shaped - still small though and still works the same way, charging wirelessly or via USB-C. There are two pin-prick LED's - one inside the case for the battery level of the buds and one outside to show how much charge is left in the case. Fully-charged, the buds will last up to six hours out of the case, twenty-one with it. This isn't the longest battery life on the market but it's certainly right up there.
There are some disadvantages to such a small form factor - especially when your fingers are as fat and as clumsy as mine are. Because the touch controls aren't physical buttons, I find it very challenging to remove the Buds Live from my ears and place them back in the case without un-pausing my podcast or in the worst-case-scenario, skipping it with an accidental double-tap. There's simply not enough extra bud to get a grip on. This is probably a muscle-memory thing I'll eventually get the hang of but it's certainly something to be aware of if fine motor skills aren't your strong point.
In saying all that, the touch controls work fantastically well when the Buds Live are actually in. You have the usual play/pause, skip, previous, answer or end-call options of course and you can also choose what touch-and-hold does; like the Buds and Buds+ previously, you can use touch-and-hold to access your voice assistant or adjust the volume. There's now a third option of course; Active Noise Cancelling.
We've seen this feature in over-ear and on-ear headphones for years now and it's been starting to appear in more and more true-wireless buds like these. I'm not convinced ANC will ever be as effective for in-ear devices, especially ones like the Buds Live that don't achieve any kind of tight seal. On the other hand, because there's no tight seal, there's not really any passive noise cancellation, so any bit of extra tech helps. I've found the Samsung ANC definitely blocks out things like other conversations and the neighbour's barking dog, without any of the ambient hiss like the more aggressive ANC I've encountered elsewhere.
Whether you want to turn this on or off, access preset EQ's, install software updates or tweak any other setting, Samsung's Wear app is the place to go. Obviously the Buds Live will work best with Samsung devices - especially features like Seamless Connection that allows you to use the same pair of earbuds with multiple devices; phone, tablet, TV - all without having to unpair and re-pair each time. 
So how do these things sound, anyway?
When listening to "Time Machine" from the new Alicia Keys album, I really feel like there's not much more I can ask for. The rotating, surround sound sample the song starts with immediately conjures up a sensation of incredible depth and space. When the bass and drums kick in, they do it with palpable force and precision - no muddying of other frequencies though. The vocals are crisp and clear without being piercing or too sibilant. On a more sonically-crowded track like "Sunny" by the Stereophonics, again space is the word that keeps coming to mind - there's a lot going on in this song; strings, piano, rock guitars, yet there's room for everything.
Samsung has put a lot of effort into the mic technology too. Recordings and calls are certainly extremely clear - the Buds Live are a great option for video chatting and because the bluetooth range is excellent, you can definitely use these as an external mic when shooting film clips with your phone.
The good news here is, Samsung hasn't just come up with something different for the sake of it, the Buds Live are genuinely great earphones too. They're definitely the smallest and most comfortable I've worn, they sound great and have more features than I can use. They'll work with any Android or iOS device - laptops too - but if you have a Samsung handset, these are definitely the best you can buy.
Click here for more information and pricing on the Samsung Galaxy Buds Live.