Amazon Fire TV Stick 4K Max (2nd generation - 2023) - You're Too Pushy for Me
Author

Publish Date

Tue, 31 Oct 2023, 11:40AM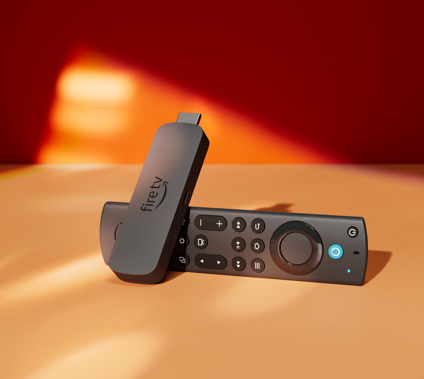 Amazon Fire TV Stick 4K Max (2nd generation - 2023) - You're Too Pushy for Me
Author

Publish Date

Tue, 31 Oct 2023, 11:40AM
I'm a big fan of streaming sticks. I really like the way you can essentially upgrade your whole home theatre by plugging a reasonably inexpensive dongle into an available HDMI port and turning it on.
All your favourite streaming services are ready and waiting, along with the latest audio and video protocols.
These days you'll usually get a pretty decent remote to control it all too - and thanks to the wonders of HDMI ARC, that remote will likely run your TV and your sound system as well.
The only question that remains is which one to choose? Supplementary question; if you're already using the original Amazon Fire TV Stick 4K Max, is there any reason to upgrade to this year's version?

Physically, it's a little tricky to spot the difference between the first and second generations of the Amazon Fire TV Stick 4K Max. They're both fairly featureless black sticks - apart from an Amazon logo engraved into one side and they both come with an HDMI adapter for TVs with limited space around the rear ports and an external power supply with a microUSB cable to plug into the dongle itself.
Yes, you read that right. Even though pretty much every other device in the known universe now connects via USB-C, for some bizarre reason Amazon has stuck with the very outdated and limited microUSB port on this one. This probably won't affect most users that much, unless they want to do something crazy like connect external storage or perhaps an ethernet adapter for more reliable connectivity. There are ways to do this via microUSB but they require very specific adapters.
The 2023 Fire TV Stick 4K Max looks so similar to its predecessor, I had a nervous moment at one stage when I couldn't immediately figure out which was which and was at risk of setting up the same device I'd only just removed. Luckily, a quick image search confirmed the new model has curvy corners while the old one has nasty, pointy, square ones.
The included remote controls, on the other hand, are a lot easier to differentiate. The new remote is longer and has several extra buttons; a physical up/down channel button, a dedicated settings shortcut, a recent apps button and a shortcut to take you straight to your apps library (this replaces the Disney+ button on the earlier model, although there are still shortcuts for Prime Video, Netflix and Amazon Music.)
Personally, I'm not particularly energised by the inclusion of a channel-changer - I never watch live TV so have no need for it. However, the Apps shortcut and Recents button are an absolute godsend and here's why; I hate FireOS 8.
From the moment you fire up this device (pun intended) the home screen assaults you with a bewildering array of viewing recommendations. Previews of mostly Amazon Original shows scroll across the top of the screen - that's fine, I get this is an Amazon device and Prime Video has some fantastic content; The Peripheral, The Boys, Gen V, Jack Reacher, Jack Ryan... they've got all the Jacks covered and I'm into it.
What I'm not into is all the junk below the tiny row of favourite apps, most of which I can't access because I either don't have a subscription for it or it simply isn't available in this part of the world. I really, really despise being given the hard sell on content I can only rent or buy separately from my existing subscriptions. Some people may prefer to browse their viewing options that way but to not even have the option to turn this suggested content off drives me nuts.
The FireOS home screen has the option to display "Free" content only - except when you click on many of the suggestions they might only be free if you sign up for a trial period with a provider that again, may or may not be available in New Zealand.
As a result, I resolutely ignore all these suggestions as hard as I can which luckily, is now made oh so much easier with the new buttons on the Alexa Voice Remote Enhanced; with a single press of either the Recents or Apps buttons, I can avoid the infuriating home screen altogether and go straight to my streaming preferences - like Prime Video, Disney+, Netflix or Plex... or indeed plenty of other things too.
This is one advantage the Fire Stick TV 4K Max has over many other options - there's a lot of content out there. Not just streaming services but useful tools like VPN apps too. And the good news is this year's model brings you twice the storage; 16GB to house all those extra apps and utilities. (Still modest... but better than 8GB)
You also get a slight bump in processing power - which is always welcome - and a connectivity upgrade to Wi-Fi 6E. This is the very latest Wi-Fi protocol and offers the opportunity for dramatic download speed increases and a more reliable connection due to less congestion from surrounding networks. Assuming you're linked to a W-Fi 6E router that is. Otherwise, things will stay pretty much the same.
Despite the fact I am indeed connected via Wi-Fi 6E, I've been a little frustrated with how long some apps take to boot up - especially Plex which I'm only using to stream content from my own server on the same network. I guess these things aren't necessarily network-related. It could just be the app developers need to do a bit more work to make their software respond as quickly as the native Prime Video app does.
There's a new Fire TV Ambient Experience - which is a fancy name for screensaver. This is surprisingly customisable and you can use it to display a rotating selection of art and photography - pretty cool if your TV is wall mounted, or better still, one of Samsung's ingenious Frame TVs.
Ambient Experience can be set to launch automatically after a period of inactivity or you can ask Alexa to start it straight away. You can even add widgets to this screen like calendar entries, sticky notes or a shortcut to control your smart home accessories.
Speaking of which, one last way you can make the most of the very latest home cinema protocols built into the Fire TV Stick 4K Max is to connect to other Amazon Echo devices. Dolby Atmos audio isn't much fun through most TV speakers but add a couple of Echo Studios and perhaps an Echo Sub and you'll be able to blast out the soundtrack of any great blockbuster to compliment the fantastic picture you'll be getting via the stick's Dolby Vision, HDR and HDR10+ wizardry. Unfortunately, I don't own a matching pair of Echo speakers or an Echo Sub - but I can certainly imagine the result. 
There's no question the Fire TV Stick 4K Max is a powerful and useful streaming device - especially priced less than NZ$130.00. It's a great way to access better storage, the latest Wi-Fi 6E connectivity and new features like Ambient Experience. But until it stops trying to sell me stuff I don't want every time I start it up, it can't be my first-choice recommendation.
Click for more information on the Amazon Fire TV Stick 4K Max (2nd generation - 2023).
Take your Radio, Podcasts and Music with you