All the Storage You Could Ever Need
Author

Publish Date

Wed, 26 Jan 2022, 1:43pm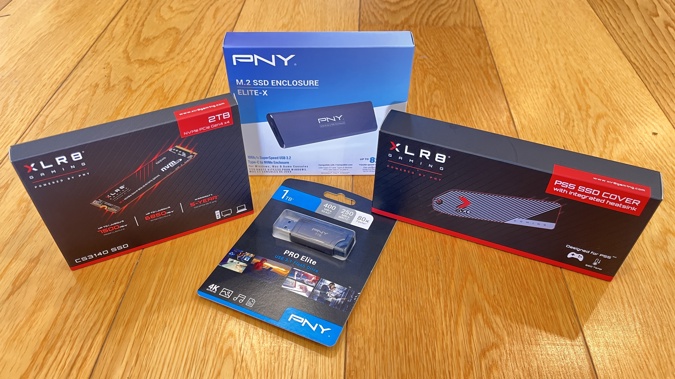 All the Storage You Could Ever Need
Author

Publish Date

Wed, 26 Jan 2022, 1:43pm
How's the cloud working out for you?
There's no question when it comes to backups - from photos to projects to whole systems - having access to all your stuff from anywhere on any device is one of the greatest advances the internet has ever made possible.
However, cloud storage isn't the perfect solution for every scenario, at least not yet anyway. This is mostly due to the limitations of available bandwidth - when it comes to high-end gaming and editing large audio and video projects, the fact is you still need most of the files involved loaded onto your device locally - the exchange of information between the cloud and your computer or console still isn't fast enough to make things happen instantaneously.
Another modern malady is devices being sold with insufficient storage. I'm not just talking phones and tablets here; many laptops ship with relatively small SSD's relative to their processing abilities and even purpose-built gaming consoles surprise me with how little drive space comes as standard - especially given how resource-heavy many modern games are.
The obvious solution is to pay through the nose for a higher-specced version of the base-level device but even then, the drive sizes may not be sufficient.
Luckily, there are now more portable and expandable storage options than ever.

Late last year, tech manufacturer PNY started making a lot more noise in Australia and New Zealand, which timed nicely with a greater demand for high-performance home computing components, due largely to the new pandemic-enforced Work From Home trend the hugely successful (if supply restricted) rollout of the new PS5 from Sony.
Never had those of us down-under wanted access to more PC power and we've never gamed more than we are right now.
The result of all that has been hot demand for upgrades - especially when it comes to memory, graphics cards and storage.
Today I'm going to focus on a couple of storage solutions you may not even have realised were out there - they were certainly news to me, starting with the XLR8 CS3140 M.2 NVMe SSD.
If you've never taken the case off your PC tower or poked around inside your PlayStation, you might be wondering what the hell I'm talking about.
While most of us would recognise an old-school, bricky hard drive if we saw one, physical spinning disks like those haven't been storing your files for quite a while. In fact, it wasn't long before the new Solid State Drives shed their cases completely and revealed themselves to be just another circuit board - now smaller and slimmer than ever in the M.2 NVMe form factor.
This kind of SSD is dramatically faster and generally more reliable than the old spinning disks but when I first upgraded one, the biggest capacity I could find was 1TB. Now PNY's XLR8 CS3140 range goes right up to 4TB, which is likely to be way larger than what your computer came with and is more than four times more storage than what you'll find in a PS5 out of the box.
I've talked before about the fact people underestimate how much having free storage space on a quicker drive can improve the performance of your computer - apart from giving you somewhere to keep all your photos, videos and games of course.
My laptop has a 500GB SSD, which is ample for my everyday needs but once I started downloading a few games, it started filling up pretty fast. A game like Red Dead Redemption 2 takes up a whopping 150GB. Call of Duty: Modern Warfare is even bigger. Keep both of those on your main drive and you won't have much room for anything else.
You might cram a dozen or so average-sized games on the PS5's 825GB drive but not many more.
That's why the XLR8 CS3140 could be the answer you've been looking for.
To further increase performance if you're upgrading your PS5, PNY also offers the XLR8 PS5 SSD Cover with integrated heatsink. This is easily installed when you slot your new SSD in, with a step-by-step video easily accessible on the PNY website. It looks kind of cool but much more importantly, it helps the M.2 NVMe SSD run up to 40% cooler.
Which might not be a bad idea because the CS3140 can get pretty warm when it's working hard. How do I know this? Because I've been using it as an external storage drive inside another bit of PNY innovation; the Elite-X M.2 SSD Enclosure.
This tiny little box - about the size of a pack of gum - is specifically designed to house M2. NVMe SSD's so you can connect them to other devices via USB-C or USB-A - both transmission lines included in the box. This means not only can you expand the storage capacity of virtually any device with a USB port, for things like phones that expansion is potentially massive - remember, up to 4TB.
The Elite-X is very easy to set up; just slide out the drawer, insert your SSD and slide it back it, securing it in place with a small cover at the other end. Finished in brushed aluminium, it really is quite a nondescript, subtle accessory, other than the small status LED next to the USB port.
But going back to the temperature issue - it does get quite warm when the SSD inside is working hard, which I've been making it do by storing my downloaded Game Pass games on it. How brilliant to be able to move them off my main drive and free up all that space though, while still keeping everything portable. The Elite-X slips into my laptop satchel without me even noticing it.
Or... if you think 1TB will be enough, why not make things easier still with PNY's Pro Elite USB 3.0 Flash Drive?
Again, stylish and durable aluminium casing with a fairly standard push-out design. The Pro Elite comes in various capacities, from 128GB up to 1TB but the really important number is the transfer speed. Because it's USB 3.0 you can transfer files between devices up to 80 times faster than older thumb drives.
That makes it quite an essential tool for someone like me who's moving large chunks of video and audio around all day long. It's also a pretty handy back-up option that won't take up hardly any of the space those bulky external drives do.
So next time you're furiously deleting stuff to make way for something else, or even worse, uninstalling games so you can play some new ones, remember, there are some alternatives out there.
Click here for more information on the XLR8 CS3140 SSD.
Click here for more information on the XLR8 PS5 SSD Gaming Cover with integrated heatsink.
Click here for more information on the PNY Elite-X M.2 SSD Enclosure.
Click here for more information on the PNY Pro Elite USB 3.0 Flash Drive.