ALL SEEING, ALL SENSING, ALL WEATHER
Author

Publish Date

Wed, 16 Sep 2020, 5:58PM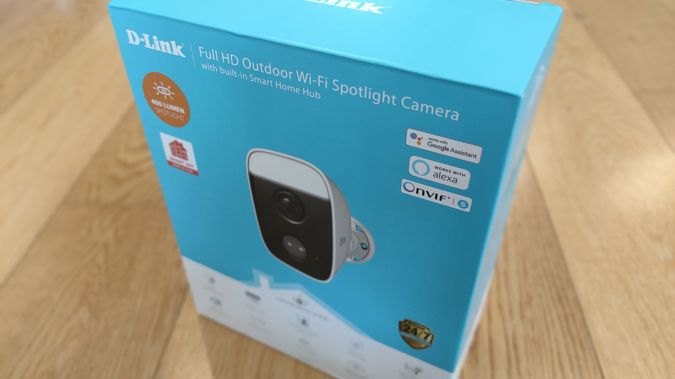 ALL SEEING, ALL SENSING, ALL WEATHER
Author

Publish Date

Wed, 16 Sep 2020, 5:58PM
We tend to make some strange compromises when it comes to home security, don't we?
We'll put up a security light but not a camera.
Or if we put up a camera, will it record? Or just show live images?
And even if it does work at night... why does the image have to be black and white?
Maybe, just maybe, given it's the security of your home that's at stake, let's not cut so many corners. Maybe there's even a camera that can listen for suspicious activity too?...
It's a wee little thing really but it might be the most full-featured security camera I've tested yet. The D-Link DCS-8630LH is one of those rare pieces of tech that delivers on pretty much every promise it makes.
In terms of installation, being small is a big advantage - it means you can place it in the perfect position without having to worry too much about ruining the general aesthetic of your outdoor decor. It's a pretty subtle piece of hardware - mostly lens and motion sensor. Even the LED spotlight is miniature in size given its 400 lumen output. If you're worried this camera could be too inconspicuous to be much of a deterrent (the bad guys might not even notice it) there's a "Protected By D-Link" sticker included in the box for you to place somewhere obvious.
While the DCS-8630LH is a WiFi camera, it isn't wireless, it still needs to be plugged into your mains power supply. Yes, some cameras come with rechargeable batteries instead but that usually means taking the whole camera down to charge every few months which is a bit of a pain - and it leaves you unmonitored. At least with a hard-wired device, once you've put it up you just leave it up. The DCS-8630LH comes with an ample seven metres of cabling, divided in two between the camera and power adapter for ease of installation. The two sections of the lead are connected by a weatherproof socket and D-Link claims the camera itself carries an IP65 weatherproof rating, operating anywhere between -25 to +45 degrees.
The mounting bracket is very versatile, swiveling and rotating in all directions making it suitable for both wall and ceiling. There are cable ties included should you prefer to attach it to a pole or downpipe. If D.I.Y. makes you nervous, I can assure you I had this installed in minutes. Two small screws for the mounting bracket then I easily ran the cable through the top of my garage door and along the wall to my nearest outlet. Easy.
Next comes WiFi setup which is easier than ever thanks to the recently overhauled mydlink app. The step-by-step instructions are pretty foolproof and the DCS-8630LH was connected to my home network in next to no time. The new version of mydlink solves many of the issues I had with my existing arrangement of D-Link devices by simplifying the Automation and Schedule process. Previously it was impossible to run more than one Automation at a time - now you can set up multiple profiles involving multiple cameras, sensors and plugs. There's also a new option called Scenes, which allows you to change the state of your entire surveillance system by selecting a single option on the app.
The new app is laid out clearly and simply and most importantly, with a device like the DCS-8630LH, you have the option to choose where you save your video recordings, in the cloud or on a microSD card inserted in the weatherproof slot on the camera itself. This is open to tampering from any intruders of course but it does mean you're not having to pay a subscription to store your own footage like you're forced to with many other camera brands. Even if you do decide to sign up for D-Link's cloud service, you can still opt for a free plan that only keeps one day's worth of videos. That plan can be applied to up to three cameras though, so if you're checking your footage regularly it's a pretty attractive option as you can still download any video you want to keep straight to your phone. Video is very clear, night or day and I'm very impressed with the angle of view; 150 degrees at 1080p is more than enough to capture the entire front area of my house. This is the first camera I've used that's offered colour night vision - made possible thanks to the spotlight.
Amazingly, given the camera is so small, it also has a Smart Home Hub built in. This means you can use it to control other D-Link devices like motion sensors and smart switches.
Of course, the DCS-8630LH is its
own motion sensor too. You can customise the detection zone to exclude areas like busy streets if you need to. This camera goes a step further though, with the introduction of edge-based person detection. This means you can restrict your notifications and recordings to visitors and intruders, ignoring vehicles or trees blowing in the wind. One frustration here though; the app won't let you set up two different automations, one for motion detection, one for people - it has to be all one or the other for some reason. Hopefully this is something D-Link can change with a future software update.
The features really do keep coming. As I've mentioned there's an LED spotlight you can automate to turn on under certain conditions and an alarm that can be set off manually or automatically. The alarm is not particularly loud or scary - it sounds a bit like a reversing truck - but any prospective crims would probably get the message. You can make use of two-way audio as well - allowing you to speak to visitors or create sound-activated automations. There's even the option to detect breaking glass and I know this works because it was activated the other day when my recycling was collected. The breaking glass was detected and I ended up with a nice, clear video of the truck driving away.
WiFi connectivity is great and notifications come through to my phone quickly, complete with colour preview snapshots, even on my smartwatch.
I'm struggling to come up with something this camera
doesn't do. If you need a simple, D.I.Y. home security solution in a single device, this is the camera, recorder, alarm, spotlight and front-door intercom for you.