ALEXA'S SHOWING OFF AGAIN
Author

Publish Date

Wed, 24 Jul 2019, 8:14AM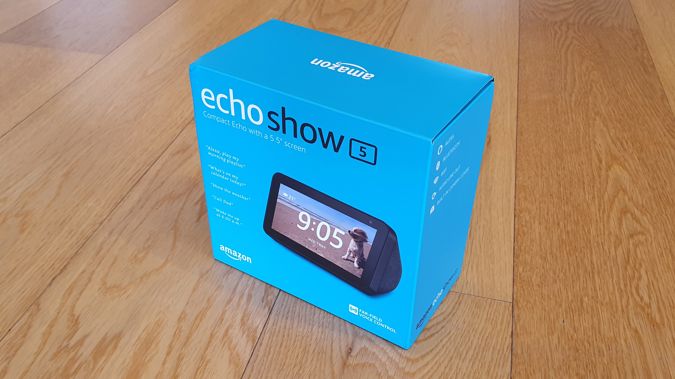 ALEXA'S SHOWING OFF AGAIN
Author

Publish Date

Wed, 24 Jul 2019, 8:14AM
There are two kinds of gadgets...
Gadgets that are fun and gadgets that are useful. Toys or tools, if you will.
Sometimes, if you're lucky, a gadget can be both; a tool that's still fun to use.
That kind of gadget needs to be user-friendly, easy to set up and reliable, otherwise the fun can dissipate pretty quickly and then you're just left with a boring - and frustrating - tool.
Alexa has always been fun to have around and the Echo Show 5 takes the usefulness of this toy/tool to a whole new level.
The Echo Show 5 is about the size and shape of a standard bedside clock radio. That's no coincidence, because it makes a really great bedside clock radio. It features a decent 5.5" touch screen which does a lot more than just show you the time - but of course, you can do that if you want.
Interestingly, you read right; it's a touch screen. This manifestation of Alexa can be controlled with swipes and taps, not just with voice commands.
This is just somewhat of a relief, because while there's no doubt in my mind Alexa is still the most intuitive and accurate voice assistant around, even so there are plenty of things she just doesn't get.
For example, when I asked her to play Ed Sheeran's new album, No.6 Collaborations, she had no idea what I was talking about. It is a stupid name for an album though.
Part of the fun of Alexa is finding out what she does and doesn't understand - although you can certainly help her along via the Amazon Alexa app. This is the best way to connect to your favourite music streaming services like Amazon Music, Spotify and iHeart Radio.
Unfortunately, unlike Alexa herself, the Alexa app is not particularly intuitive. There are a lot of settings you can play with, linking email and calendar accounts, not to mention all those nifty "Alexa-enabled" devices you've been connecting to your home network. The problem is, there are just too many settings, too many things you can let Alexa control. It's actually a bit overwhelming.
If you can't get something to work, a quick google will usually sort it. The confusing thing about the Echo Show 5 is that although it looks a bit like a smart phone, it's important to remember it doesn't really operate like a phone in any way. It doesn't have apps loaded on it per se - you're just using it to access those services and devices.
And there's a lot you can access. You can ask Alexa to show you any security camera feeds you've connected to your account. Set alarms or reminders just by saying so - then they'll be listed on the screen, far more convenient than a Post-It note. You can even make Skype calls - the camera quality is surprisingly clear.
The camera on the Echo Show 5 isn't just for video calls and the occasional selfie, it also helps Alexa know when somebody's in the room. That's right, not only is she always listening, now she's always watching too. This doesn't bother me at all - anything that leads to a more prompt and accurate response is fine by me. But if you're uneasy about having an always-on camera around (especially in the bedroom!) there's a physical shutter you can slide across to block it for complete peace of mind. (There's a button to turn the mic off too)
Any pictures you upload to your Amazon Alexa account are available for the Echo Show 5 to show, so not only is this a really clever bedside clock, it's a super smart digital photoframe too. In saying that, you don't have to have anything on the screen at all; just ask Alexa to turn it off.
Perhaps the most used feature of this device, obviously, is its smart speaker capabilities. The whole rear casing of the Echo Show 5 is covered in an attractive fabric, either charcoal or sandstone. The built-in speaker is small, but produces a warm, clear sound. If you need to beef things up, you can connect to any external speaker, via bluetooth or a standard 3.5mm aux cable. I've gone with the cable because for some reason the bluetooth was interfering with my other wireless speaker connections.
The big advantage the Echo Show 5 has over Amazon's other screen-free speakers is not only will the display show you what's playing, you can control it from the screen which is useful if you're playing music too loud for Alexa to hear your voice commands.
Again, you need to remember, just because you're playing from Spotify, don't expect to see the full Spotify interface on the screen - this is not the app, just a media controller accessing the app. Complicated actions like creating and sharing playlists will still need to be done via your phone or PC.
I've found this takes a bit of getting used to, as before I started using the Echo Show 5, I'd created a sort of mock-up, with an old phone permanently connected to my sound system to access my music streaming services. As a result, I keep forgetting the Echo Show 5 isn't a phone and I can't actually do phone stuff with it... or can you?
Not only can you Skype people with this device, you can video call friends who also have a similar Amazon gadget with a screen. You can link email accounts via the Alexa app and as I've already mentioned, calendar entries and reminders are easy.
To be honest, the only major shortcoming I've found is video content. This seems to be due to a combination of what services are available in New Zealand and the fact this feature is relatively new. Alexa will show me things like music videos but only from Daily Motion and only with very long ads at the beginning of them. Frankly, I'm not hanging out to watch vids on a 5.5" display from across the room, so this is by no means a deal breaker.
I do find it a little strange the Echo Show 5 isn't slightly more portable. It's only little, so if there was a rechargeable battery built in, you could grab it off the bedside table to use as a digital recipe book in the kitchen. There's also a mysterious microUSB port between the power and aux jacks at the back. From what I could find out online, with the right adapter, this can be used to connect the Echo Show 5 to an ethernet port for faster, more reliable internet access. That seems like overkill to me as I haven't experienced any issues via WiFi.
Quite the opposite in fact. Like most other Alexa-based devices I've used, the Echo Show 5 works extremely well, is extremely useful and is pretty damn fun too. It's a tool and a toy in equal measure and at just $149.99, it seems like a no-brainer.
Click here for more information and pricing on the Amazon Echo Show 5.