AH JAMES, YOU'VE DONE IT AGAIN
Author

Publish Date

Tue, 2 Jul 2019, 6:06AM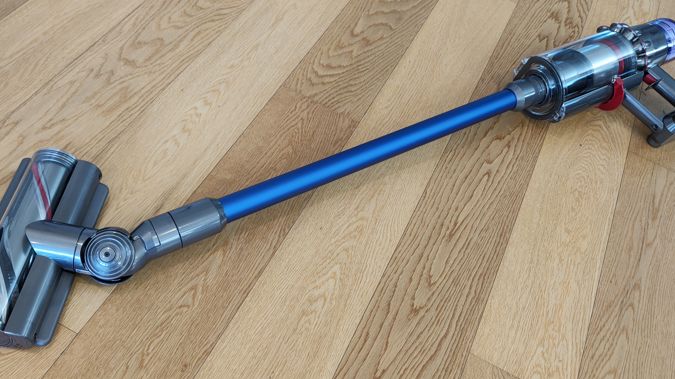 AH JAMES, YOU'VE DONE IT AGAIN
Author

Publish Date

Tue, 2 Jul 2019, 6:06AM
Who doesn't love a Dyson?

Sir James and his boffins have been setting the standard in fine tech design for decades.

But when you have a vacuum as sublime as last year's V10, how do you make it better?...

The V11 is everything the V10 was, but smarter.

The V10 was a real coming-of-age for stick vacuums; finally a device to clean your whole home, completely cord free. The combination of Dyson's precision-engineered digital motor and cutting-edge battery technology meant enough power and running time for a full vacuum of my two-storey, four-bedroom house. Not to mention an array of ingenious cleaning heads and other attachments to make my weekly chore most un-chore like.

Obviously, the V11 does all that too.

But what Dyson has done this time round is taken two minor pain points from the V10 experience and turned them into bonuses.

Firstly, the high torque cleaner head has its own digital motor and intelligently senses what sort of surface you're vacuuming. So if you're on carpet, the power automatically increases, as more suction is required to pull all the yuckies out of a cut pile than off a hard-wood floor. By the same token, the second you hit the tiles (or the boards), the V11 dials things down a bit to conserve battery life.

Oh don't worry, the V11 "Absolute" package still includes a soft roller cleaner head (or fluffy) designed specifically for hard floors, but I no longer feel the need to use it, thanks to this nifty, new auto-sensing technology. This obviously means a lot less stopping and starting as I just continue from one surface to another without changing heads.

Interestingly, the sensor is so... sensitive it even swaps settings on the same surface if required. My garage is carpeted, but like marine carpet, the pile is not deep at all. The V11 still knows it's carpet though and uses a relatively strong suction right up until it gets to where the carpet is more worn from the car tyres, then it eases back. How does it know?

The other major development is the LCD screen, conveniently situated on the top of the V11. The primary function of this display is to show how much charge time you have left, down to the second. Previously you were restricted to three simple lights which went out one by one as the batter ran down. Now you know exactly how long you've got to get the job done. Obviously this time changes dramatically, depending on which setting the V11 is running at - and although this can happen automatically as I've already described, it doesn't have to. A simple push of the button below the screen changes mode between Eco, Auto and Boost (20 percent more powerful than the V11, by the way).
So no more wondering if the battery's about to run out. But that's not the only thing the new screen is good for. Obviously it tells you how far you are from 100% while you're charging and there's one more clever trick in store... If you've used a Dyson for any length of time, you'll know sometimes they just stop. This is on purpose. If the battery needs charging, or the bin needs emptying, that's kind of obvious. But if there's a blockage somewhere or the filter's overdue for a clean, this isn't necessarily quite so clear - except now it is because not only does the V11's LCD screen tell you exactly why it's stopped, it'll then show you a little video on what to do about it.

So clever.

There's one more bit of design brilliance to highlight, but this one doesn't involve a motor, a sensor, a screen or even electricity... The V11 comes with a wand storage clip. 
This means you can bring two of your favourite tools with you on your vacuuming tour of the house.

So simple.

So genius.

So expensive.

As you can imagine, if you come up with a machine that works even better than the one before it, you're probably entitled to charge a bit more for it.

The V11 Absolute includes seven different heads and attachments, although if you're keen on the Flexi Crevice tool, the Extension hose and the Mattress tool, you'll have to pay even more for the website-only Pro edition. That one comes in gold, so you know how flash it is.

Luckily, the V10's tools and attachments are compatible with the V11, so if you're only upgrading, you can probably save yourself a few bucks.

True to form, the superb usability of Dyson design will set you back a pretty penny, but if you can afford it, do it, because this is, once again, undoubtedly the best vacuum money can buy.


Click here for more information and pricing on the Dyson V11 Absolute stick vacuum.