A WATCH TO WATCH
Author

Publish Date

Wed, 24 Apr 2019, 7:42PM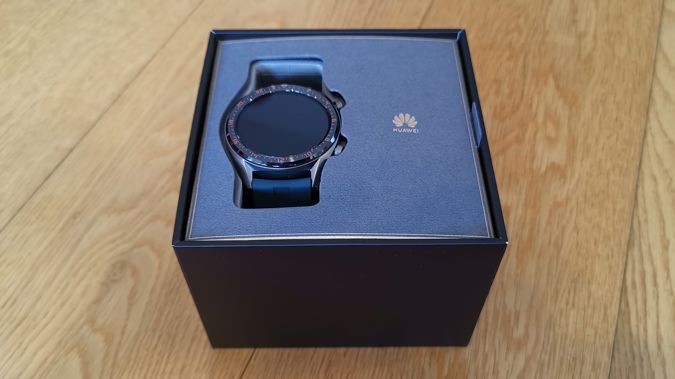 A WATCH TO WATCH
Author

Publish Date

Wed, 24 Apr 2019, 7:42PM
While Huawei goes from strength to strength with its smartphone releases in New Zealand, we haven't seen much from its line of accessories... until now.

Right off the bat, the Huawei Watch GT is a fine looking timepiece. Even if it was just an "ordinary" watch, you'd be impressed by its modern colouring and superior build quality. The titanium grey casing features bronze accents making it a versatile match with almost anything. This is carried through to the design of the dark green band, which (as the above picture would suggest) tends to the blue end of the scale. It's sporty but still elegant and the whole package really does blend in with both casual and dressy ensembles.

The quick-fit band can be easily swapped out with other similar-sized straps, but I haven't found many as comfortable as the Huawei-branded band supplied. In fact, the Watch GT is extremely comfortable generally. It's significantly slimmer and lighter than most smartwatches I've worn which not only makes wearing it while working out so much more pleasurable, but it's the first full-sized watch I could stand to wear to bed to take advantage of its sleep-tracking functionality. There's even an easily accessed do-not-disturb setting to prevent the screen lighting up in the dark.

That's good news, because once paired with the Huawei Health app, which is very straight-forward by the way, I found the information gleaned from my nights' sleep very accurate and enlightening. Based on Harvard University research, the Watch GT tallies up your deep, light and REM cycles to let you know exactly what you're missing out on... or getting too much of.

Turns out, waking up in the middle of the night to go and work at breakfast radio is slowly killing me. That's pretty much what I've always suspected.

Of course, the Watch GT is much, much more than a sleep tracker - its primary function is recording your exercise. From walking, running and cycling to swimming and even triathlon, there's a good selection of activities able to be tracked and saved to your Huawei Health profile. A good selection - but not great. Unlike other app-based trackers, while the basics are well covered, relatively common exercises like aerobics, martial arts and football are not. It's possible more sports will be added with future software updates. Here's hoping.

Because the activities the Watch GT does track, are tracked beautifully. I've found the GPS to be one of the most accurate I've come across, probably due in part to its ability to support all three Satellite Positioning Systems. The 1.39inch AMOLED screen is large enough to display a lot of information at once; heart rate, pace, distance and more. I've also found the screen extremely easy to read in all lighting conditions, although sometimes I wish it would dim a little more in the dark. The display is surrounded by a ceramic bezel which helps give everything a very durable feel. I've been wearing the Watch GT pretty much 24/7 for almost a month and have yet to notice any scratches or dings.

Navigation is fairly straightforward and intuitive, via a combination of the two side-mounted buttons and screen-swipes. This way you can quickly fire off workouts or review brief summaries of your activities to date.

All these things respond very quickly, if not instantly and I've found operation smooth and reliable.

But...

There's not much else to talk about.

Unlike previous Huawei smartwatches which ran the same Androidwear operating system found on many watches from various manufacturers, this time Huawei has gone with its own OS. The advantage is slick operation, making the most of its unique double chipset. The disadvantage - and it's a hefty one - no outside apps. Unlike other smartwatches, you won't find your favourite fitness, music or banking apps on this one. In fact, there are some fairly serious omissions across the board. The function I miss the most is any kind of media controller. I've become quite dependent on being able to play and pause my podcasts with my watch, but not with the Huawei Watch GT.

And while it does an excellent, reliable job of displaying notifications from any app installed on your phone, there's no ability to reply to emails or texts from the watch itself.

Given you can control some functions, like dismissing alarms on your phone, I'm holding out hope some of those other functions may magically appear in future software updates.

Maybe Huawei has simply decided if you can't do it perfectly, don't do it at all. Certainly what it does do, it does flawlessly. Apart from accurate activity and sleep tracking, and easy-to-read notifications, there are also plenty of useful tools, like the stopwatch, timer, compass and weather widget.

But battery life is probably the star of the show. While the Huawei website claims up to two weeks on a full charge, I've found mine lasts more like 10 days, probably due to longer, more regular workouts. That's right, I'm a fitness freak. (Yes, that is a joke) That being said, I've never owned a smartwatch with a screen this good that lasted more than a day or two, so ten days is blowing my mind. While the charging cradle isn't strictly wireless, the magnetic connection is pretty foolproof.

The Huawei Watch GT has a RRP of $349 and although this is less than some smartwatches on the market, you can't ignore it simply doesn't offer the same level of functionality as many of those devices.

On the other hand, this is perhaps the most comfortable and attractive smartwatch I've ever worn. Add in its remarkable battery life and maybe that justifies its premium price tag.

One thing's for sure; if you received the Huawei Watch GT as a bonus for pre-ordering your P30 or P30 Pro, its definitely worth taking out of the box and giving a go.