A Robot That Genuinely Saves You Time
Author

Publish Date

Mon, 29 Nov 2021, 1:44PM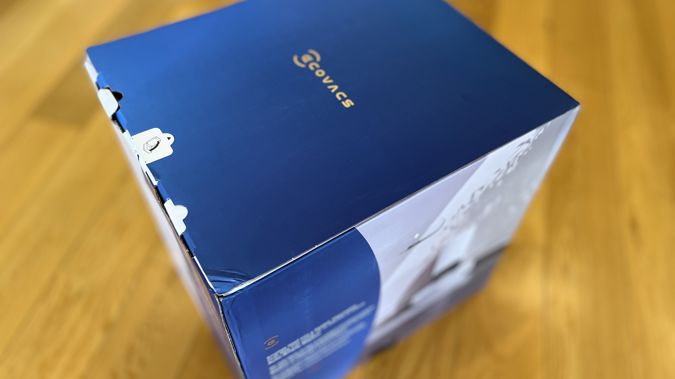 A Robot That Genuinely Saves You Time
Author

Publish Date

Mon, 29 Nov 2021, 1:44PM
Aren't puppies wonderful?
Their adorable eyes. Their soft coats. Their furry little paws. Their never-ending ability to leave screeds of muddy footprints all through the house? Their knack of stinking up the place with a single toilet-training accident?
Just gorgeous.
Like practically everyone else, the glennzb household decided to get a puppy during this interminable lockdown period. It seemed like a good idea at the time. Given the current climate, who doesn't need an endless supply of cuddles?
However, there's still a week of work to go to and suddenly household chores that used to happen once every seven days - like vacuuming and mopping - need to be stepped up to a more frequent rotation.
Joy.
Wait... isn't this the 21st century? I thought robots were supposed to be doing all this stuff by now...

It's weird how long robot vacuum cleaners have been around without really becoming truly mainstream.
It's possibly because for a long time, they weren't very good. We've all heard of early adopters coming home to the horror of a pet-poo smeared carpet, or even worse, a robotic suicide scene - death by falling down the stairs.
Now the DEEBOT T9+ from ECOVACS takes automated floor cleaning to a new level and I can never go back.
The first thing that really sold me on the DEEBOT T9+ is it comes with its own auto-empty station in the box. There are other robot vacuums that have a similar automatic emptying station as an optional extra - but at a price. The station for the T9+ also doubles as its recharging dock and is packaged fully assembled. 
Unfortunately, there's no bagless option - that means an ongoing cost to replace the dust bags but it's not very expensive and at least they're large; big enough to hold abut 30 vacuums-worth. And thanks to the replaceable HEPA filters it also means the whole process is completely dust-free - good news for sneezers like me.
In terms of vacuuming ability, the T9+ does a great job. There's hardly any setup, other than using the ECOVACS Home app to connect the vacuum to your Wi-Fi. At that point, you can just set it to auto-clean and the T9+ will commence to both clean and map your home, returning to its auto-empty station once it's done. I was surprised at how quickly and accurately the various on-board sensors can create a graphic representation of your floor plan on the app - there are even drop-detectors to ensure the T9+ avoids any stair tumbles. I've watched this in action. Quite exciting.
Once your map has been completed, you can divide or merge rooms and create virtual boundaries if there are areas you'd rather the T9+ didn't go - like outside. Interestingly, I have wide, sliding bi-folds in my living area and when they're open, there isn't really much to prevent the T9+ carrying on out to the deck, especially as it seems more than capable of traversing low doorsills and changes in floor coverings. This is despite being smart enough to avoid obstacles like toys and power cords.
The latest version of the ECOVACS Home app even has the option to create a 3D representation of your floor layout, adding furniture and other items for a more accurate picture. While fun, I didn't find this feature particularly useful - it's a bit like playing Sims with your own house.
There are definite limitations though. My home is quite large and double storeyed. Once I'd created my initial map of the upper storey, do you think I could figure out how to add another map for the ground floor? I couldn't even seem to add a room I'd missed to the original map. This got so frustrating I reached out to the ECOVACS support desk. To their credit, I got a fairly prompt response, although it turned out the solution was to take the entire auto-empty station downstairs and start another whole auto clean down there. Apparently, there's no way to add another room without creating a whole new map so you need to make sure the T9+ goes everywhere possible first time out. This seems unnecessarily cumbersome and I wouldn't be surprised if future app updates made things a bit more user-friendly.
The T9+ also struggled to get up onto my shaggy lounge rug. Admittedly, it is a very thick rug but funnily enough, it does an absolutely amazing job once it's on it - automatically sensing the different surface and ramping up the suction power accordingly.
Don't get too hung up with the map thing - stick the T9+ in a room and set it going, it'll still clean it, map or no map. You can change the vacuum power manually if you like, although it's nice to have it on a lighter setting on my hardwood floors as it runs amazingly quietly.
The T9+ introduces a deodorising function too - a first for a DEEBOT. There's a little, replaceable canister that fits into the air freshener head - this forces a small amount of scent into your carpets as it cleans - nothing overpowering - but definitely preferable to any lingering dog smell that may be hanging about.
Ah yes, that lovable pooch and his footprints. As I've already mentioned, I have a lot of wooden floors which seem to be permanently plastered with puppy paw prints these days. The DEEBOT T9+ disappears those prints quickly and effortlessly. The OZMO Pro Oscillating Mopping Kit replaces the air freshener head and has literally changed my life. You just fill it with water, valcro on a disposable mopping pad, clip it into place and let the T9+ do its thing. It sweeps, vacuums and mops all at the same time, so even quite stubborn patches of dirt and grime disappear in minutes and because it precisely measures out only the water it needs, the floors are dry enough to walk over almost straight away - fantastic news if the puppy is following it around while it works.
You've probably cottoned onto the fact there are a few running costs involved with using the DEEBOT T9+; the dust bags and mopping pads for starters - essential yet not overly expensive. The air-freshener pods are a bit more pricey at NZ$27 a pop, although they should last about 60 days and are not compulsory. The app also lets you know when to replace the side brushes, main brush and filters - although these are all pretty hardy and again, surprisingly affordable.
The brushes are easily removed and reattached for cleaning purposes which is just as well; there have been a few times when the T9+ has alerted me to a clogged main brush - something most vacuums succumb to in my home of long-haired cohabitants sooner or later. 

Fortunately, not only is the brush easy to pop out, there's a genius tool clipped into the lid of the T9+ that both cuts and untangles long hair from the brush with ease. Great design.
As I set the T9+ to work, mopping up yet more paw-prints the other day, my daughter accused me of being lazy. I pointed out I wasn't actually using the DEEBOT to mop while I sat on the couch, it was cleaning while I was writing reviews - literally giving me back some time to be more productive. What's more, we're now mopping several times a week instead of just once - only for the puppy to waltz on in and dirty everything up again. If that's ever happened to you, I'm sure you can see the advantages of device like the T9+.
Click here for more information and pricing on the ECOVACS DEEBOT T9+.