A More Portable Party
Author

Publish Date

Thu, 21 Jul 2022, 1:23pm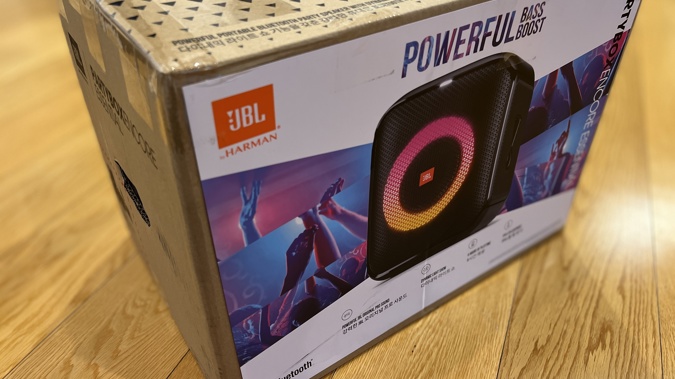 A More Portable Party
Author

Publish Date

Thu, 21 Jul 2022, 1:23pm
If there's one thing you can't criticise JBL for it's choice. Over the years I've been repeatedly amazed  by the sheer selection of products - not just different kinds of devices but how many kinds of each kind of device there are.
And I'm not just talking a range of different colours.
Do you want big or small? Plug-in or portable? Wired or wireless?
Oh, is the big a bit too big? Here's one that's still big but not quite as big as the really big one. Perhaps something more medium?
The PartyBox range is no exception; now there are at least seven different PartyBoxes to choose from. Let's see if the latest offering is the one you've been waiting for.

If you're not already familiar with JBL's PartyBox line, they're large, powerful bluetooth speakers with their own built-in light shows - and by large I mean up to 1100 watts of output and some of them even have their own wheels so you can move them around.
Ironically, the new PartyBox Encore Essential is at the other end of the scale.
As bluetooth speakers go, it's still a pretty hefty cube; measuring roughly 30cm a side and weighing in just under six kilos. It comes with a single carry-handle at the top and no shoulder strap, unlike some of its bigger siblings.
It's certainly easy enough to lug around and as you'd expect, it's fully rechargeable so you can literally take it anywhere. I had to point that out though, because some PartyBoxes are mains-power only. In saying that, the JBL website promises just six hours playback time. Now obviously if your party is lasting longer than six hours, you're either doing something seriously right or drastically wrong - but I've certainly used other speakers with much longer battery life. The battery indicator isn't particularly helpful either; it's a narrow, white LED line on the top between the bluetooth and power buttons that gives you a vague idea of how much power's left right up until crisis time when it starts flashing red. I'd prefer a row of dots for more accuracy.
A More Portable Party
The other controls include a BassBoost button, a light show button, a play/pause button and a volume wheel. This last one pleases me no end; there's something deliciously tactile about adjusting the volume with a wheel rather than a set of up and down buttons. Know what I mean? No? Just me? It can't just be me.
As I always do with any JBL speaker, I slap that BassBoost on and leave it on. Over-the-top, punchy bass is one of the things JBL absolutely excels at and in my opinion, it's not just useful to keep the party jumping at maximum volume. I believe warm, clear, powerful bass is key to playing your favourite background music at low level too. There are two reasons for this - bass is non directional, so a bass-heavy mix gives the impression of being more "backgroundy" - and secondly, bass-lines are just as important to the beat as drums and an even more essential component of the melody. How often have you been able to tell what song's playing from outside a building when all you can really hear is the bass?
Sure enough, I've really enjoyed playing my latest favourite Spotify playlist on the Encore Essential. It's called, "Cocktail Bar. Funky jazz & Lounge Music" and it makes me feel like my house is suddenly somewhere you can order pitchers of margaritas and yummy bar snacks.
There's no need to get carried away describing the setup process - by now I think we're all familiar with how to pair a bluetooth speaker. For convenience, you can also use a 3.5mm AUX cable or even play tracks directly off a USB thumb drive. Not sure who turns up to a party with actual music files on an actual USB stick anymore but I suppose it's reassuring to have the option.
There's a mic jack in behind that splash-proof back panel as well. Unlike the JBL PartyBox On-the-Go, the Encore Essential doesn't come with its own wireless mic, although JBL does sell a wired one that'll work here. If you do have a mic, this speaker is now your karaoke machine, with a solid amount of crowd-pleasing echo mixed in by default.
Unlike other PartyBoxes, the Encore Essential doesn't have a slot to stand a tablet or phone in so you can read your karaoke lyrics but that's hardly a dealbreaker if you're really in the mood to let your vocal cords loose.
What the Encore Essential does have in common with its siblings is its own light show, albeit on a slightly reduced scale, due to its smaller size. There's still a bright strobe at the top that blinks in time with the beat and a selection of coloured LED patterns behind the front speaker grille. You scroll through these with the light show button on top and I don't know if JBL has actually improved how the lights respond to the music or I've just got used to it - either way, I've found myself enjoying this feature more than ever. I also enjoy the fact you can turn it off completely.
Finally, the Encore Essential offers TWS connectivity; which makes more sense than ever at this end of the PartyBox price bracket - why buy just one when you can pair two wirelessly, resulting in a stereo soundstage that's twice as powerful?
Honestly, I don't remember the last JBL speaker I didn't like but the Encore Essential has really ticked off a lot of boxes for me; it's easy to carry, rechargeable and IPX4 splash-proof - so it's genuinely portable. The sound is roomy, clear and bass-heavy in a good way. And I actually don't hate the flashing lights.