A HUB FOR EVERYTHING
Author

Publish Date

Wed, 4 Mar 2020, 5:23AM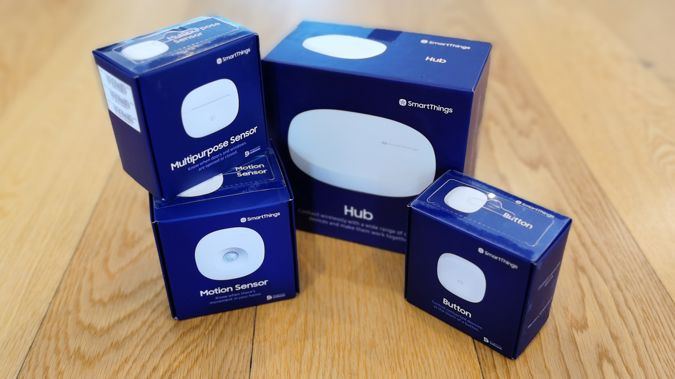 A HUB FOR EVERYTHING
Author

Publish Date

Wed, 4 Mar 2020, 5:23AM
How's your smart home coming along?

Got your light bulbs? Got your power plugs? Got your security cameras?

Got your locks? Your temperature sensors? Oh, and of of course, obviously you've got your speakers.

Now... if only you could make do what you want them to...

A lot of those things can be set up as a one-off device and will run independently. But the situation can get complicated pretty quickly if you want a light to come on when a motion sensor is activated. Some smart speakers are smart enough to co-ordinate all your connected toys, but the Samsung SmartThings Hub might make things easier still.

Now in its third generation, the SmartThings Hub is more straight-forward to set up than ever, thanks in part to the SmartThings app, but also due to the fact you can now connect to your home network via WiFi. This means so much more versatility as to where you can place the hub, now it doesn't have to be within ethernet-cable distance from your router or access point.

Not that you really need to hide the SmartThings Hub away - it's small and unobtrusive, almost to the point of being nondescript. The best reason to move it around is to ensure the strongest connection between it and your connected devices. In fact, that's the best reason to use a hub like this at all; the more devices you can run through the SmartThings Hub, the less pressure you're putting on your router, because the hub is directing all the traffic.

So just what exactly can the Samsung SmartThings Hub control?

Turns out, most things.

From TP-Link, to Ring, to Philips Hue, to Yale, there's quite a range of devices and brands the SmartThings Hub will gladly incorporate into its web - and that's before you get to Samsung's own range of smart devices, including the Motion Sensor, Button and Multipurpose Sensor, all of which I've been able to give a go.
The Motion Sensor is pretty self explanatory but the great thing about it is its size - or lack of it. In fact, another advantage of hub-connected devices like these is because they're not having to power WiFi connectivity, their batteries and general shape can be very small indeed. The Samsung Motion Sensor comes with its own super-versatile magnetic ball-mount, allowing you to place it just about anywhere at all.
The Multipurpose Sensor is also tiny. It's a two-piece, stick-on sensor that can tell if doors, windows or cupboards have been opened or closed.

Both these sensors can send notifications to any mobile device connected to your SmartThings account. But the real fun is setting up automations to turn lights on or off, sound alarms, record video or even turn on TV's and speakers. You can do this via the SmartThings app, or via Google Assistant, Alexa or even IFTTT(If This Then That), a program that allows you to invent your own routines for the smart devices you own.
Samsung's Smart Button is simple, yet brilliant, yet I have absolutely no idea what to use it for. It registers both single and double presses, as well as being held down. I'm sure at some stage I'll discover something I desperately need to operate remotely, but only while I hold a button down. Then I'll have just the button to do it.

All three of these little devices also measure the temperature, so that might come in useful if you have a smart air-conditioner or fans or heaters connected to smart plugs.

Creating automatic rules via the SmartThings app is pretty easy, although some options simply aren't available. For instance, I'd like to be able to simply turn the sensors off at certain times of the day, but that doesn't seem to be possible.

And this is why a Terminator-style Judgement Day isn't about to happen any time soon.

The robots are not about to take over because as smart as they are, they're still pretty stupid. The SmartThings Hub recognises a lot of devices but not all of them. For example, I have several D-Link gadgets connected to my home network and the only way I could get the Samsung sensors to trigger them was to create my own IFTTT routines.

I'm not criticising Samsung for the Hub's limitations, it's all my fault. As soon as I get some functionality, I want more. When I get more, then my imagination really swings into gear and I come up with even more demands. Why isn't there a device that turns on my shower the moment my alarm goes off so I don't have to wait for the water to heat up? For that matter, why do I have to wait for the water to heat up?

See? SkyNet isn't taking over any time soon.

However, if you are looking for one device to control them all (well, most of them, anyway) the Samsung SmartThings Hub is an attractive, versatile and well-priced option.


Click here for more information and pricing on the Samsung SmartThings V3 Hub.

Click here to learn more about other Samsung SmartThings things.