A Confusing Step Sideways
Author

Publish Date

Tue, 16 Mar 2021, 1:09PM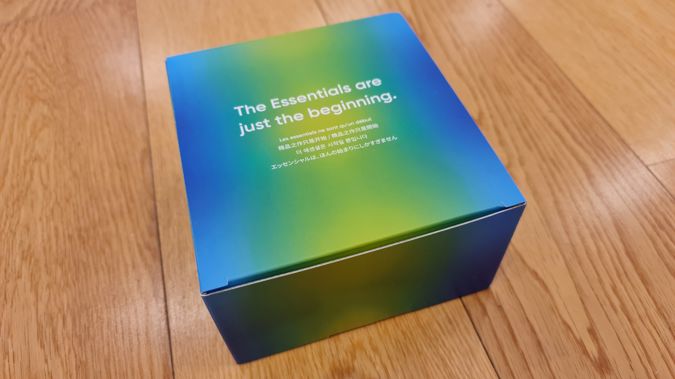 A Confusing Step Sideways
Author

Publish Date

Tue, 16 Mar 2021, 1:09PM
There's no doubt smart lighting isn't for everyone - after all, what's wrong with the old switch on the wall? Flick it on - light. Off - dark. Simple, right?
Bit boring though.
So now we've definitely got options and plenty of them. All kinds of smart bulbs offering limitless colours, a range of brightness settings and depending on which one you choose, the ability to link with virtual assistants and connect with smart hubs.
Nanoleaf stepped up the game with a selection of shapes, flat panels... squares, hexagons, triangles... to create not just funky lighting effects for your spaces but genuine art installations. Or in my case, a Christmas tree for my holiday entranceway.
So what now?...
If you were expecting more shapes - maybe circles or stars - you're out of luck. The Nanoleaf Essentials range is billed as being "Your Smart Lighting Basics" and the range begins with a bulb and a lighting strip - at first glance, perhaps nothing too crazy to see here.
Look a bit harder, or at least turn them on and set them up, and you'll soon discover there are indeed a few things that set these new Nanoleaf products apart, justifying the slightly (but only slightly) higher price than the stock-standard competing products available.
Let's start where I did, with the Bulb. On closer inspection, straight away you can see this isn't just a round globe as we've grown used to for generations. In fact, the Essentials Bulb has been shaped into a 62-sided rhombicosidodecahedron... you know? That classic 3D shape made up of squares, triangles and pentagons. Why on earth Nanoleaf decided to do that, I have no idea. But because they did, it makes the Bulb quite a bit more interesting to look at than a traditional round one - meaning it instantly adds character to more exposed light fittings.
However, that'll also depend on how brightly you run the Bulb and which of the more-than sixteen-million colours you choose. You see, at the lighter end of the scale and at maximum brightness, you won't be able to discern any of the Bulb's 120 edges because you'll be blinded - this is easily one of the brightest smart bulbs I've encountered.
Likewise, the Lightstrip is capable of glowing extremely brightly - in fact, brighter than might be your preference if you're using it for subtle highlights under a benchtop or behind a display or cabinet.
Of course, settings like brightness and colour can be altered via the Nanoleaf app, which you'll need to set these devices up with in the first place and this is where things get rather convoluted. Setting up and controlling previous Nanoleaf products has always been a bit hit and miss and I don't really know why. The lighting panels connect to your home Wi-Fi network and then you can adjust them via the app, from a connected smart hub or speaker, or even from the desktop app on your PC. That works eventually but I've always had issues connecting - especially when trying to install firmware updates and often I've had to perform multiple factory resets to get the Nanoleaf controllers to co-operate.
Well, things have got decidedly weird with the essentials range. I actually had no issues at all using the Nanoleaf app on my Android phone - for the Bulb and Lightstrips no Wi-Fi is required, it all happens via bluetooth. Knowing this, I was surprised how quickly the devices responded, although I was disappointed to discover a lack of functionality compared to the previous lighting panels I've used before. Yes you can choose any colour at all, using the colour wheel or manually typing in specific codes if you already have a favourite. However, you can't opt for animated, preset scenes like you can with the panels and you can't schedule the Bulb or Lightstrip to turn on or off automatically either. This is odd because I've seen screenshots from other markets where the app does offer these options, so perhaps an update is coming.
What's really strange is you can also set up the Essentials through Google's Home app or with Apple Homekit. Except... to use the Apple option you'll need a smart hub like the Apple Homepod or the new Homepod Mini, neither of which are currently widely available in New Zealand. This is because the Essentials are Thread-enabled. I hadn't even heard of Thread before using these products so I did a bit of research on your behalf. Thread is a kind of bluetooth alternative but works more like a mesh Wi-Fi system; the more Thread devices you have set up the stronger and more responsive your network becomes but because you can't really buy a Homepod Mini right now, we'll have to leave that to one side.
Google Home is better news. Most of us have used this to set up our Chromecasts and if you have Google Assistant smart speakers or even Google Nest Wi-Fi points, you'll be all over Google Home and you'll know how easy it is to add and set up new devices, naming them and assigning them to various rooms around your house. Once again, I had to factory reset the Nanoleaf Lightstrip to get it to respond to my Home app but I had no issues at all connecting to the Bulb. Now the fun can really begin, as you create Google routines to turn these things on and off when you want, changing colour and brightness too. They'll also now respond to voice commands via Google smart speakers or Google Assistant on your phone. Great.
Have you noticed something missing?
That's right; Alexa hasn't been invited to this party which is a bit inconvenient for me, not just because I have a lot of Amazon gear set up around the house but my existing Nanoleaf devices are Alexa-enabled and that's how I control them.
Again, maybe this is a feature that's still to come but only if the Wi-Fi-dependent Amazon Alexa chip has been built into the devices already and given their small form factors, I don't think this is a given.
What I do really like is the versatility of the Lightstrip. The starter pack is a simple, two-metre length with an adhesive backing. Installation is as simple as cutting the strip to length, and sticking it where you want it. There are one-metre expansion packs available and you can drive up to ten metres from a single controller. (You can go longer still but it will cost you some brightness) That controller lets you turn the Lightstrip on and off, adjust the brightness and cycle through a selection of colours too. The only minor design flaw here is the Lightstrip can easily slip out of its socket in the end of the controller but I can live with that, given once it's in place, you're unlikely to be fiddling with it too much, especially if you're using Google Assistant to operate it and not the manual option instead.
So I'm torn. The hardware is indisputably high quality and is definitely more practical, more "useful" than the previous Nanoleaf panels which were a bit of fun but didn't really serve any actual purpose. The Bulb and Lightstrip are both economical, simple ways to add striking (or subtle) lighting accents to any indoor setting. Unfortunately, the setup is all a bit of a mess, with limited options available in the Nanoleaf app itself, no Alexa option and a focus on Thread technology that hasn't really arrived in the country yet.
If you're running Google Assistant at your place, then Nanoleaf Essentials should definitely be your go-to smart lighting solution. If you're not a Google gal or guy, you may need to do a bit more research.
Click here for more information on the Nanoleaf Essentials Bulb and Lightstrip.