'Smell it down the hallway': Cruise from hell hit with mix of Covid and gastro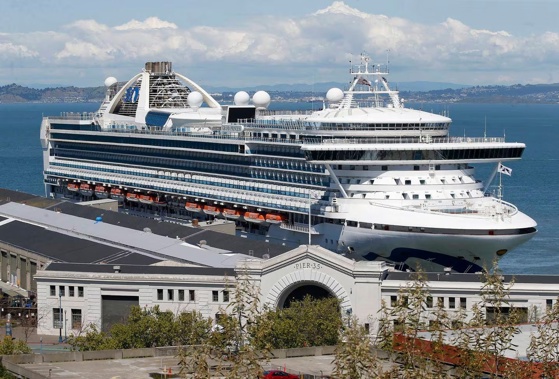 'Smell it down the hallway': Cruise from hell hit with mix of Covid and gastro
A cruise ship has finally reached port in Australia after its passengers and crew were subjected to two weeks aboard a floating Petri dish of Covid and gastroenteritis.
Princess Cruises' Grand Princess has arrived in Port Adelaide after an 18-day round trip to Queensland that saw the ship, which has the capacity for 2600 passengers and 1150 crew, ravaged by twin outbreaks.
A 57-year-old passenger told the Advertiser they believed several hundred people could be affected.
If the raw numbers were not horrifying enough, several passengers gave graphic descriptions of the environmental conditions aboard the Grand Princess.
"We had a man two doors down from us who had Covid and gastro and we didn't know about it, and you could smell it down the hallway," one passenger told Nine's The Today Show.
Geoff and Di Lines told the Advertiser they detected a "strong toilet-y smell" in the ship's theatre.
"There were a couple of times we smelt a sewage-type smell," Geoff Lines said.
Other passengers said that the crew had been trying to enforce hygiene measures and had "cleaned the whole ship about twice".
That included all passengers disembarking in Melbourne on Saturday to allow the ship to be cleaned thoroughly.
South Australian Premier Peter Malinauskas told The Today Show that his government had been monitoring the infected ship as it steamed back towards his state, and those on board who needed hospital care would be transported safely to shore.
"The good news is that reports that we've got from the cruise operators [indicate] that the number of cases presenting have actually dramatically decreased over the course of the last couple of days," Malinauskas said.
"But geez, I do feel for those people on board. Imagine having both of them at the same time - that wouldn't be much fun at all," he added.
The coronavirus-stricken Grand Princess cruise ship in San Francisco in April 2020. Photo / Getty Images
A spokesman for Princess Cruises confirmed to the Advertiser a number of passengers had reported to the medical centre with gastrointestinal and respiratory symptoms.
"We proactively launched a comprehensive disinfection programme developed in co-ordination with international health authorities to prevent further spread," the spokesman said.
"As an extra precaution, we have arranged for the ship to undergo an additional disinfection today prior to the embarkation of the next voyage."
The Grand Princess hit headlines at the beginning of the Covid pandemic when an outbreak occurred and the ship was anchored offshore in San Francisco while tests were carried out.
Over 100 people were infected and at least seven people died.
Take your Radio, Podcasts and Music with you