Pip Squeaks: Robbie entertained us
Author

Publish Date

Mon, 2 Nov 2015, 9:08am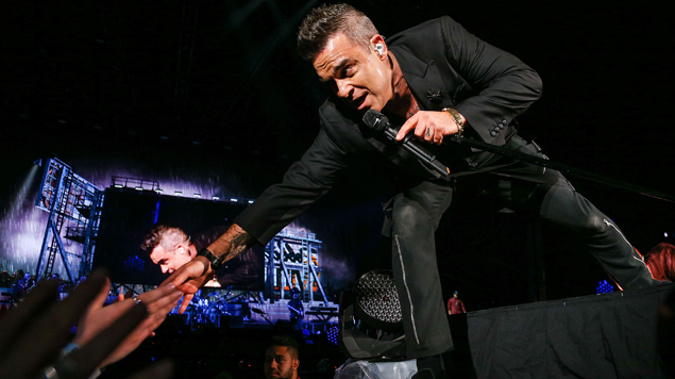 Pip Squeaks: Robbie entertained us
Author

Publish Date

Mon, 2 Nov 2015, 9:08am
Robbie Williams wanted to entertain us and that he did.
The naughty English rocker played the Basin Reserve in Wellington last night. This show of singalongs was the perfect way for Kiwis to distract themselves from the nerves of the looming Rugby World Cup final this morning.
I have no doubt big fans of Robbie Williams would have got exactly what they were after last night. His show was typical of his cheeky character and hilariously amusing, it featured hit after hit from the musicians 90s heyday and it was pulled of with an on stage ease.
To love a bit of Robbie you've got to love a bit of cheese, and that's exactly what he gave. He burst onto the stage following a dramatic, NASA-rocket-launch type countdown, teasing us with lyrics from some of his best songs. Immediately the thousands of middle-aged women around us were screaming as if they'd traveled back in time to their teenage years as he leapt around the stage pelvic thrusting during Let Me Entertain You and Rock DJ.
Things slowed down a notch here with a dreadful song I'd never heard before, Me and My Monkey. It was a stupid track to include in a mostly upbeat set list. But it wasn't long before things were back on track and the crowd was boogying again. He brought out his opening act, boy band Lawson for a lovely version of Take That's Back For Good and from there came the ones we were waiting for.
Feel was my pick for performance of the night and Supreme was another crowd pleaser. A duet with his black tie wearing "daddy" to Better Man was musically flat but rather cute. I still find it rather ironic hearing him sing about wanting to be a better man when he spent half the show swearing, talking about being "soberish" and singing a tune written for his two-year-old son called Motherf****r.
His real performance nouse was showcased as he brilliantly recited the poem Hello Sir from the album The Ego Has Landed. He wrote this as a 'look where I am now' message to his school teacher who believed he'd amount to nothing and took real joy in performing it to his legions of fans last night.
The Basin Reserve proved to be a fantastic concert venue for Wellingtonians, on a stunning spring night it was the perfect setting. A few neighbours cashed in on a free concert and Williams wasn't going to miss the chance to give them heaps for it. At one stage he had apartment residents flashing their lights on and off to tell him they were enjoying the show. The way he involves his audience is admirable. He chatted freely between songs and it was very well received.
One thing that didn't work for me were the many covers throughout the set. We heard snippets of Wonderwall, Lorde's Royals, I Love Rock n Roll and even Hey Jude. Not to forget the cover of Bohemian Rhapsody he led out with in his encore. They didn't work. His songs were what people wanted to hear and they're the ones he performs with the most skill. One cover would have been more than enough. I'm certain the crowd would have preferred to hear tracks like Strong and You Win Some, You Lose Some more than these weak replications.
But Robbie Williams did finish in fashion. The show was brought to a close with She's The One and Angels bringing down the house in true 90s singalong fashion. 
Overall, it was a great blast from the past and a fun concert to check out but I'm not sure people will be rushing out to buy tickets if he returns in the next 18 months as promised.
Philippa writes music reviews at pipsqueaksblog.wordpress.com/