Pip Squeaks: Return of the 'Mac
Author

Publish Date

Thu, 19 Nov 2015, 10:16AM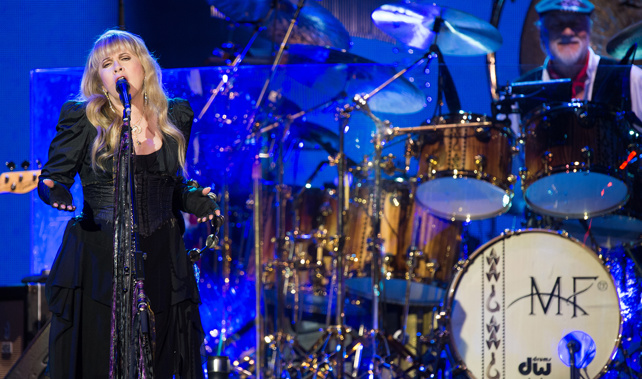 Pip Squeaks: Return of the 'Mac
Author

Publish Date

Thu, 19 Nov 2015, 10:16AM
They may be old, but they sure don't act like it.
Fleetwood Mac are the ultimate performers, and last night's show at Forsyth Barr Stadium in Dunedin was just what fans were after. After the first four songs - 'The Chain', 'You Make Loving Fun', 'Dreams', and 'Second Hand News' - my friend turned to me and exclaimed: "And there are still so many good songs to come!" That statement perfectly summed up how you felt the whole night as the band charged through hit after hit with a contagious energy. 
Having Christine McVie back on board for this tour was acknowledged by Stevie Knicks early on as being a blessing and I definitely agree. When the band last toured here in 2009 they were powerful enough with the four of them, but adding her musical abilities and her amazing collection of songs into the mix gave this concert a whole extra layer. It was fantastic to hear 'Little Lies', 'Everywhere', and 'Say You Love Me' all sung by McVie whose voice is well intact. 
The magic of a band like this is that each and every member is such a talented musician. With three of the best songwriters of all time, the variation between songs is refreshing when so many acts today sound same-same. Each writer's tunes are equally loved by the audience and it sounds fresh and exciting going from  an impressive Lindsay Buckingham guitar picking track like 'Big Love' straight to a slow Nicks ballad like 'Landslide' which had the whole crowd captivated.
Other highlights for me included 'Gypsy' which had punters dancing up a storm, a lovely rendition of 'Never Going Back Again' and an attention grabbing 'Gold Dust Woman' (during which Nicks donned an appropriately shiny gold jacket).
As with their last show, Lindsay Buckingham really stood out for me. He lead the action on stage, didn't take a single break, sang beautifully, and played guitar solos that sent shivers down your spine. In comparison, although as compelling as ever, Nick's voice is definitely not what it used to be. It's a pity she can no longer hit the higher notes in tracks like 'Rhiannon', but she does make up for it in presence. 
As the set came to a close with a singalong during 'Go Your Own Way'. They came back on to rapturous applause and played 'World Turning' featuring an interactive Mick Fleetwood drum solo in his true, hilarious fashion. Then the crowd went wild as they busted out a foot-stomping 'Don't Stop'. I thought it was all over then, but my dream came true as the group played 'Silver Springs'. This song was mesmerising. I was completely enthralled as it grew in momentum and their voices built a wall of sound too good to be true. I could have gone home happy then, but we got one more taste of Fleetwood Mac and it came in a beautiful performance of 'Songbird' which left a tear in my eye. What a way to finish.
My only complaint about last night is that the acoustics at Forsyth Barr are shocking. It was my first concert at this venue so I was interested to check it out but the technical quality I witnessed last night doesn't make me want to travel here for a show again. It's great having a roof on a cold Dunedin night but the echo at the back of the stands was so bad it hurt your ears. Things got better after we ditched our seats and headed into general admission but only marginally. I was glad I'd seen the group before at the Bowl of Brooklands in New Plymouth because it meant I knew they sounded even better than they were coming across last night. 
That said, last night was one hell of a show and worth every cent. Fleetwood Mac are easily one of the best live acts of all time and with a set list as good as that - you can't go too wrong. Auckland are in for a treat with their two shows this weekend. 
Take your Radio, Podcasts and Music with you