Pip Squeaks: Refreshing new sound of Mel Parsons
Author

Publish Date

Mon, 2 Nov 2015, 3:06pm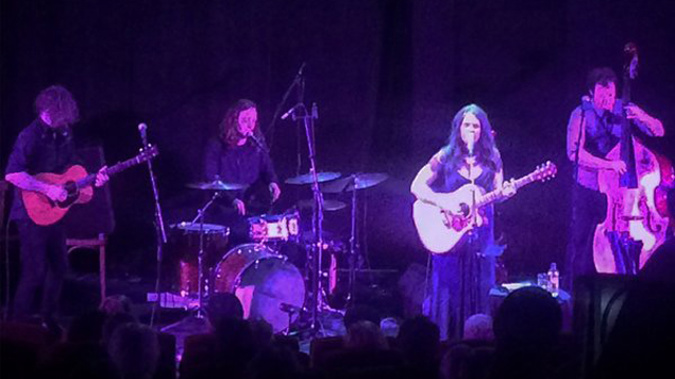 Pip Squeaks: Refreshing new sound of Mel Parsons
Author

Publish Date

Mon, 2 Nov 2015, 3:06pm
Before last night I liked Mel Parsons, now I love Mel Parsons.
Last night's show was a hit with fans who filled the Paramount Theatre to check out her latest offerings live. The Christchurch based Kiwi folk artist has created a refreshing new sound in her latest album Drylands which was recorded at Wellington's Surgery Studio with the help of Lee Prebble, Oliver Harmer and Gerry Paul. The quality of the record has been endorsed by Prebble and Harmer winning the Best Engineer gong in the New Zealand Music Awards, a well deserved prize I say.
Drylands has a more mature sound than her previous works and when performed live it takes on a whole other level. Parsons voice is so powerful, it soars above the instruments and holds the attention. But the backing work from her compelling band was also mesmerising. Gerry Paul was captivating on guitar, drummer Jed Parsons is one to watch, he stood out when he stepped forward to sing with his cousin in the dreamy track Don't Wait. Julia Deans is one hell of a vocalist and packs a punch even in a backing role and double bassist Aaron Stewart stole the show a few times as he busted out mighty solos. I admire an artist who truly appreciates their band and Parsons relationship with hers is clearly a good one, it was nice to watch.
Parsons shared with us a series of beautiful songs from Drylands, interspersed with material from her two previous albums. She is a natural storyteller, not just in her songs but in conversation, which meant each tune had a short but solid explanation which helped to connect the audience. We learnt Fireworks, a gentle love song anyone would enjoy, was written for her sister on her wedding day. We giggled away as she narrated the struggle she went through to name her album because all the song titles she wanted to use were already taken by Nickleback, Katy Perry or Bear Grylls. In the end she went with Drylands, one of the first lyrics of Non Communicado. This song was a favourite of mine, it showcases lovely light and shade in her voice and instrumental crescendos.
The most poignant moment for me was when the band left the stage and Parson's played a stunning acoustic take on Things Will Get Good, a song she tells us was written for her friend who had a hard time dealing with depression and eventually took his own life. She dedicated the song to everyone in the crowd with a little "sadness in their hearts" telling us this song contains all the things she wishes she could've said to her friend. It is a beautiful lyrical piece and she played it with impressive emotive control, her voice soaring across the notes without a shake - it was tear invoking.
Her two latest singles Get Out Alive and Far Away were more upbeat tracks which had you foot tapping and clapping along. The tale of her near-death car crash experience isn't your normal song material as she expressed with humour, but it works and makes for a fresh and compelling tune. To finish the set Parsons got her musician friends in the audience up on stage to form a powerful backing choir in Far Away. This song with an Irish twist was first showcased when she toured with Fly My Pretties so it was lovely to hear it performed in a group setting again.
A very impressed crowd applauded with enough enthusiasm to provoke an unplanned encore which we were lucky to get. Parsons and her band performed a chilling version of the Eagles Seven Bridges Road. Their five part harmony was epic, it sent shivers down my spine and made my mouth drop open. The perfect encore. A night with Mel Parsons and her band was the perfect way to finish the weekend, I'll be lining up to get tickets next time she's in town.
I must also pay credit to Julia Deans who was the opening act for the night. She tested out her latest material, which will make up a new solo album being released next year, and I was impressed. For a start, this woman has one of the largest vocal ranges around. She soars above the high notes with absolute control of her voice. For just one woman and a guitar, Julia Deans commanded the audience, threw in a bit of comedy for good measure, and put on a stunning show. I'll look forward to hearing these songs, particularly my set favourite, We Light Fire, when her album comes out around April.
Philippa writes music reviews at pipsqueaksblog.wordpress.com/