Pip Squeaks: Otherworldly emotions at Sufjan Stevens
Author

Publish Date

Mon, 7 Mar 2016, 11:51am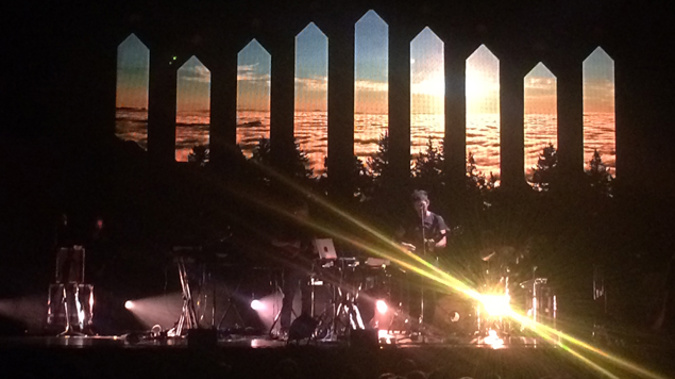 Pip Squeaks: Otherworldly emotions at Sufjan Stevens
Author

Publish Date

Mon, 7 Mar 2016, 11:51am
Last night at the Michael Fowler Centre I was transported, I felt like I was part of the music as Stevens and his enigmatic band put on a faultless production. The concert was one of two halves and each was just as mesmerising.
First came a showcase of the stunning work that is Carrie and Lowell. The word death is mentioned in almost every song from this album which explores the difficult relationship he had with his mother, who was bipolar, schizophrenic and suffered from drug addiction. She died of cancer in 2012. But Stevens' music, although it tells a depressing story, is uplifting in concert. Surprisingly, lines like: "Should I tear my eyes out now? Everything I see returns to you somehow. Should I tear my heart out now? Everything I feel returns to you somehow" didn't make you feel like the world was ending. In fact, at the culmination of the show 4th of July, the audience happily sung along as the musicians chanted "we're all gonna die"  over and over with a mass of noise building underneath.
In this show Stevens almost played Carrie and Lowell track for track, this record has been widely acclaimed as his best yet so there were no complaints from me. Rolling out with Death With Dignity, Should Have Known Better, All of Me Wants All of You and The Only Thing all in the row at the beginning was a clever way to hook the many new fans in the crowd right in. These songs are great on record, but seem genius when performed live. They have many layers which were cleverly built up on stage and with such heavy use of synth they really reverberate through you.
Older songs popped up now and again, a real highlight being the slow and haunting piano ballad The Owl and the Tanager and an intense Vesuvius which had me feeling like I was onboard a rocket ship heading for outer space. Also, I have to thank Stevens for making me feel better about my 'actions to match words' dance moves because he is the master of this. I loved his quirky hand movements which he busted out in a rehearsed routine during certain tracks. Not a word was breathed from Stevens throughout the entire first half, but the music spoke for itself. I didn't need reassurance from him that he wanted us there, I knew he appreciated the crowd by the way he played, sang and moved. When he came out after the encore though, there was no quiet Sufjan Stevens, he shared funny quips and highly intelligent philosophical life messages which give you an insight into his spirituality.
Big ups to his wonderful band, particularly Dawn Landes who provided haunting harmonies and also put on an opening show to be proud of. The many talents of these musicians was especially evident in the acoustic second half as they crowded around one microphone, and all managed to shine. After the intensity of the Carrie and Lowell half of the show, this stripped back series of songs was magic in a different way. Here Stevens explored his older works and songs like To Be Alone With You and Heirloom were chilling  and the much-loved Chicago was the ultimate finale. I sang "all things go" over and over all the way home.
Sufjan Stevens plays Wellington again tonight before heading to Auckland on Tuesday at the Civic. Get your tickets now, this is a show not to be missed.
Philippa Ormrod is the Executive Producer for the Tim Fookes Morning Show