Marlon Williams: Live Review
Author

Publish Date

Mon, 29 Jun 2015, 12:27pm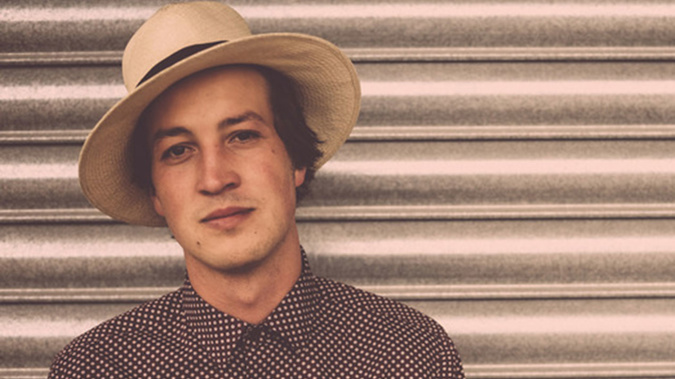 Marlon Williams: Live Review
Author

Publish Date

Mon, 29 Jun 2015, 12:27pm
June 26, 2015
Crystal Palace, Auckland


On Friday night Auckland was treated to a performance from one of New Zealand's finest, in an absolutely magic venue. Lyttelton-raised Marlon Williams has returned briefly from a stint in Melbourne for the New Zealand leg of his album release tour.
His self-titled debut (released back in April) is a mix of country, from old school honky-tonk and bluegrass, to blues and country rock. Don't be put off by the genre; this man is one of the biggest talents I've come across, with a voice that will pierce and woo even the coldest of anti-country hearts.
Many in the crowd were as excited to be in the mysterious Crystal Palace as they were to see the man himself. You could easily mistake the old cinema for an abandoned (or at least much neglected) building from the outside, but when walking through the doors of the dilapidated Mt Eden venue a cavernous hall of former Art Deco glory is revealed.
Pearlescent seashells border the stage in a magnificent arch, a scalloped velvet curtain tumbles down behind, and the cobwebs and cracks laced around the building's crumbling interior somehow add to the ambience. You feel like you've been allowed a glimpse of a bygone age of entertainment; I half expected a troupe of feathered ladies or a vaudeville act to appear on stage.
Instead, as the lights lowered and Gatsby-esque orbs around the walls suddenly glowed red, Laura Jean took to the stage. I've been very intrigued to see what she can do, given that Williams was overflowing with praise for her ahead of her trip across The Ditch. The Australian folk singer is an artist in the same vein as Laura Marling, her beautiful and frank song writing littered with a charming mixture of heart-tugging melodies and dry humour. Armed with her magnificently powerful yet beguiling voice, an acoustic guitar and an auto harp, Laura Jean was a crowd-favourite from the first note.
The former choir boy turned country king didn't keep the audience waiting, promptly following his opening act and opting to wow the audience with simplicity - showcasing his best asset, his voice, in an acoustic rendition of one of his favourite concert openers, 'The First Time Ever I Saw Your Face'. It was absolutely mesmerising, sending a hush over the heretofore bubbly crowd.
It was a night of cameos and collaborations, with Williams calling upon his 'number one partner in crime', girlfriend and fellow musician Aldous Harding to join him on stage; followed by his right hand man and former The Unfaithful Ways band member Ben Woolley (the trio delivering some top notch honky tonk harmonies on a Stanley Brothers cover). Multi-instrumentalist Dave Khan and drummer Angus Agars rounded out Williams' impressive line-up of musical comrades The Yarra Benders; Khan providing jaw dropping electric strings talent on guitar, mandolin and violin.
Williams' solo debut is a recipe of work shaped by the many strands of country, weaving from melancholic love ballads and peddle steel-soaked laments, to unadulterated country rock. On Friday he performed the entire album, entertaining with tracks such as the eerie 'Strange Things', single 'Dark Child' performed live with Laura Jean, the juggernaut that is 'Hello Miss Lonesome' (a speeding steam engine of a song), the deliciously dark 'Ballad of Minnie Dean', and Bob Carpenter cover 'Silent Passage'.
Williams officially closed the set with 'Trouble I'm In' – a song he wrote when he was 16 and well known from his days with The Unfaithful Ways – before returning for a triumphant encore. 'When I Was A Young Girl' is another example of Williams' ability to cast a spell over a sold-out audience using only his voice and an acoustic guitar. This breathtakingly raw and sincere number was followed by a hilarious, full-band cover of The Zombies' 'Time of The Season' which had the audience up on its feet, cheering and laughing uproariously. In a final blast of relentless musical prowess, Williams channelled the king of blues Screaming Jay Hawkin for a rousing, screamer of 'Portrait of a Man'.
I've seen Williams countless times now, as part of The Unfaithful Ways, The Harbour Union, and most recently as a solo artist in his own right. Every time I am blown away by the power of his voice and his sheer, raw talent. With a level of showmanship beyond his years he never fails to impress, and he now has a solid collection of work in his songbook to impress with. Williams has also brought together a group of very talented artists to help him do just that.
Australia and its sizeable country music scene has welcomed this Christchurch boy with open arms and seen his name whispered by many influential lips; spreading word of his undeniable talent in a way that can be much harder for a country artist to achieve in New Zealand. Fingers crossed it's not too long between drinks and we see Williams back here quick sharp, leaving audiences speechless once again.