See No Evil: Film Review
Author

Publish Date

Tue, 19 May 2015, 11:57am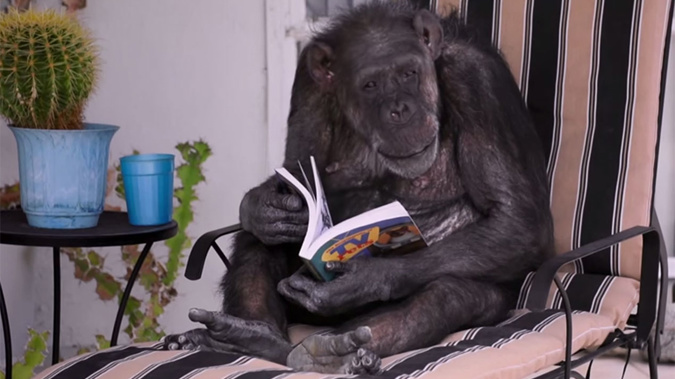 See No Evil: Film Review
Author

Publish Date

Tue, 19 May 2015, 11:57am
Director: Jos de Putter
3/5

Using "poetic" as an adjective in criticism can sometimes be code for something outright pretentious. Or it can be pretentious to use. However for Jos de Putter's documentary See No Evil, it just might be appropriate.
The Dutch filmmaker's quiet and disquieting examination of retired apes contains almost no exposition at all. There is no voiceover, and no acknowledgement of the apes' history aside from a few glimpses at archived footage.
Split into three chapters and an epilogue, de Putter trains a very controlled lens on the animals, examining their features and body language, conferring upon them something resembling or nearing human characteristics.
Cheeta is the last surviving and most famous ape-actor from the Tarzan movies produced from the 1930s onwards. At least this is what the film portrays. But a cautionary glimpse elsewhere alleges that Cheeta's original owner perpetrated an immense fraud by pretending the ape was a heavyweight star – despite never appearing in any Tarzan flick.
Nevertheless, we encounter Cheeta as a celebrity in retirement, waited upon with cake and beer on his (allegedly) 80th birthday. He spoons porridge and dabs his mouth with a serviette. He gives the ape equivalent of loveable hugs and has his "Abstract" paintings hawked for thousands of dollars. His owner looks on approvingly while Cheeta 'plays' the piano. A chimp toying at real life, though the world that is created around him – of artifice and the trappings of human traits – are fictional.
Kanzi, on the other hand, has edged the closest to attaining a genuine human characteristic – speech. Like Koko the gorilla (who can sign 1000 words) Kanzi can clearly understand English and responds by palming an enormous touch screen. Here we edge a little closer to what defines Homo sapiens above other animals. Her interactions are joyous to watch.
With Knuckles, however, we begin to understand de Putter's message (if indeed he has one). Clearly deformed and dilapidated, Knuckles shuffles alone through a forest as archive footage is shown. In the golden age of space exploration, monkeys bore the brunt of experimentation. Crash tests, launch tests, orbit tests. Unlike poor Laika – the Russian stray dog jettisoned into the atmosphere – Knuckles survived whatever was inflicted upon him.
The epilogue implores for pity. Knuckles pauses at a point in the dirt path littered with crosses bearing the names of, presumably, other apes sacrificed at the altar of human progress. In a touching moment de Putter thankfully doesn't craft the scene with heavy hands.
This isn't a polemic, nor is the central moral ostentatious. Rather, it asks a subtle question: Could human beings have advanced just a little further, and little higher, if we'd dared to care about the animals despatched during our ascendancy? 
See No Evil is showing at the Documentary Edge Festival.