San Andreas: Film Review
Author

Publish Date

Sat, 30 May 2015, 10:32am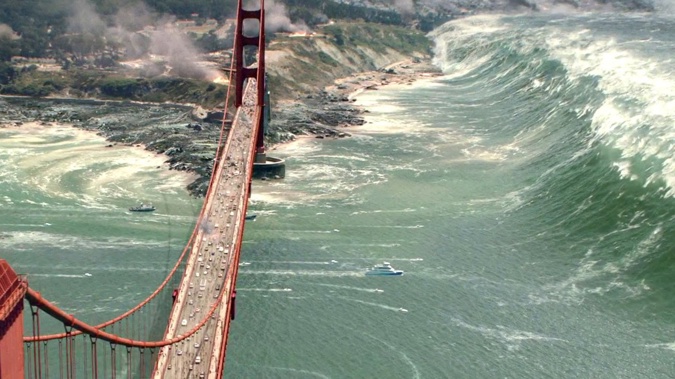 San Andreas: Film Review
Author

Publish Date

Sat, 30 May 2015, 10:32am
Director: Brad Peyton
Starring: Dwayne Johnson, Paul Giamatti, Carla Gugino, Alexandria Daddario
1/5

With such constantly unlikeable characters swallowing up screen time, a healthy dose of calamity and destruction can be very sweet relief. Better to see them squished or impaled than plaguing a paying audience.
San Andreas is a thick, cringe-worthy, and entirely unentertaining escapade for director Brad Peyton (whose previous credits include Cats & Dogs: The Revenge of Kitty Galore) into the disaster movie genre. The Towering Inferno, however, this is not.
The exposition is dull but needs to be mentioned: a fire department rescue pilot answers the call of duty when a devastating earthquake strikes the entirety of California from LA to San Francisco. The plot is very weakly sketched, and would be almost superfluous if it didn't give the director a chance to show The Rock delivering hammy one-liners and Alexandria Daddario's bouncing breasts.  
Spoiler alerts, the dreaded foe of film critics, are entirely unnecessary given the cliché-ridden nature of this boring dud. The macho hero, the woman in his life, the cataclysmic event somehow evaporating all previous animosity. The likable sidekick, the selfish stepfather, the not-so-tense scenes of a lead character giving CPR to another lead character. It's all there in tedious, unimaginative squalor.
With such a poor script (written by Carlton Cuse of Lost fame), the film must rely on spectacle to disguise the real disaster going on beneath – but fails on this count, too. The CGI is wafer-thin, the veneer of believability crumbling with each high-rise building collapse. The needless 3D only adds to the sense of detachment.
Disaster films must always retain a sense of danger, peril, and above all, fun. The almost entirely blood-less San Andreas does none of these things.