Frame by Frame: Film review
Author

Publish Date

Mon, 25 May 2015, 9:50am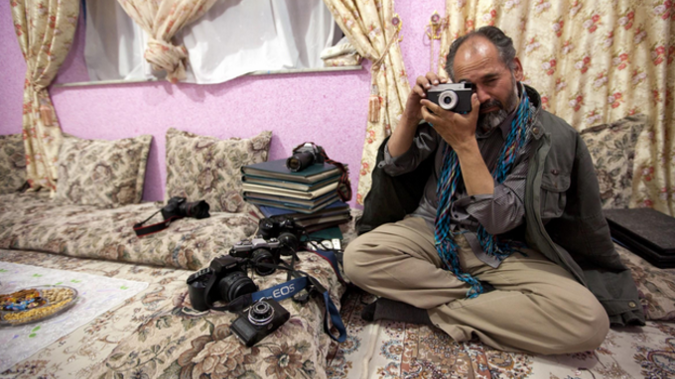 Frame by Frame: Film review
Author

Publish Date

Mon, 25 May 2015, 9:50am
Director: Alexandria Bombach and Mo Scarpelli
5/5
 
In Afghanistan, there is an entire generation with no photographic record. It is a blank space in the life of a country forever at the apex of conflict between domineering powers. It was from within, however, that the country was robbed of a cultural history. The Taliban banned photography of all kinds during their hold on the nation. Frame by Frame, directed and shot by Alexandria Bombach and Mo Scarpelli, is the story of a new class freed from their former jailers and trying passionately to construct a viable past.
With a wonderful eye for capturing faces and scenes of beauty laid against waste, Bombach and Scarpelli follow four Afghani photojournalists and their projects. Some appear at the scene of a latest suicide attack, others explore old territory. One has been there all along, fighting for a day when he can perform his delicate task without fear of retribution.
Frame by Frame is, at its heart, an uncomplicated reaffirmation of the inherent power that journalism possess. Cynics have long ago forgotten that knowledge can be liberation. The still and moving image will always retain its ability to arrest and alert.
Most famous of the engaging cast of photographers is Massoud Hossaini, now working for the Associated Press. Central to his story is the image that won him a Pulitzer Prize in 2011: a girl in virulent green with mouth agape after a bomb attack, silently screaming as the bodies of other children lie bloodied about her.
Hossaini is conflicted by his prize-winning status. In a mournful coda, he returns to the photographed girl's home and sits patiently with her parents. No success is worth the price of having a mother say "Every year our wounds get fresher".
Najibullah Musafar is the old hand, the patriarch. Gentle and bearded, he was embedded with the Northern Alliance when bitter battles were fought against the Taliban throughout the 90s. His grainy images surveyed a genocide on the verdant hillsides and the parched valleys. Now, with some promise of protection that a free press can award itself, he teaches at his own photography school in Kabul. The most affecting line of the documentary is spoken by him: "A country without photographs is a country without identity," he says with passion. This is no throwaway comment but a mantra by which he lives.
Also featured is Wakil Kohsar – a young man with an intensity of presence that fills the screen. Devout and devoted, he crunches under bridges to interview and photograph heroin addicts using amongst piles of rubbish. With a newfound independence, he returns to the village of his birth and encounters a man affectionately called "Uncle". Disaffection with the government in Kabul is rife. They don't represent me, Uncle intones before Wakil captures him grinning with his fingers ink-stained, clutching a voting card.
Most touching of all is Farzana Wahidy (also Hossaini's wife) and her drive to document the plight of Afghan women. For them, even after the overthrow of the Taliban, cultural norms dictate lives in a double shadow – under the veil, and far from public view. In a bid to photograph what are euphemistically called "self immolations", Farzana travels to Herat and confronts a doctor at the local hospital's burns unit. She is forbidden from taking pictures for fear of Taliban retribution. Her dejection is visible.
She is able to capture one young woman, however. With tears clouding the viewfinder, Farzana observes her embroidering cloth with deeply scarred hands. We never see her face, of course, but her exposed chest gives some hint of what happened when her husband's father poured petrol over and allowed her child to stand screaming aside as she caught alight.
Farzana carries so much of the film's brightness. She grins gently when she gets the desired shot and flashes an indignant eye when men of authority seek to disturb her work. In many ways, she is also the film's hope: that women can gain some degree of autonomy for the first time both behind the camera, and in front of it.
The filmmakers share the hope of their cast. For this reason, there is no analysis or indictment of whatever force that decided to hold its sway over Afghanistan. They take it as red that with the Taliban gone, there can be something decent after all.
Frame by Frame is an emotional gut-punch of a film that shies away from nothing. If photography in Afghanistan provides a cultural identity, let this documentary be considered a testament to the drive, commitment, and innate desire of a better and more complete future.


Frame by Frame is showing at the Documentary Edge Festival.