Mike Yardley: Stepping out in Zurich
Author

Publish Date

Sun, 11 Feb 2018, 2:14pm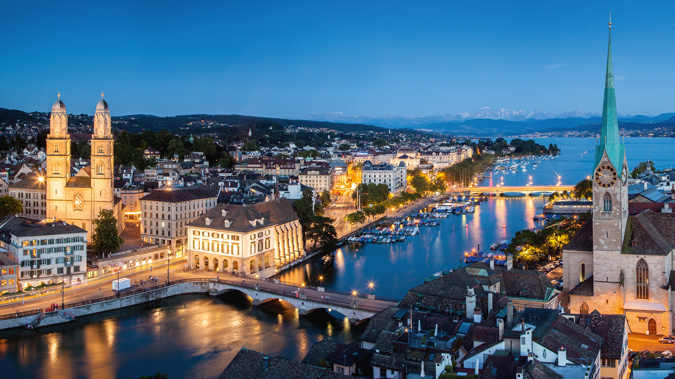 Mike Yardley: Stepping out in Zurich
Author

Publish Date

Sun, 11 Feb 2018, 2:14pm
As twilight took hold in Zurich, I was goggling at the largest clock face in Europe, on the edge of the Limmat River. Dominating the skyline, the historic tower of St Peter Church is imbued with a trusty timepiece, as are the atmospheric church bells that reverberate across the Old Town from the four historic churches, including mighty Grossmunster Cathedral.
I was in Zurich, for a quick city stayover, before winging my way home after a barn-storming week in this most picturesque, pixel-burning of nations. Zurich has certainly emerged as a tale of two cities. Creating quite a buzz, Zurich-West, which has spectacularly transformed. This once scruffy industrial district has emerged as a vibrant cultural quarter of trendy eateries and edgy art, where factories have been repurposed as theatres and shipyards reimagined as art galleries.
Viadukt is an exemplary example of the makeover, with a host of eateries, pop-up shops and art spaces housed inside the arches of the disused, 550-feet long railway viaduct. You'll also find Prime Tower here, a 35-storey skyscraper (Switzerland's tallest), serving up a panoramic treat across Zurich's rooftops, gleaming lake and snow-coated peaks beyond. Take in the sweeping scenery over a drink or two at Clouds Bar.
Culture is writ large in Zurich and back in the Old Town, the narrow cobbled streets gave rise to the Dada art movement just over a century ago. I popped into Cabaret Voltaire, at Spiegelgasse 1, which was the birthplace of Dada and the avant-garde artistic movement, in 1916. Absinthe is the drink of choice here, among Dada's ghosts. The venue also has a shop selling souvenirs and art-themed gifts.
Strolling along Bahnhofstrasse, flanked by chic designer boutiques, Café Sprungli deserves a pit-stop. This prized Zurich institution is rightly lauded for its heavenly macaroons. Further down the street, if feeling a little decadent, make a date with Teuscher for its famed champagne truffles. The doors open at 1pm. 
In a city of water and bridges, another top vantage point, above the twisting lanes of the Old Town is the Lindenhof. This was the site of a former Roman customs house, perched above the water. The vast assortment of guildhalls are central to Zurich's backstory, and they're great fun to explore. In 1336, Zurich's first independent mayor, Rudolf Brun, established the guild laws, effectively shifting power from the abbeys to the merchant nobility.
The handsome guildhalls (zunfthäuser) lend themselves to a walking tour. I started at the bakers' guild, in Oberdorfstrasse, before heading over the river's east bank to see the guilds of the carpenters, builders, the food and wine dealers, the textiles and spice merchants, all along Limmatquai. Then, on Munsterhof, you've got mansions of the weavers, saddlemakers, painters and winemakers. Your hotel will happily sort you out with a trusty route to follow.
Ready for dinner? You'll want to dine at Zeughauskeller, built in 1487, and originally used as an ammunition storage site during the Middle Ages. Legend has it that William Tell's crossbow was issued here. It's the perfect spot to order up one of Zurich's signature dishes, "Zurcher Geschnetzeltes." Comprised of tender strips of veal, sauteed with mushrooms in a white wine and cream sauce, it is served with crispy Swiss Rosti (hash browns.) Delicious!
Could there be a finer roost than Hotel Storchen? For over 650 years, the Storchen's classic hospitality has been widely acclaimed, situated in Zurich's romantic heart, on the river's edge, in Weinplatz. A witness to history, its name derives from the pair of black storks who used to nest here. You'll want to make your bed here too. A beautiful inlaid artwork of stork eggs on the floor of the main bar, speaks to its past – and it's still a widely-practiced tradition that rubbing your heel on the artwork delivers good luck.
Positioned at the River Limmat's narrowest point, the first bridge was constructed here, marking the point at which trade routes began and voyages commenced for Zurich's merchants.  The current property was constructed over 80 years ago and is meticulously refashioned, to reflect the finest blend of traditional elements and contemporary comforts. Tich textures, plush fabrics and swathes of marble are ever-present.  My perfectly formed guestroom afforded a dreamy view over the River Limmat, backed by many old town landmarks, spectacularly illuminated at night.
Locals love gathering at The Storchen's various hospitality venues, including the magnificent La Rotissere restaurant, studded with a sweeping terrace. Recently refreshed, the Barchetta Bar is an inviting spot for a caffeine fix or cheeky cocktail. Don't forget to rub your shoe on that black stork egg! This highly decorated mid-size hotel embodies the best Zurich's vitality and illustrious past – a true celebration of this compact city and its convivial people.
The Storchen is a proud member of Preferred Hotels & Resorts, which is currently celebrating its 50th Anniversary with a range of celebratory specials. iPrefer members receive free Internet, room upgrade, priority early check-in, late check-out, and points for free nights at this hotel. For the very best deals and seasonal specials, check out the iPrefer app, which includes member rates and rewards, or book direct at www.preferredhotels.com
Plotting a magical trip to Switzerland? The official tourism website is a trusty one-stop-shop. www.myswitzerland.com
Travelling Switzerland by train is an unforgettably photogenic experience, leaving you in awe of their engineering prowess. Purchase a pass to suit your needs, in advance from Rail Europe, the experts in great rail travel.  www.raileurope.co.nz
Fly to Zurich with Cathay Pacific who operate ultra-contemporary A350-900s, the newest aircraft in the world, from both Auckland and Christchurch. The cabin air quality is decidedly better, I experienced minimal jet-lag, the refreshed CX Entertainment system kept me suitably engaged with excellent movie selections and live news channels, plus in-flight WiFi. www.cathaypacific.com
Don't tempt fate by heading overseas without decent travel insurance. Cover-More not only offers medical travel insurance, but if trouble strikes -  their global assistance team will coordinate your care, find a local doctor that speaks English and even arrange for medical evacuation back to New Zealand. Check out the full range of quality insurance plans. Call 0800 500 225 or visit www.covermore.co.nz
Mike Yardley is our Travel Correspondent on Jack Tame Saturday Mornings.