Mike Yardley: Spirit of St Louis
Author

Publish Date

Thu, 12 Jul 2018, 5:13pm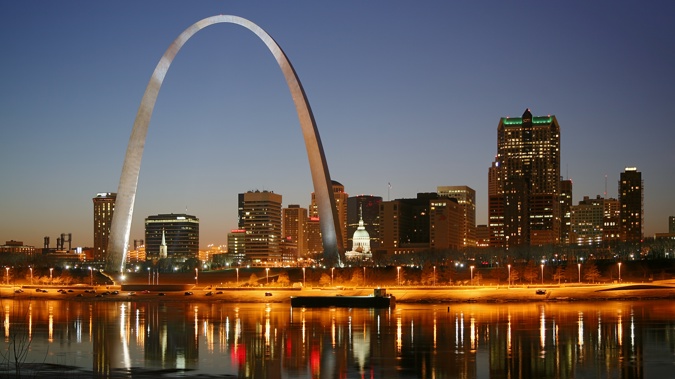 Mike Yardley: Spirit of St Louis
Author

Publish Date

Thu, 12 Jul 2018, 5:13pm
Steeped in history as the city that prised open the American Western frontier, St. Louis isn't the glitziest of cities. A shabby chic aesthetic defines much of its urban fabric, but there are a plethora of compelling nuggets. Signature sightseeing doesn't get much more iconic than St. Louis' Gateway Arch, soaring across the skyline, on the banks of the mighty Mississippi. Opened over 50 years ago as a monument to honour President Jefferson's vision of a continental United States, we strolled down to the Arch's entrance, as the sultry summer morning heat sparked up.
Earlier this year, I found myself in Astoria, Oregon, where the epic expedition under taken by Lewis & Clark to find a pathway through to the West successfully climaxed on the shores of the Pacific Coast. Below the Arch, a stirring monument pays homage to these extraordinary trail-blazers, who were personally hand-picked by Jefferson to undertake the mission from St. Louis. But for history buffs, the brand-spanking new Museum of the Gateway Arch, is a riveting walk-through the city's storied past.
I've always had a head for heights, so I was itching to scale that soaring ribbon of stainless steel. But reaching the observation deck of the Gateway Arch entails folding yourself into a bizarre little capsule for the tram ride to the top, within the arch. I felt like I was about to be hurtled into space. But even if you're a closet claustrophobic like myself, don't let the cramped quarters put you off. It's a very short ride – and the panoramic views are sigh-inducing.
Back on terra firma, you can avail yourself of the horse and carriage rides, or if you're channelling Mark Twain, take a cruise on the Mississippi onboard a steamboat. Another defining chapter in the city's history book is the devastating fire of 1849, which destroyed a third of the city, after the "White Cloud" steamboat exploded on the waterfront. Only two historic structures – the Old Courthouse and the Old Cathedral were saved, thanks to a quick-thinking fireman who tragically lost his life in the process of safeguarding the buildings.
They are well worth a wander through.  In a city where there are apparently more working Blues music artists than anywhere else in the world, a visit to the National Blues Museum was a thrill. Dedicated to preserving the legacy of Blues, the foundation music of the USA, what stood out for me is how so many artists, attribute the Blues as the most powerful influence across all genres of music, whether it be jazz, rock 'n roll or soul. The museum traces the birth of the blues in the Mississippi Delta as workers' chants, and its great migration north to the likes of St. Louis, from plantation workers seeking work in the cities.
We also headed to Delmar in The Loop, where the pavements are adorned with the St. Louis Walk of Fame. An 8-foot bronze sculpture memorialising Chuck Berry stands proud directly across the road from where the late, great father of rock 'n roll performed – Blueberry Hill restaurant.  Back in the heart of town, City Museum is a head-swirling experience and the most eccentric "museum" I have ever experienced. It's more like a whimsical theme park within an old warehouse building, brimming with tunnels and swing-bridges all set around wacky art installations.
There are even two old fighter jets strung on top of the outdoor adventure playground. It's total escapism and if you've got kids with energy to burn off, they'll be in seventh heaven. St. Louis is also synonymous with Budweiser, because the brewer of Bud, Anheuser-Busch maintains its world headquarters in the city.  We took a brewery tour within the staggering complex of historic red-brick buildings, which are meticulously maintained. It's Willy Wonka-esque. Aside from the free beer tastings and brewing insights, the runaway highlight was getting up-close with Budweiser's celebrated Clydesdales.
The on-site stables are the ultimate in luxury, possibly even posher than the Royal Mews in London. Baseball fans should also check out the centrally-located Busch Stadium, home to the legendary St. Louis Cardinals. The city has also spawned some fiendishly popular trademark cheap eats, headlined by Gooey Butter Cake. Famously served around the clock all over the city, this signature treat actually began life as an undercooked mistake in a German bakery. Order up the chocolate raspberry version, which is especially good.
I also wrapped my lips around some frozen custard ice-cream, from Ted Drewes, which has been a Route 66 roadside fixture for nearly ninety years. This thick and luscious treat is insanely delicious. Over-spilling with long lines of customers, this incredibly efficient operation will soon have you sorted from their walk-up windows. Known locally as concrete, the frozen custard is generally served with a dollop of cream, ice cream and the flavours of your choice. www.explorestlouis.com
Where to stay? Embassy Suites by Hilton Downtown. Just a ten-minute walk to the Gateway Arch, this all-suites hotel exudes a warm sense of space, conviviality, relaxation and comfort. With valet parking, free WiFi, pool, jacuzzi and fitness centre, fabulous lounge bar, on-site dining, and supremely spacious suites loaded with creature comforts, you'll feel right at home. The cooked-to-order complimentary breakfasts were extra nice touch. Staff were unfailingly friendly, helpful and outgoing. It's where you'll want to stay, in spirited St. Louis. http://www.stlouisdowntown.embassysuites.com/
I booked my domestic flights within the USA with KAYAK, who offer a seamless one-stop travel experience. Search for flights, hotels, cars and packages all in the one place. KAYAK also offers a wide range of tools and technology including Price Forecast. This tool tells you whether the flight price will go up or down in the coming 7 days based on historical travel data. Trips, an itinerary management tool, organises all of your travel bookings and provide you with real-time alerts on flight updates. Very smart. And another stand-out feature is the Hotel Heat Map, a tool for those who want a hotel in the middle of all the action including restaurants, nightlife and shopping. Be a savvy traveller and bag some bargains at https://www.nz.KAYAK.com
Mike Yardley is our Travel Correspondent on Jack Tame Saturday Mornings.