Jacque Tucker: How to have your own Feijoa grove at home
Author

Publish Date

Sun, 30 Apr 2017, 11:02am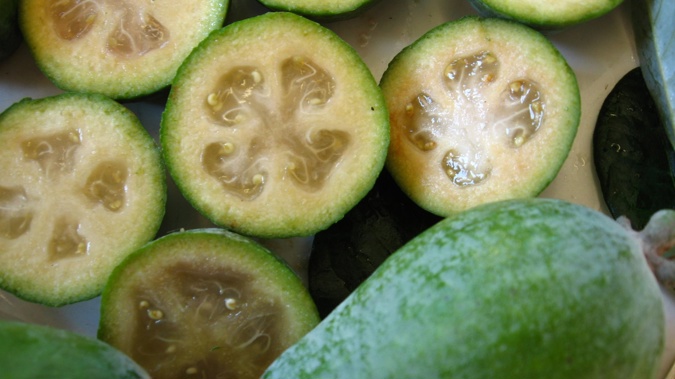 Jacque Tucker: How to have your own Feijoa grove at home
Author

Publish Date

Sun, 30 Apr 2017, 11:02am
I'm going to risk public condemnation, and just come out with it. I DO NOT like Feijoas.  It's almost un-kiwi to admit it.  I wasn't even going to talk about them until I chatted with Andrew [Dickens]'s producer Alex, who says he adores them so much that he eats them skin and all. No time for scooping or peeling for our Alex, he just cannot wait to shove that perfumy green lump in his gob.  He absolutely LOVES them, as do most people it would seem.   It's a tough time of year for us feijoa haters, because the fruit are everywhere – and the good news (for you lot anyway), is that they are really easy to grow.
Luckily the trees are really good looking and tough as old boots, with the same coastal and salt spray tolerance as pohutukawas (they are related).   They can be grown pretty much anywhere in NZ, and make a great feature tree or hedge.
Here's how to have your own Feijoa grove at home – if you must…
HOW TO GROW
Give them plenty of water while they're in the fruiting season, mulch around their shallow roots. Drought tolerant once established.
WHICH ONE TO PLANT?
If you want them for fruit, don't buy un-named seedlings because they may not fruit very well. Fine for a hedge though – just trim it after flowering.
Lots of different cultivars to choose from, but some aren't self-fertile so you'll need to plant two or more for cross pollination.
'Unique' is self-fertile so you only need one, good for right round the country.
' Anatoki' and 'Kaitere' are highly recommended, but not self-fertile. If you live somewhere warm, 'Apollo' and 'Wiki Tu' have good, big fruit.
Teeny 'Feijoa bambina' has miniature fruit and edible skin – very cute.
IF YOU REALLY LOVE THEM...
Plant early season 'Kaiteri', followed by mid-season 'Wiki Tu' (dwarf), then late season 'Triumph.  You'll have feijoas from March until June.
HOW DO YOU KNOW WHEN TO PICK THEM?
Don't pick them! When they're ripe or near ripe they fall from the tree and are best collected from the ground rather than picked.  The downside is, once the fruit is ripe it doesn't hold for long before decaying.