The Soap Box: Minor parties desperate for oxygen
Author

Section

Publish Date

Thursday, 7 September 2017, 7:13AM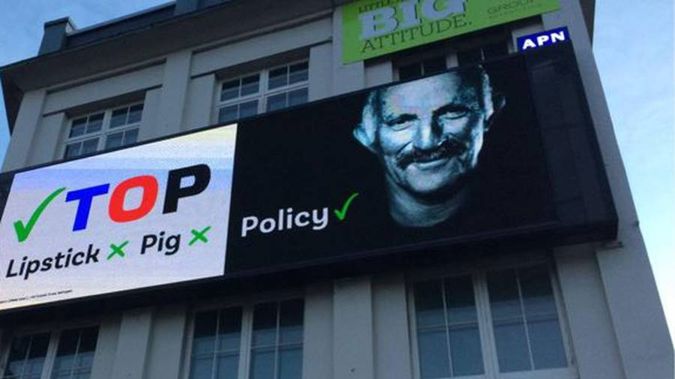 The hardest job in the lead-up to a general election is being the leader of a minor party which is generally deprived of the oxygen of politics and that's publicity.
They're forced to do anything to get it, like the Opportunities Party's Gareth Morgan's lipstick on a pig outburst. And then National gave it to Winston Peters on a plate by leaking information about his pension overpayment which gave him an oxygen cylinder, emerging as the persecuted politician even though he's more than able to attract plenty of publicity without the help of the governing party.
But you can understand Gareth Morgan's frustration at being blocked out of the TVNZ debate for the minor leaders on Friday night, even if it generally does have the lowest viewer audience of the week, it's still aeons ahead of the number of voters they're able to get to out on the campaign trail.   The state owned channel says he misses the cut on two counts, he hasn't cracked three percent in their recent opinion polls and his party currently doesn't have an MP.
The only two politicians who actually qualify on both fronts are Peters and The Greens James Shaw.   The point that Morgan rightly makes is that his party out polls the Maori Party,  Act and United Future combined and the latter isn't even being represented by their former leader Peter Dunne, who has been a stellar performer in these debates in the past. Taking over from him is his party's new leader, the unknown Damian Light which he'll be hoping doesn't reflect his weight.
If Dunne really wanted party votes, which is what these debates are all about, he would have stayed on as leader at least until the election and would now be making his last ditch attempt in the television studio doing what he does well.   The minor party leaders' debate, more than anything else, saw him in 2002 charming the worm and bringing another seven MPs on his coattails into Parliament.
So these debates can be critical as Gareth Morgan knows well, saying he simply wants a fair suck of the sav and he's on pretty sound ground, given his poll rating compared to others, if past challenges through the High Court are anything to go by.
In 2005 both Peter Dunne and the former Progressive Party leader Jim Anderton fought in the court successfully for a slot on the TV3 debate with the Judge saying their exclusion would be detrimental to democracy.    And The Conservatives' Colin Craig muscled his way in at the last election after a court injunction gave the channel a Hobson's choice, either have him on or can the debate.
To argue it'd open the gate to other minor parties if Morgan's allowed in, as TVNZ will no doubt argue, simply doesn't wash in this case.