Two dead and hundreds stranded on South Africa's Table Mountain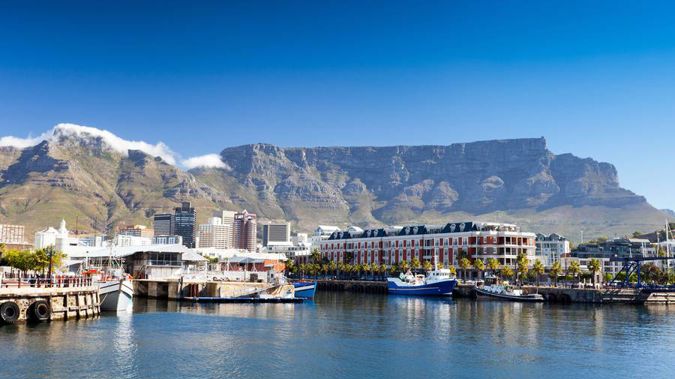 In a dramatic operation, emergency responders at South Africa's Table Mountain descended on ropes from a cable car to save an injured climber and recover the bodies of two male climbers.
The tricky rescue on Tuesday morning (local time) left hundreds of tourists stranded while it took place.
One of the two who died after falling from a cliff was a Japanese citizen, with the other reported to be a local guide. A third climber, a Japanese woman, was injured in the accident.
Wilderness Search & Rescue #TableMountain rescuer doing cpr on patient on cliff pic.twitter.com/lPiyoWlj6T

— Hanti Otto (@HantiO) January 1, 2018
The iconic, rugged mountain overlooking Cape Town is a major tourist destination and the occasional scene of search and rescue operations because of hiking or climbing mishaps, but the effort to help the trio was among the more complex.
Cable cars were halted while the operation took place, stranding hundreds on the mountain for hours. When they could be restarted, the cable cars ferried people down in a process that ended well after midnight.
On social media, images have circulated of the cliff-side operation.
#TableMountain #MountainRescue operation #WSAR
(CPT photographer Robert Miller credit @WSARWesternCape @WCHEMS @TableMountainNP pic.twitter.com/4a7YHoqmzI

— Mountain Safety (@SafetyMountain) January 1, 2018
A local climbing guide and two Japanese clients were involved in the accident, said South African National Parks spokeswoman Merle Collins.
The climbers were secured with ropes just below the cable car station at the top of Table Mountain when they fell, possibly after one of them lost their footing and dragged the others down, said Wilderness Search and Rescue spokesman Johan Marais.
Still attached to the ropes, two of them ended up partly supported by a ledge on the cliff face, and tourists in a cable car saw one administering CPR to the other.
A rescue helicopter flew to the area, but Wilderness Search and Rescue members concluded that it would be easier to reach the climbers by lowering themselves on ropes from an opening in the floor of a cable car positioned above the accident site.