Police block polls as Spain crushes Catalonian independence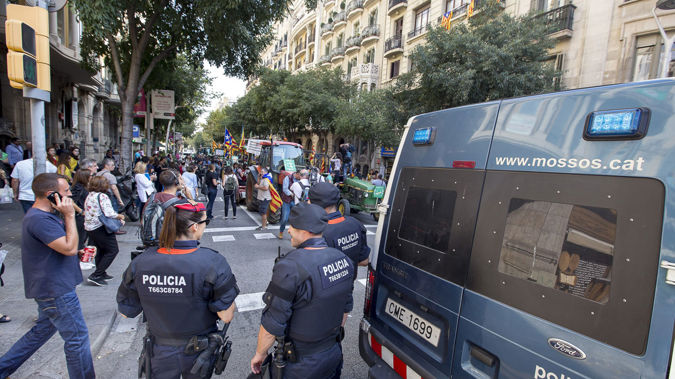 Catalan separatists have halved their expectations for voter turnout amid moves by Spain's central government to block a referendum on independence it has declared illegal.

Given Madrid's disruptive activities, a million votes in favour of independence would be "an outstanding success", Jordi Sanchez, president of the separatist Catalan National Assembly told reporters in Barcelona on Saturday.

Despite Madrid's efforts to stop the vote, Catalan regional government chief Carles Puigdemont has insisted it will go ahead on Sunday.

More than 5.3 million people are eligible to vote, but opponents of independence have said they will not take part.

In a further effort to prevent the referendum, the central authorities in Madrid on Saturday shut down the electronic vote-counting system in Catalonia.

By blocking the counting system, Madrid had effectively "cancelled" the referendum which it had already declared illegal, government spokesman Inigo Mendez de Vigo told journalists.

Several officers from the Civil Guard state police, or Guardia Civil, had earlier on Saturday raided the Catalan technology and communications centre where the software for the electronic counting system is held.

This "further strike against the illegal proclamation" of the referendum "was carried out within the scope of the law", the spokesman said.

Spanish Prime Minister Mariano Rajoy has stressed several times that the independence referendum would never take place.

Madrid has deployed all means at its disposal to prevent it: In recent days the central authorities have seized at least 12 million ballot papers, and millions of posters and leaflets; many websites have also been blocked.

More than 4000 members of the Guardia Civil and the national police force have been sent to Catalonia, while security forces have sealed off hundreds of polling stations.